Camden: The Kinks and Buzzcocks inducted onto Music Walk of Fame - 'Highgate mob' get stones
The Kinks and Buzzcocks, two of England's most influential bands, now have stones in Camden High Street.
Watch more of our videos on Shots!
and live on Freeview channel 276
Visit Shots! now
Exactly 45 years after Ever Fallen In Love... (With Someone You Shouldn't've?) was released, Buzzcocks joined the Music Walk of Fame, along with spiritual forefathers The Kinks.
Stones for the bands were unveiled on Camden High Street on Friday.
The Kinks were one of the biggest bands of the sixties, with famous hits including You Really Got Me, All Day and All Night, Sunny Afternoon and, of course, Waterloo Sunset.
A decade later Buzzcocks were one of the original acts of the punk movement, bringing with them both pop and art school sensibilities.
The influence of both bands can be heard in British guitar acts to this day - through The Smiths, The Stone Roses, Oasis, Blur, every other Britpop band and 21st century acts such as Arctic Monkeys.
One of the clearest beneficiaries of The Kinks' and Buzzcocks' trailblazing work was The Libertines, whose Carl Barât paid tribute, telling LondonWorld: "They've been a big influence on everyone. They're part of our alphabet, they're part of what makes us. They're the footsteps that we walk in. Having a monument to that on the floor brings a reality to it, a tangibility. It's a brilliant thing.
"[Camden High Street] has been the 'walk of shame' for so many years…it gives purpose to that. Just standing in this spot, there are the ghosts of a million nights coming at me - nothing I can say right now."
The inductions are part of a week of events unveiling stones for music legends on the famous street, in the scheme founded by Lee Bennett. Ceremonies for Eddy Grant, Janis Joplin, Harvey Goldsmith, Gordon Mac, Paul 'Trouble' Anderson, The Sugarhill Gang, Billy Bragg and Shalamar are being hosted by Mojo contributing editor Phil Alexander.
The week culminates today (September 9) with the first Camden Music Festival. The event in Camden Town is free and runs from midday to 8pm. It features performances from acts including The Sugarhill Gang, Buzzcocks, Billy Bragg and Shalamar.
Buzzcocks' Steve Diggle
Steve Diggle said he has "a million memories" of Camden throughout the band's career.
"It's like a David Hockney collage," he said. "There are loads of memories of this place. All the clubs - particularly back in the 1990s I was up and down for 10-15 years.
"It's nice to have this paving stone in the heart of Camden. It feels kind of spiritual really. Even though we're from Manchester, I've lived half my life in London and spent a long time around Camden. It is quite inspirational for music."
Another Mancunian-turned-north-Londoner, Liam Gallagher of Oasis, sent a message to be read at the unveiling, proclaiming Buzzcocks the second best band from Manchester.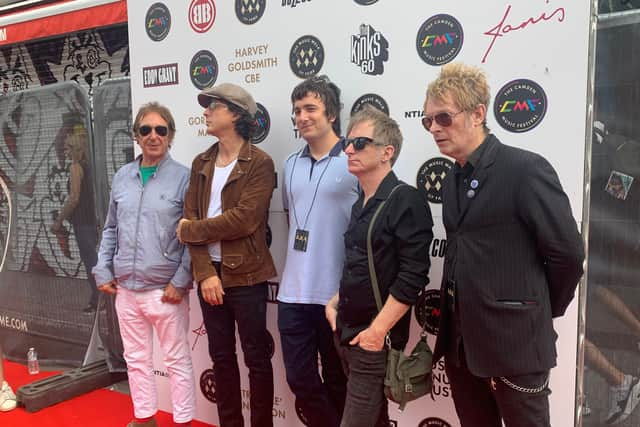 Buzzcocks may be a Manchester great, but Diggle lives in Highgate, A neighbourhood Ray Davies from The Kinks also calls home.
"Over the years I've got to know him to say 'hello' to and shared a few drinks over the time, so it's lovely they're there - it's like the Highgate mob are here," he said.
"I love Well Respected Man, but there are so many really, so many. Till The End Of The Day is good - well, they're all good. The Buzzocks are the new Kinks, in some ways. There's a parallel between the Buzzcocks and The Kinks."
The band's last single may have been Manchester Rain but Steve said London inspires him: "It's like James Joyce - he wrote Ulysses whilst in Trieste in Italy."
The Kinks' Mick Avory
While founding brothers Ray and Dave Davies could not attend the ceremony - Ray was ill and Dave lives in the US - drummer Mick Avory was present to witness the unveiling.
The drummer said he still sees Ray and that he caught up with Dave at an interview in recent years, having famously fallen out with him.
Avory said north London has fond memories for the band. The brothers grew up in the Muswell Hill area and Camden has been central to north London's music scene.
"It's a hub of music that's gone on from the fifties," he said. "It's nice that you've got something to remember the musicians that played here. This is a great idea for that scene."
Of the inspiration London has given the band, he said: "Obviously Waterloo Sunset's the one that's almost an anthem. Some of the earlier songs are about characters that Ray wrote about - it's all English. It still gets into people's imagination even in America because it's English."
George Maguire and John Dagleish, cast members of The Kinks' musical, Sunny Afternoon, read out messages from the Davies brothers.