Stamford Hill: Rabbi warns of rise in antisemitic attacks on Jewish women and girls
Rabbi Herschel Gluck, president of Stamford Hill's Shomrim, has criticised the Home Office, Met Police and City Hall for not engaging on antisemitic incidents.
Watch more of our videos on Shots!
and live on Freeview channel 276
Visit Shots! now
The area is home to Europe's largest Haredi Jewish community and Herschel Gluck OBE has been a rabbi in the community since 1983.
Along with his work as a faith leader, he is president of the neighbourhood watch group Shomrim (the Hebrew word means "guardians") in Stamford Hill, chairman of the Arab-Jewish Forum, and chairman and founder of the Muslim-Jewish Forum.
Shomrim, which originated in Brooklyn in the late 1970s, was set up in London in 2008 following cuts in Met Police resources.
The volunteer group, made up of 30 Haredi Jews, helps combat burglary, vandalism, mugging, assault, domestic violence and antisemitic attacks. It also helps locate missing people.
"We're not just here to protect the Jewish community, we're here to care and protect every section of society," said Rabbi Gluck.
Rabbi Gluck said that since the group started it has helped reduce crime in the area.
However, he said he has noticed a spike in antisemitic attacks in the area over the last few years and an increase in harassment of women and girls.
According to the latest Home Office hate crime statistics, almost a quarter of recorded religiously-motivated hate crimes in the UK were against Jewish people in 2021-22.
Rabbi Gluck said the attacks are usually carried out by people from outside the area.
Rabbi Gluck said that Shomrim was instrumental in helping the police in their investigation.
"No other organisation in the UK deals with as many antisemitic attacks as we do," Rabbi Gluck told LondonWorld.
He said he was disappointed with the lack of engagement from the police, City Hall and the Home Office in protecting the Jewish community.
"Jewish women are being attacked and they don't care," he said. "They say that they care about antisemitism but that's where it remains. We do not see any real engagement or action in dealing with antisemitism, not from the Home Office and not from the mayor's office. It needs to be a feeling of responsibility and a feeling of real engagement."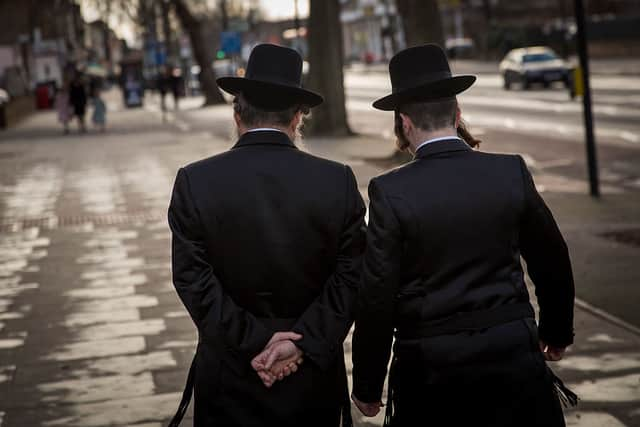 "Baroness Casey never interviewed us for her report on the Met Police and we would have thought that we would have been one of the first ports of call," said Rabbi Gluck.
"That is symptomatic of City Hall's, the Home Office's and the government's attitude that they seem to think that they can administer a city and a country without speaking to the people who are actually engaged on a daily basis on these issues.
"Both as a rabbi and president of Shomrim I'm aware of countless attacks on women and girls. In most cases there is no police engagement and this was after Sarah Everard's murder.
"There has to be a greater emphasis on the point of delivery. One needs to care for Londoners, for their safety, for their security, for their welfare. It shouldn't just be big announcements and inquiries and commissions. Most of the resources should be committed to protecting people on the streets and in their homes."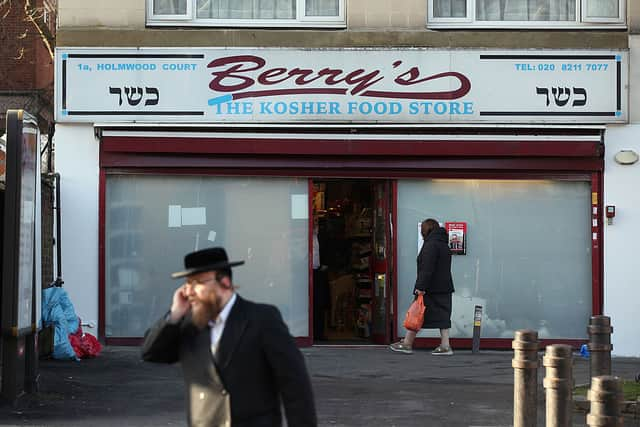 Home Secretary Suella Braverman
A spokesperson for the Home Office said synagogues and faith schools were given £15 million for protective security measures in 2023-24 as part of the Jewish Community Protective Security grant.
The funding increased protective security, including security guards and other security measures such as CCTV and alarm systems to protect against persistent hate crime, antisocial behaviour, terrorism and state threats.
A new Jewish Community Police, Crime and Security Taskforce was announced in March. The Home Office says the taskforce will strengthen accountability and enhance efforts to combat antisemitic crime and violence against Jewish communities.
Home Secretary Suella Braverman said: "Antisemitism is one of the great evils in the world. It is vital that all people, but especially political leaders, challenge antisemitism whenever and wherever they encounter it.
"Attacks on the Jewish community are abhorrent. I applaud the police's efforts to tackle these crimes, but we must go further to ensure the vile criminals who threaten the peace and safety of Jewish communities feel the full force of the law."
Minister for Security Tom Tugendhat said: "Antisemitism is abhorrent and I stand hand in hand with the Jewish community against all its manifestations. We must continue to strive to ensure that every community can live and worship in safety, free from threat."
Met Police
Superintendent Vincent Peters, the Met's neighbourhood policing lead for Hackney, said: "We are very grateful for the strong engagement we have with a number of Jewish community organisations in the Stamford Hill area.
"Our local policing team and senior leadership work with Shomrim and other local partners to address a range of policing challenges affecting the community, including violence against women & girls and anti-Semitic hate crime.
"We are very aware that the true level of hate crime is likely to be higher than that reported to police and we are working hard to build confidence in the police response to address this under-reporting.
"Our community based partners help us directly in this work, which is rooted in a strong local policing model, tailored to the communities' needs. A number of recent successful prosecutions have provided us with a good platform from which we can work to improve trust and confidence.
"We know we can improve further and we continue to listen carefully to feedback on how our support to victims can be improved in this area."
Mayor of London Sadiq Khan
A spokesperson for the mayor of London said: "Antisemitism has no place in society and the Mayor is committed to doing everything possible to tackle antisemitism and all hate crime which can have such a corrosive impact in our communities.
"The mayor is working closely with the Met police to ensure there is a zero-tolerance approach to all hate crime and specialist support for those impacted. Sadiq has also invested record amounts through his Shared Endeavour Fund to empower grassroots communities across London to stand up to hate in all its forms to build a safer London for everyone.
"City Hall has a strong and long-standing relationship with Shomrim and the Community Security Trust and will be working closely with both groups and the Met police to ensure all Londoners benefit from the revitalisation of neighbourhood policing, so that every Londoner can feel protected and served."