Sadiq Khan renews call for London rent freeze as he surpasses affordable homes target
Sadiq Khan was speaking in Newham, where he announced he had passed his target of starting 116,000 affordable homes for Londoners.
Watch more of our videos on Shots!
and live on Freeview channel 276
Visit Shots! now
The mayor of London has reiterated his call for powers to introduce a rent freeze in the capital, as he announces City Hall has surpassed a major target of starting 116,000 affordable homes in a bid to tackle the city's housing crisis.
Mr Khan has repeatedly called for the powers from government to introduce rent control, similar to those implemented in Scotland, but has so far been rebuffed.
Speaking at the Royal Eden Docks in Newham, east London, earlier today (May 15), the mayor reiterated his desire for a rent freeze in the capital.
He said: "Of course, we still have a long way to go [in solving the housing crisis]. I'm not complacent. Even though we're breaking records, I know not all Londoners will see or feel this progress yet.
"The fact demand for housing outstrips supply is why I'll continue fighting the corner of renters – putting pressure on the government not only to improve renters' rights, but to give me the powers to introduce a rent control system for London that would allow me to freeze rents and give renters badly needed respite."
Speaking to LondonWorld, Mr Khan said there are 2.7m Londoners renting from private landlords in the capital. He added that over the last year, private sector rents have gone up by more than 16%, bringing the average cost in London to £2,500 per month.
"Many of those who rent privately are struggling to keep their heads above the water with the cost-of-living crisis," Mr Khan said.
"What I'm saying to the government is, why don't you do what the Scottish government finally did last year, which is have a policy to freeze rents in the private sector for at least six months. They've now extended it by another six months.
"If they did that, it would help the average Londoner renting privately £3,000 over the course of two years."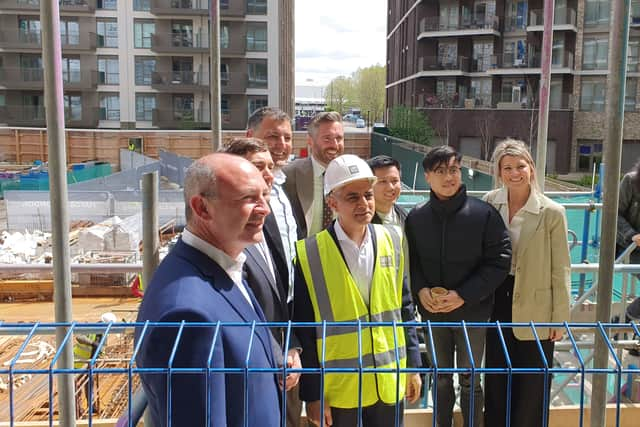 Asked whether a rent freeze would force private landlords to sell their properties and so exacerbate the housing crisis, Mr Khan said landlords will always "find a reason to say no to a policy".
"The reality is this: There are families in London being priced out of our city because of the cost of living in London. There are people sofa surfing, or people sleeping rough because of the cost of rent in London. There are people struggling to make ends meet because of the cost of rent in London. We need to make sure that teachers, police officers, and nurses can afford to live in London."
The mayor added he wants to see rent frozen for a couple of years, to have powers devolved to City Hall, and to set up a bespoke private rental commission for the capital.
"We don't want to dry up the supply of new private rented accommodation. We don't want privately rented properties to be taken off the market. What we do want is a situation where those who want to live in London can afford to do so."
'London is building again'
In his speech, Sadiq Khan also hailed the work done by both councils and housing associations over the last seven years to deliver affordable housing and safeguard "the soul of our city".
Since becoming mayor in 2016, City Hall, via its Affordable Homes Programme, has exceeded the 116,000 homes Mr Khan promised would be started in the capital.
Equivalent to the number of homes in a city the size of Plymouth, the mayor said more housing of all types have been built in the last few years than at any time since the 1930s.
City Hall data shows how work on new affordable homes has increased each year bar 2020/21, with a record number, 25,658, started in 2022/23.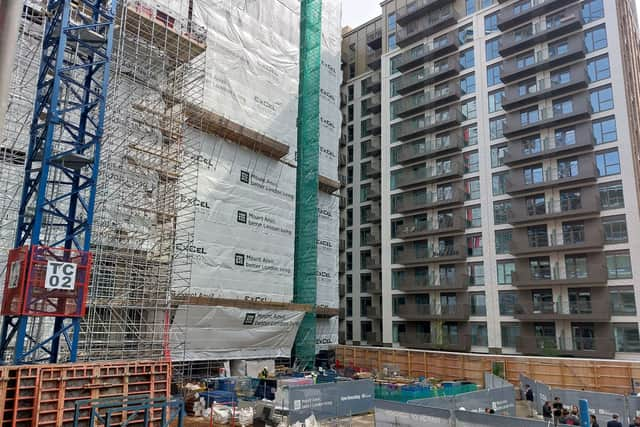 Mr Khan said: "The housing crisis is turbo-charging inequalities in wealth, health and happiness. It's making our city less meritocratic and more divided. As mayor, I don't want to see London become a playground for the rich – I'm determined to build a London for everyone.
"I'm proud to say: London is building again. In recent years, we've completed more homes of all types than at any time since the 1930s. While the government has shamefully scrapped its own home-building targets, we're busy meeting ours. In London, not only have we hit our target of starting 116,000 new genuinely affordable homes, we've exceeded it.
"I've always been honest with Londoners – that the housing crisis was decades in the making and it will take time to fix. It will be a marathon, not a sprint. But, thanks to the exercise of concerted political will, we're moving in the right direction."
The scale of the crisis was laid bare in research by City Hall and Savills published in December 2022, which found that London needs £4.9bn a year between 2023/24 and 2027/28 to deliver the 130,000 homes required.
Following Mr Khan's speech, Shaun Bailey, a London Assembly Member and City Hall Conservatives housing spokesperson, said the mayor has "massively underperformed and failed to deliver the affordable, family homes that Londoners need".
He continued: "Despite having billions in government funding, the mayor has resorted to building tower blocks people do not want in a desperate struggle to meet this target, and we have yet to see any progress on the 2021 to 2026 programme.
"We need to see major improvements in the quantity and quality of homes that people can buy or rent before Sadiq Khan can claim any kind of credit."
The Department for Levelling Up, Housing and Communities was approached for comment.