This comes as the latest figures from the Combined Homelessness and Information Network (CHAIN) show that rough sleeping in London has increased by 21% year on year.
Charities and campaigners have attributed much of this rise to the current cost of living crisis, London's housing crisis and a lack of government support.
Charity partners, including St Mungo's and Thames Reach will receive the funding which will help support people through the provision of urgent accommodation and dedicated support to find long-term routes out of homelessness.
Extra funding will be given to the StreetLink and Clearing House services to help identify people sleeping rough and bring them in to support services.
The money will also be used to support those sleeping rough on London's transport network, with increased outreach on London's night buses and the night tube.
The announcement comes as the mayor visited the pan-London Youth Homelessness Accommodation Hub in Islington, a centre which houses up to 26 young people aged 18-24 in short-stay accommodation.
The centre provides holistic support from charity partners Depaul and New Horizon Youth Centre to prepare them for independent living and to re-establish their lives away from homelessness.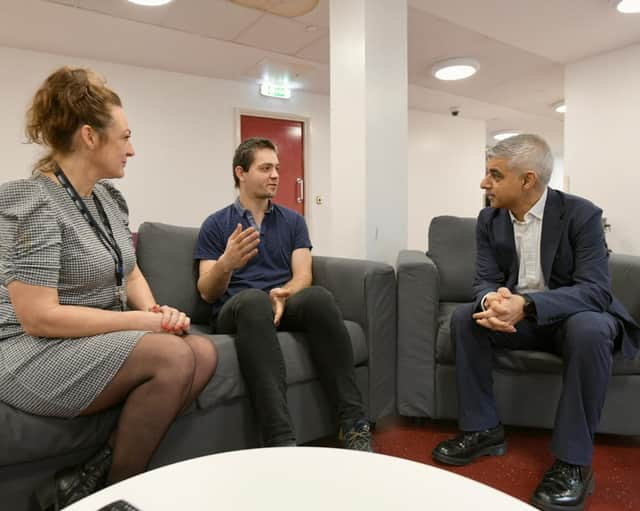 Speaking at the centre in Islington, the mayor told LondonWorld: "We can end rough sleeping.
"In the noughties after the 1997 Labour government, rough sleeping basically ended in our city.
"Cardboard city, which existed in the 1990s disappeared, so it can be done with the right support from the central government.
"This week's budget does nothing to address these issues, nothing for housing in London, for transport or for our public services like the health service.
"That's why it's really important to deal with the causes of the problem."
Daniel Dumoulin, director of rough sleeping at Depaul UK, said the funding is much needed but that more needs to be done.
"We're really pleased there is more money going into rough sleeping," he said.
"The mayor, the government are committed to ending rough sleeping but the numbers are going the wrong way at the moment.
"The extra investment is really really needed and it's great that it's happening but we do need more.
"We need more specifically for young people. Often it's unsafe for them to be in all age accommodation so while we are really grateful for what the mayor and government have done so far, we are calling on them to do more for young people.
"Which is why we're campaigning for a national Youth Homelessness Strategy and we really hope the government is going to take that seriously."
A Department for Levelling Up, Housing and Communities spokesperson said: "We are tackling rough sleeping and homelessness in the capital by investing £162 million to deliver a range of support including thousands of beds and support staff.
"This is part of our national drive to end rough sleeping, funded by £2 billion over the next three years."