The Queen's coffin has left Buckingham Palace for the final time and arrived at Westminster Hall where she will lie in state - after a procession through the streets of central London.
King Charles III and the royal family walked behind her coffin in a solemn procession this afternoon (Wednesday, September 14).
Pulled on a gun carriage of The King's Troop Royal Horse Artillery, the coffin was draped with a Royal Standard and adorned with the priceless, glittering Imperial State Crown.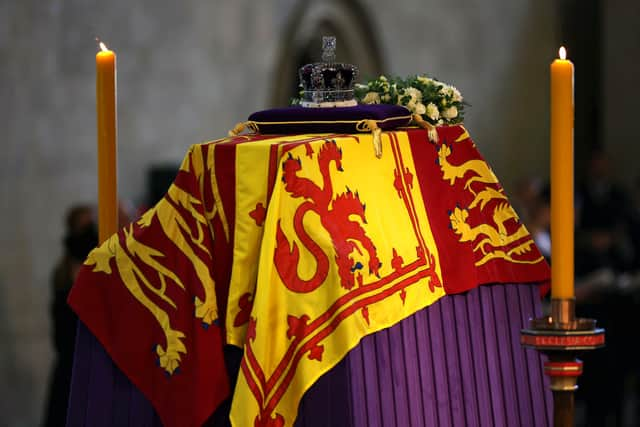 Thousands of mourners flocked to see the moving sight of the Queen departing the official residence where she spent so much of her working life at the heart of the nation.
Viewing areas were declared full ahead of the procession starting.
The King walked in line with the Princess Royal, the Duke of York and the Earl of Wessex.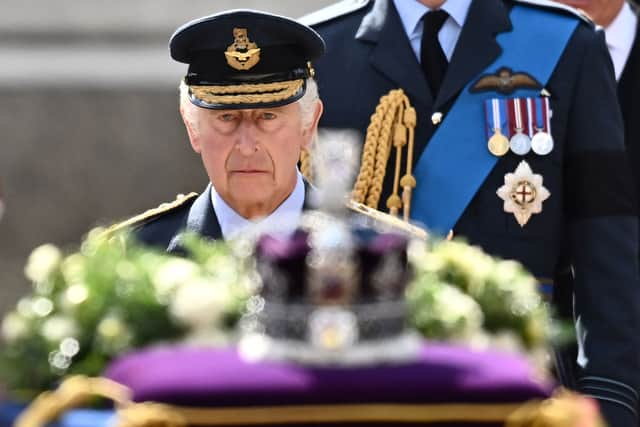 Behind the quartet were the Queen's grandsons - Peter Phillips, the Duke of Sussex and the Prince of Wales - followed by the late monarch's son-in-law Vice Admiral Sir Tim Laurence, the Duke of Gloucester, the Queen's cousin, and her nephew the Earl of Snowdon.
The journey from the palace to the ancient Westminster Hall, took around 38 minutes - passing landmarks of Horse Guards Parade, the Cenotaph and Downing Street.
Accompanied by her family, the Queen is effectively being handed over to the nation for her lying in state over four days ahead of the state funeral on Monday.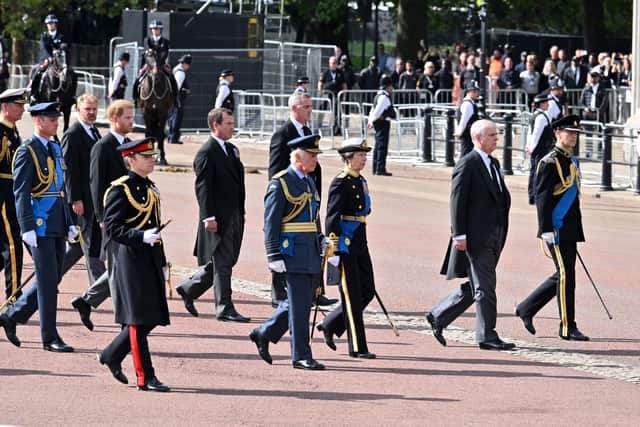 The bearer party who will carry the Queen's coffin into Westminster Hall and provide an escort are soldiers who were flown back from Iraq to take part in the procession.
The Queen's coffin was flanked by her equerries – military men who served the monarch by organising her diary of events and providing helping hands when she was handed a present.
Funeral marches played by military bands added to the solemn mood that left some mourners weeping, while others held up their camera phones to record the historic moment.
The King looked expressionless as he stared straight ahead with his siblings to his left, who also showed no emotion.
The Queen Consort and Princess of Wales did not join the procession but travelled by car, followed by another vehicle carrying the Duchess of Sussex and Countess of Wessex.
The Queen's coffin arrived at the Palace of Westminster just after 3pm and entered Westminster Hall as the Westminster Abbey and St James' Palace choirs sang Psalm 139.
The Archbishop of Canterbury then read the opening prayer, which the King appeared to follow through an order of service.