The route has been announced for the queue that thousands will use to pay respects to Her Majesty, Queen Elizabeth II Lying-in-state at Westminster Hall.
Her Majesty's coffin will spend four days in Westminster Hall, before being moved to Westminster Abbey for the state funeral next week.
Her Majesty's Lying-in-state opens to the public at 5pm on Wednesday, 14 September and will be open 24 hours a day until it closes at 6.30am on Monday, 19 September.
When is the Queen's funeral?
The Queen's funeral will begin at 11am on Monday, 19 September. Shortly after her death, King Charles III announced the day would be a bank holiday.
What is the queue route?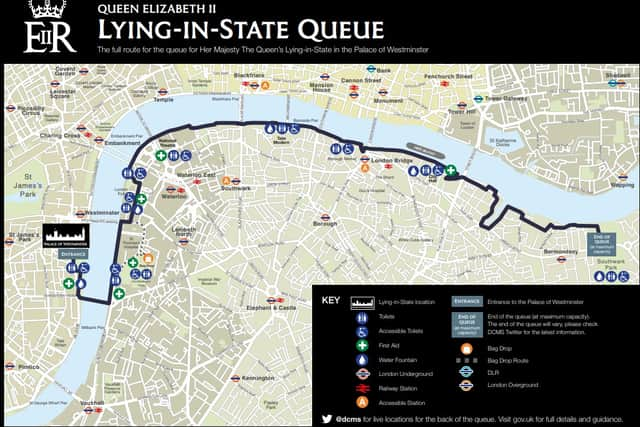 The queue will begin on the Albert Embankment, where it meets Lambeth Bridge and then continue to Southwark Park.
Once people have passed through Albert Embankment they will be directed across Lambeth Bridge, into Victoria Tower Gardens and through airport-style security before entering the Palace of Westminster where The Queen will be Lying-in-State.
The main queue has step-free access for those who need it, and there is also an accessible route.
The accessible route will begin at Tate Britain where timed entry slots will be issued for a queue heading along Millbank to the Palace of Westminster.
With huge crowds expected, people are being urged to plan ahead and act accordingly. The queue will be constantly moving but it is expected that people queuing will have to stand for hours, possibly overnight, with very little chance of sitting down.
How do I join the queue?
People wishing to queue and pay respects will have to join the back of the queue, which will move depending on how many people are in the queue.
When you have reached the back of the queue, you will be issued a coloured and numbered wristband. Wristbands are specific to each person joining, and are non-transferable. Your wristband will be checked along the route.
Having a wristband allows you to quickly vacate the queue to go to the toilet or get a refreshment, it allows you to rejoin the queue from the position you left.
Can I film or take photos in Westminster Hall?
No. Photography and taking videos inside Westminster Hall has been banned, with members of the public not allowed to take footage whilst paying respects to the Queen.
Mobile phones should either be switched off, or on silent.
Can I watch the Queen Lying-in-state on TV?
The BBC will provide coverage of Her Majesty's Lying-in-state on their red button, and will provide a live feed from inside Westminster Hall.
ITV and Sky News will also be providing extensive coverage.