Ekin-Su Cülcüloğlu has responded to complaints that her debut performance on Dancing on Ice was too "racy" and that her outfit was inappropriate pre-watershed.
The Love Island 2022 winner, 28, from Islington, took to the ice in a nude bodysuit that was bejewelled in mirrors to resemble her Love Island bikini.
She appeared on the first night of Dancing on Ice on Sunday night (15 January) in a routine that paid homage to her Love Island experience.
However, following the routine, television watchdog OFCOM received 112 complaints about the reality star's "sexy" outfit.
Ekin-Su Cülcüloğlu clapped back at the number of complaints about her outfit, telling The Sun: "You know what? If you have 'em flaunt them.
"I mean if you've got a nice bum and you look sexy in a unitard, why not. Who cares?"
Complaints to OFCOM said that the catsuit was "too sexy" and should not have appeared on the television pre-watershed.
The reality star also found herself in next weekend's Skate-Off after getting the fewest public votes and the third lowest score from the judges.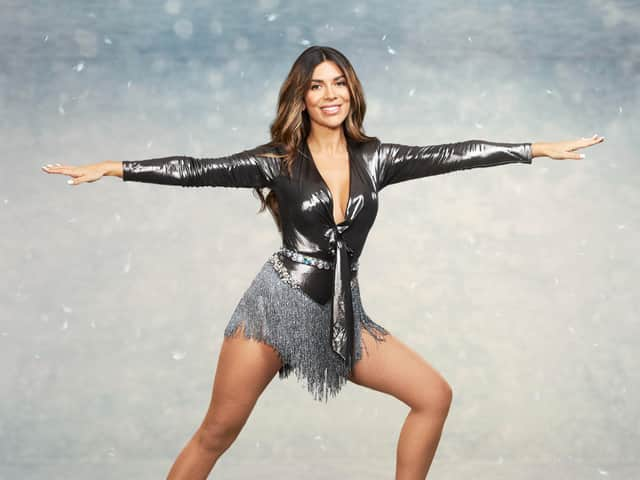 Ekin-Su, who is skating with partner Brendyn Hatfield, 37, will now perform again on Sunday night (January 22) in an attempt to remain in the competition.
On Instagram stories this morning Ekin-Su told her followers: "If you're feeling depresso, have an espresso."
In the next video she can be seen hugging and kissing her boyfriend and fellow Love Island winner Davide Sanclimenti, 27 and repeating her espresso quote.
The positive and chatty Instagram stories come as the reality star faces intense scrutiny for her outfit on Dancing on Ice.
Ekin-Su's one-piece was intended to replicate Britney Spears' outfit in the 2003 music video for Toxic.
The reality star skated to the Britney Spears hit with a routine that paid tribute to her time in the Love Island villa.
At one point Ekin-Su was seen crawling across the ice in homage to her infamous scene crawling into the villa.
Before skating her routine, the Love Island winner was seen preparing for the feedback from the judges.
The model and actress said: "They're not all going to say that I'm great.
"If they say that I need to do better, that would make me work harder.
"I would rather receive criticism than get a ten out of ten each week.
"I want them to criticise me — I'm ready for that."
Ekin-Su has not directly made comments on her social media about her performance other than retweeting a Grazia article titled: "Dear Dancing on Ice viewers, it's not fair to Slut-Shame Ekin-Su".
She also told her 3 million followers: "Don't ever compare yourself to others. You are not a copy, you are an original. Craft your own individuality and sense of style! And just be yourself".