Three Met police officers are under investigation for misconduct, following the "degrading" strip search of a black schoolgirl who was suspected of carrying drugs while on her period.
The "traumatic" search by female officers took place at her secondary school in Hackney in 2020, after teachers believed the 15-year-old was "smelling strongly of cannabis".
A child safeguarding review concluded it "should never have happened" and said there was "no reasonable justification for it".
Police watchdog the Independent Office for Police Conduct (IOPC) confirmed it has served three officers notices "advising them that they were under investigation for misconduct".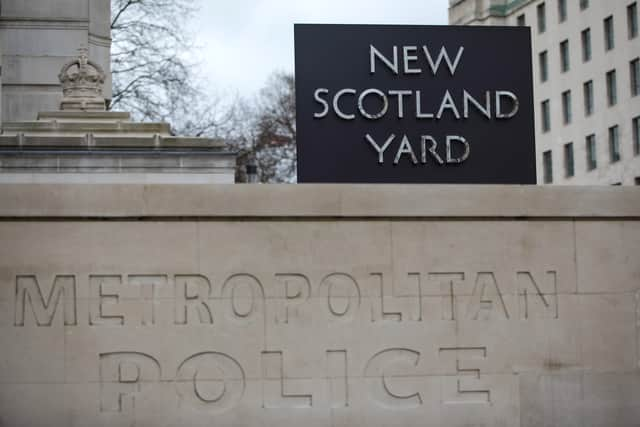 The impact on the girl, known throughout the safeguarding report as Child Q, was described as "profound" and "ongoing".
Child Q said: "Someone walked into the school, where I was supposed to feel safe, took me away from the people who were supposed to protect me and stripped me naked, while on my period.
"I can't go a single day without wanting to scream, shout, cry or just give up… I don't know if I'm going to feel normal again."
Child Q's mother described her daughter as "a changed person", saying: "She is not eating, every time I find her, she is in the bath, full of water and sleeping in the bath.
"When sleeping, (she is) screaming in her sleep."
Her aunt said: "She is now self-harming and requires therapy.
"She is traumatised and is now a shell of the bubbly child she was before this incident."
The search took place without an appropriate adult present and with the knowledge she was menstruating.
It required the girl to remove her sanitary pad and involved "exposure of intimate body parts".
Her mother was not contacted in advance and no drugs were found.
Teachers remained outside the room during the search.
The girl was taken out of an exam, searched, and asked to return to complete the test.
She was not permitted to use the bathroom, despite her request, and was later sent home by taxi.
Her mother said: "This makes me sick - the fact that my child had to take her sanitary towel off and put the same dirty towel back on because they would not allow her to use the restroom to clean herself."
An IOPC spokesperson said: "We can confirm that we have finished our investigation into a complaint that a 15-year-old girl was inappropriately strip searched in December 2020 by two Metropolitan Police Service (MPS) officers.
"Our investigation report is nearing completion."
They added: "We have examined whether legislation, policies and procedures were followed during the strip search of the girl and we looked at complaints that the girl's mother was not given the opportunity to be present during the strip search, and that there was no other appropriate adult present.
"We have also considered whether the girl's ethnicity played a part in the officers' decision to strip search the girl.
"During our investigation, which began following a mandatory referral from the MPS on May 6 last year, we served three officers with notices advising them that they were under investigation for misconduct."
IOPC regional director Sal Naseem said: "We recognise the seriousness of this case and the concern it has caused in the community following the publication of the Local Child Safeguarding Practice Review into this incident.
"We have now completed all lines of inquiry for our investigation and we are close to finalising our report.
"We will look to conclude decision making around that at the earliest opportunity."
The safeguarding report also found "racism was likely to have been an influencing factor in the decision to undertake a strip search".
A Met Police spokesperson said: "We are aware of the publication of a Local Child Safeguarding Practice Review in relation to this case and are apologising to the girl involved.
"On Thursday, December 3 2020, police were called to a school in Hackney where staff were concerned that a 15-year-old girl smelled strongly of cannabis and may have been in possession of drugs.
"The child's bag and outer clothing had already been searched by staff at the school prior to police arrival with no drugs found.
"Two female officers conducted a further search of the girl in the medical room at the school under Section 23 of the Misuse of Drugs Act.
"No force was used and no drugs were located.
"The search was not undertaken in the presence of an appropriate adult.
"Information was provided to the child's family to support any complaint they wish to make against the Metropolitan Police Service and a complaint was subsequently received and was referred to the Independent Office for Police Conduct in May 2021 for investigation."
Det Supt Dan Rutland said: "We recognise that the findings of the safeguarding review reflect this incident should never have happened.
"It is truly regrettable and on behalf of the Met Police I would like to apologise to the child concerned, her family and the wider community.
"It is wholly right that the actions of officers are held to scrutiny and we welcome this review which was commissioned by the statutory partnership with the support of police.
"We have already reminded local officers of the appropriate policies in place around carrying out searches in schools.
"We are conscious that the IOPC are still completing their independent investigation, so further comment would be inappropriate at this time."