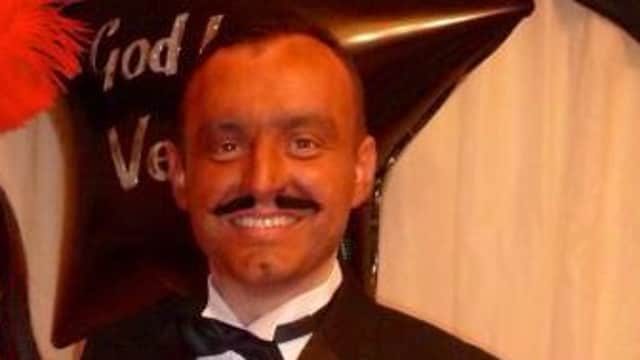 PC Deniz Jaffer with make up on dressed as Sammy Davis Jr. He posted this on his public Facebook account before he became a police officer. Credit: Hornchurch Turk Facebook/Triangle News
A Met Police officer who took photos of murdered sisters Bibaa Henry and Nicole Smallman also posted controversial "blackface" photos on his Facebook.
It has since emerged that Jaffer, from Hornchurch, Havering, has uploaded a slew of controversial images to a public Facebook account under the moniker "Hornchurch Turk".
It has photos of him in 'black face' at a party, posing next to a gimp, and a sinister snap of a vulnerable-looking woman who appears to be passed out on a tube.
American music icon Sammy Davis Jnr (Photo by Larry Ellis/Express/Getty Images)
A shocking post, dated January 2013, shows Jaffer appearing to wear "blackface" make-up to impersonate legendary US singer Sammy Davis Jr while at a fancy dress party with his family.
He captioned the post: "Sammy Davis Jr and family. Chest still hurts from caterpillar dance floor attempt."
In the same month, Jaffer uploaded a photo of a woman who appears to be sleeping on the London Underground.
Her feet are curled up on the seat and her head hidden under a coat.
Jaffer appeared to make a joke about the woman: "Lets all get comfy on the way to work shall we?"
He responded to comments saying: "Ha! I reckon she has been there all night.
PC Deniz Jaffer appears to pose next to a man dressed as a gimp in a photo he uploaded to his public Facebook account. Credit: Hornchurch Turk Facebook/Triangle News
"Still, look on the bright side, she didn't have to spend time getting ready today did she?"
He added: "When I picked her bag up I could see she was breathing. Puke on her coat as well. Nice touch…"
Jaffer uploaded another photo in March 2015 where he grins while posing next to a man wearing what looks like a gimp mask.
And in September 2017, Jaffer posted a snap of three women sitting at a table, adding the misogynistic caption: "Talking about sex make up, sex, shopping, sex, clothes, sex, housework and sex."
Jaffer reportedly previously worked as a banker at before he joined the Met Police in 2018.
Pc Deniz Jaffer on the left. This photo first appeared in an Evening Standard article in 2019 which highlighted attacks on police officers. Pc Jaffer had been attacked in east London. Credit: Hornchurch Turk Facebook/Met Police/Triangle News
His picture appeared in the Evening Standard in June 2019 after he was attacked by a hospital patient at the Royal London Hospital in Whitechapel.
Jaffer and Lewis appeared at the Old Bailey this week, charged with misconduct in public office.
They both admitted the offence, in relation to taking pictures of Bibaa and Nicole, and will face a prison sentence.
The pair admitted to misconduct by entering a crime scene they had been assigned to protect, telling members of the public about being at the crime scene, taking photographs of the crime scene and showing pictures of the crime scene to other officers.
In Jaffer's case, he also admitted to texting pictures via WhatsApp to members of the public.
PC Lewis, from Colchester, Essex, also superimposed his own face onto the photograph, with the victims in the background.
The pair were released on conditional bail before the sentencing at a date to be fixed.
Pc Deniz Jaffer, 47, faces jail for count of misconduct in public office for taking and sharing photos he took with the dead bodies of sisters Nicole Smallman, 27, and Bibaa Henry, 46, in Fryant Country Park, Wembley. Photo by Rob Pinney/Getty Images
Judge Mark Lucraft, Recorder of London, said: "These matters are extremely serious and you should be under no illusions that it is extremely likely that you will receive custodial sentences and custodial sentences of some length."
She said after her daughters were reported missing, the police failed to conduct a proper search and it was left to the sisters' pals to find their bodies.
Ms Smallman said she was convinced the fact the women were black had played a part in the Met's approach to the case.
This was the last photo Bibaa Henry and Nicole Smallman took before they were murdered. Two Metropolitan Police officers admitted sharing photos of the bodies of two murdered sisters on WhatsApp. Credit: SWNS
The Met also had to apologise over the way detectives responded when the pair were reported missing.
A separate IOPC investigation found that the inspector closed the police logs after receiving information about the sisters' possible whereabouts from a family member.
This did not close the missing persons report for Ms Smallman, but it did stop officers being sent to her home.
Her partner ended up finding the sisters' dead bodies in the park.
They were killed by Hussein, then 18, who was known as the Lottery Killer for making a satanic murder pact, signed with his own blood.
The sisters were enjoying a lockdown party to celebrate Ms Henry's birthday in Fryent Country Park, Wembley, on June 6 last year as Hussein watched them from the undergrowth.
After the other guests had drifted away in the early hours he sprang from the darkness with a carving knife to kill first Ms Henry and then her sister in a so-called "celebration of death".
Ms Henry was taken by surprise and had no chance to defend herself.
When her younger sister put up a desperate struggle Hussein took revenge in a "frenzied" attack, stabbing her 29 times.