Housing affordability in the capital is one of the biggest issues for Londoners of all ages. From rent increases, to being priced out of your area, it can feel like a never-ending battle.
Now new data - thanks to comparison service money.co.uk - has shed some light on the matter, revealing the cheapest and most expensive areas to set up home in the capital.
And they've trawled through the figures to give you the lowdown on what you need to know.
Where is the cheapest area to live in London?
Money.co.uk says Croydon is the most affordable area within London for renters, with generally high salaries of over £2,700 a month and slightly cheaper rent at £1,200 a month.
Renters in Croydon see 44% of their monthly salary go towards their rent on average - a full 23% less than Kensington and Chelsea.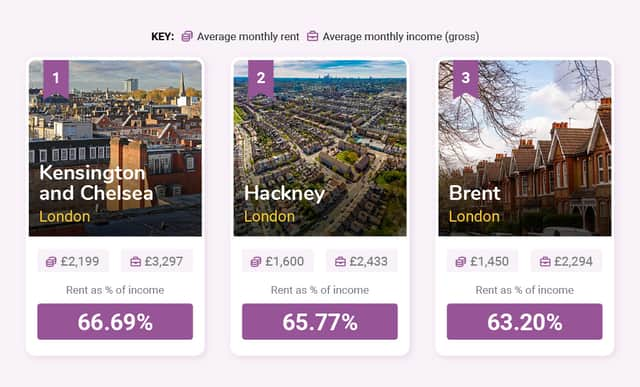 The second most affordable area to rent in London is Sutton, with 45% of renter's monthly salary going towards rent, on average.
At £2,452, the average monthly salary here is more than many places outside of the capital.
While Kingston-upon-Thames is the third most affordable area to rent in London.
The average salary here is relatively high so the average monthly rent cost of £1,350 only makes up 46% of the average person's monthly income, according to money.co.uk
Where is the most expensive area to live in London?
The comparison service says Kensington and Chelsea - perhaps unsurprisingly - is the least affordable area to rent in London.
It has the highest monthly earnings in the country (£3,297.17), as well as the highest average rent (£2,716). This means that people renting here pay around two-thirds of their income on rent.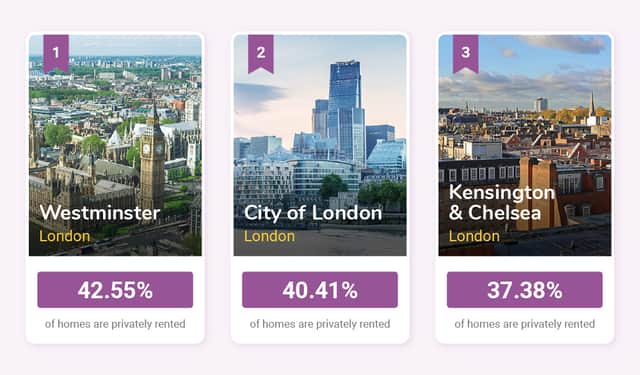 In second place is Hackney, where rent makes up 65.77% of the average monthly income.
Hackney has undergone significant gentrification in recent years, attracting many young workers to the area. Like many other parts of the capital, it also benefited from hosting the 2012 London Olympics, with many of the venues in the borough.
Another London borough completes the top three least affordable areas for renting. Average rent prices in Brent are £1,450, which makes up 63.2% of the average monthly income.
Brent has both inner-city and suburban areas and its best-known landmark is Wembley, the country's largest stadium.
What else did the survey say?
The data came from the 2022 Renters Report, released by money.co.uk.
It also found that Westminster is the area in the UK with the highest percentage of rental properties, with 42.55% of homes being privately rented.
North East Derbyshire is the area with the least amount of homes being privately rented, at just 9.69%.
What has been said about renting in London?
London mayor Sadiq Khan held a renters summit earlier this year.
He wants the government to give him powers to freeze rents for two years and to devolve long-term rent control powers to him as mayor of the capital.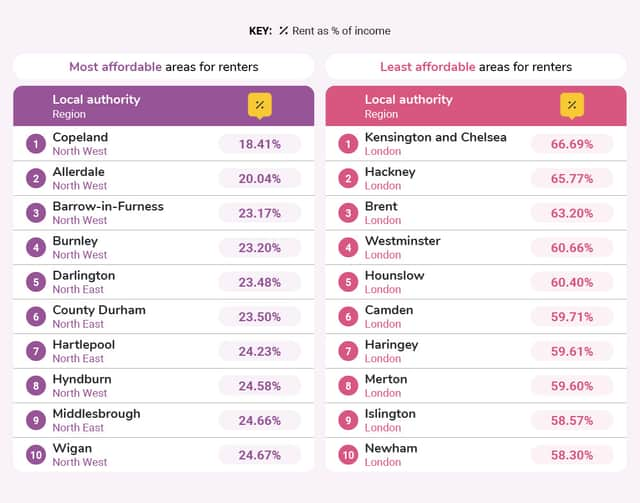 And Baroness Alicia Kennedy, from Generation Rent, who attended the event, told LondonWorld: "The cost of living crisis is as dire as the pandemic for renters in terms of homelessness.
"Arrears are up, prices are up, energy bills are up, wages are down and benefits are frozen so something has got to give."
What is the government doing?
Earlier this month, the Department of Levelling Up, Housing and Communities (DLUHC) announced an extra £50 million of government support for vulnerable households.
The department says the funding is on top of a £316m homeless prevention grant and is part of a £2bn package to tackle homelessness and rough sleeping over the next three years.
Housing minister Felicity Buchan said: "We understand that many people are struggling this winter and we are taking action to protect vulnerable families at risk of homelessness this Christmas.
"The increased support will make a real difference to those most at risk by helping them to pay their rents or find new homes."