The Oscar-winning actor described the move as "the kind of large-scale, decisive action we need to halve emissions this decade."
In a Facebook post he shared with his 19m followers DiCaprio wrote: "London mayor Sadiq Khan's decision to expand his flagship air quality policy, the Ultra Low Emission Zone (ULEZ) will mean five million more people breathing cleaner air, and will help to build a better, greener, fairer London for everyone.
"This is the kind of large-scale, decisive action we need to halve emissions this decade, coupled with the implementation of nature-based solutions.
"The expansion of the ULEZ will reduce the number of Londoners living in areas exceeding interim World Health Organization (WHO) targets for nitrogen dioxide (NO2) by 13% – including children at 145 schools."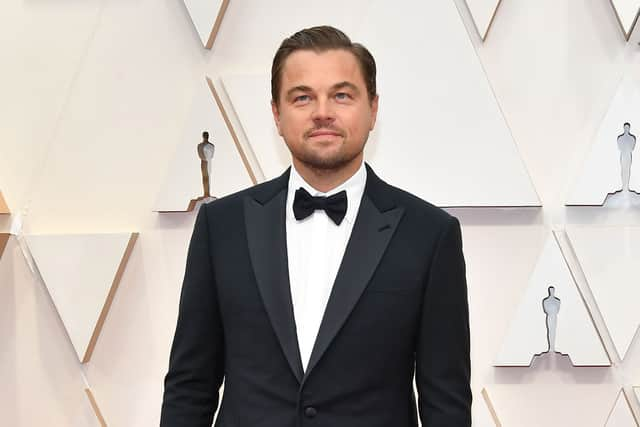 In 2019 he also tweeted congratulations to Mr Khan on the launch of the ULZ in central London.
At the time, DiCaprio said: "Clean air is a human right."
But Nick Rogers, GLA Conservatives transport spokesperson, said: "A millionaire in California who regularly travels by private jet might not understand the devastating cost of living impact Sadiq Khan's Ulez expansion will have on people.
"But Londoners do, which is why an overwhelming majority voted against it in the consultation and the latest YouGov polling.
"Given the overwhelming reaction from Londoners against this decision, it is clear that Sadiq Khan's Ulez plans have hit an iceberg and not even Leonardo DiCaprio can save him.
"The mayor must listen to Londoners and U-turn."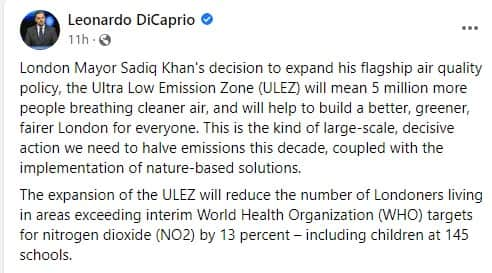 Mayor Khan says the move will tackle air pollution, the climate emergency and congestion, and "ensure five million more Londoners can breathe cleaner air".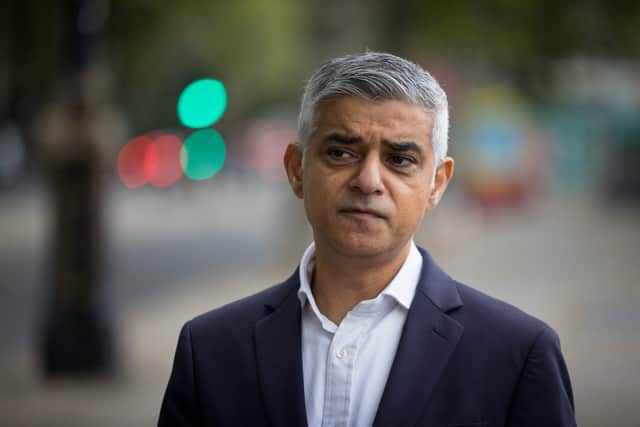 City Hall has also announced a £110m scrappage scheme, support for disabled Londoners and a further expansion of the bus network.
Drivers whose vehicles do not comply with the exhaust emission rules will have to pay a £12.50-a-day levy.
Opponents of the plan say the move will unfairly impact low-income and disadvantaged families.
A spokesperson for the mayor said: "We are very pleased that the mayor's bold green policies which will save lives are being recognised by global figures."