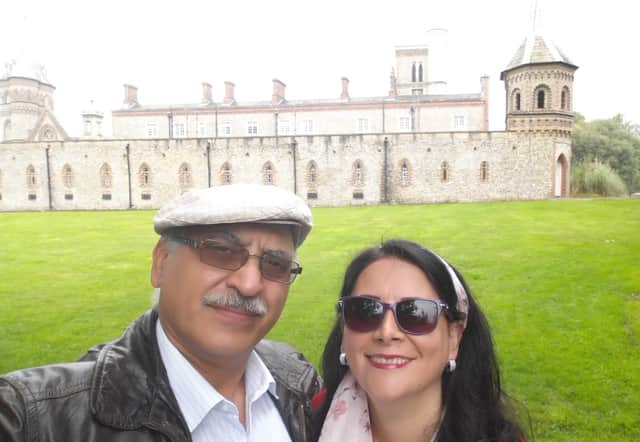 The family of Anoosheh Ashoori, a British-Iranian father-of-two, are demanding the Government do more to free him from prison in Iran.
The 67-year-old retired civil engineer, from Lewisham, has been detained in Evin Prison, Tehran, since August 2017.
He was arrested by Ministry of Intelligence agents for alleged links to Israel during a three-week visit to see his elderly mother, and sentenced to 10 years in prison for "cooperating with a hostile state" and "obtaining illicit funds.
However his family have said this is completely spurious, saying he has never been or had any connection to Israel.
Mr Ashoori - who has dual nationality - first moved to the UK in 1972 to study, and has lived in London with his family since 2005.
According to his family, he has attempted suicide twice and went on a 17-day hunger strike in protest against his detention.
Wife Sherry Izadi, 58, has been campaigning alongside Richard Ratcliffe, who is currently on hunger strike outside the Foreign Office to free his wife Nazanin Zaghari-Ratcliffe, another British Iranian imprisoned in Iran.
"I think Anoosheh was just extremely, extremely unlucky as out of the thousands of dual nationals that travel to Iran during the year, who go to see their families or for whatever reason, he drew the short straw and happened to be picked," Ms Izadi told LondonWorld.
"Because there's no other rhyme or reason as to why he should be part of it, you know, he's not in any way involved in any form of politics.
"We've never had any involvement because he was accused of spying for Israel, which is absolutely preposterous.
"We've never been to Israel, we don't have any Israeli friends, we don't Israeli connections.
"Not that we don't want to, it just never came up.
"We are very ordinary, everyday citizens.
"He's never been involved in political activities, he has never been involved in any form of what they call anti-government, anti-Iran groups in any way.
"He always was very much against political activity, because we did live in Iran for a long time and living in Iran you sort of learn to keep a low profile there.
"I think it was just extreme bad luck."
Mr Ashoori studied in the UK in 1972, and lived here until the 80s.
He went back to Iran for several years for family reasons, and returned again with his wife and their two children - daughter Elika, now 35 and son Aryan, now 32 - in 2005.
His family has been here ever since.
Mr Ashoori went to Iran in July 2017 for a "routine visit" to see his mother, who was having an operation.
"We had visited Iran many times in the past, as we both have family there," Ms Izadi said.
On August 13, he left his mother's house, and was bundled into a car and kidnapped in the street.
He was kept in solitary confinement and put through various interrogations.
"It was a pretty harrowing time as we had absolutely on contact with him," a distraught Ms Izadi said.
"We had no idea what was happening.
"During those first four months he was only allowed one very brief visit from his mum for about five minutes.
"That was when we actually knew he was alive."
It wasn't until December 2017, that his wife and two children were able to talk to him.
"Those first four months were truly the most horrific for him as he had no idea what was happening," Ms Izadi explained.
"He was subject to interrogation, he had a 17-day hunger strike, he had multiple suicide attempts.
"It was the worst period of our lives."
She said that they have received some support from the Foreign Office, but no assurance of a plan to get her husband home.
"We've had meetings with Jeremy Hunt, when he was foreign minister," she explained.
"He actually went to Iran to represent Nazanin and Anoosheh.
"We hopefully have a meeting coming up with Liz Truss [Foreign Secretary], where my legal team can discuss the application and what they actually plan to do to get him back.
"They do provide support in that sense, they keep us updated but with no concrete results."
Elika Ashoori and her brother Aryan have both taken turns to camp out with Mr Ratcliffe over the last three weeks.
Signs saying Free Anoosheh are placed adjacent to the Free Nazanin placards around Mr Ratcliffe's campsite outside the Foreign Office.
The Foreign, Commonwealth and Development Office said: "The Iranian deputy foreign minister, Bagheri Kani visited the FCDO on November 11 to meet senior government officials and minister [James] Cleverly.
"FCDO representatives reiterated that Iran should take the opportunity to conclude the joint comprehensive plan of action deal on the table now.
"The Iranian deputy foreign minister was also pressed on the need for Iran to urgently release all British nationals unfairly detained in Iran, including Nazanin Zaghari-Ratcliffe, Anoosheh Ashoori and Morad Tahbaz.
"The Foreign Secretary, minister Cleverly and the FCDO continue to work hard to secure the release of all those British nationals unfairly detained in Iran."