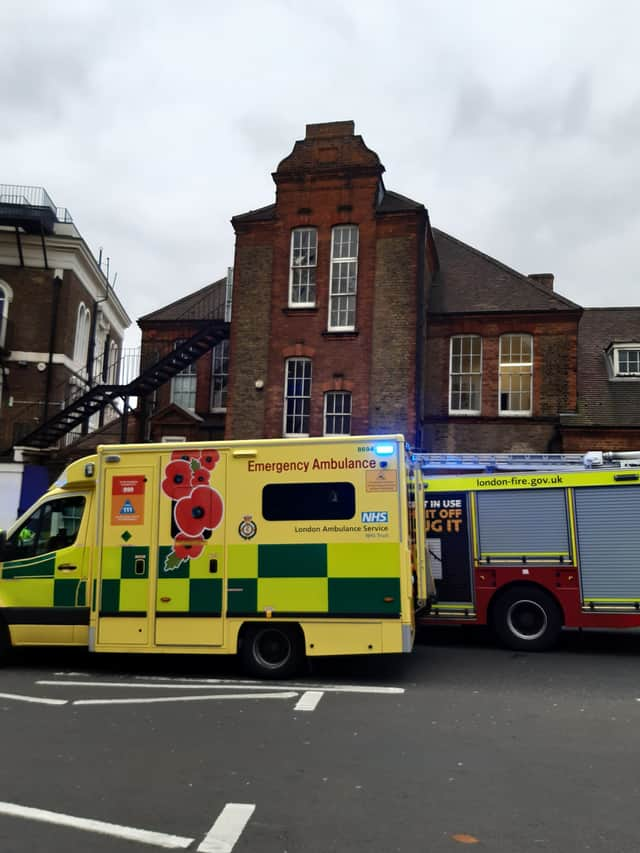 Two teachers and 11 children were taken to hospital when a ceiling collapsed at a Lambeth prep school earlier today.
The ceiling gave way on the second floor of £4,900 per term Rosemead Prep School in Dulwich.
Police, fire and ambulance crews were scrambled to the school, which teaches youngsters aged two to 11, just before 9.30am.
The school has said that there were no life-threatening or life-changing injuries, and most of the infants have been discharged from hospital.
A London Ambulance Service spokeswoman said: "We were called at 9.24am today to reports of an incident at Rosemead Preparatory School.
"We sent a number of resources to the scene, including ambulance crews, medics in cars, advanced paramedics, incident response officers, emergency planning resilience officers, our hazardous area response team, and a command support vehicle.
"We treated 16 people at the scene, and took 12 children and one adult to hospital."
Nick Crawford, chair of governors of Rosemead School, issued a statement to the press on behalf of the school.
He said: "At 9.30am this morning in one of our Year 3 classrooms, a ceiling collapsed resulting in the attendance of emergency services.
"Sixteen children and one teacher were in the room when the ceiling collapsed.
"Unfortunately, some injuries were sustained and 11 children were taken to hospital, together with two adults, both teachers.
"There were no life-threatening or life-changing injuries and the majority have been discharged.
"We are working closely with the authorities and relevant specialists to understand the cause of the incident, therefore it is inappropriate that we speculate or comment further at this stage.
"This has been a worrying time for the children involved, their families and the wider school.
"We understand from initial examinations that there are no concerns regarding the rest of the building, and we will work with the authorities regards any investigations to be undertaken.
"We would like to sincerely thank members of staff, the emergency services and those who sent messages of support from the wider community."
A local resident, who gave his name as Jim, said: "I heard fire engines go by, but had no idea it was anything to do with the kids.
"I really feel for them. That shouldn't happen.
"I do wonder how the school was able to continue with the day when a bunch of kids have been injured.
"If they say it's safe now, sure, but surely that should be the expectation of every day when you go to school?"
A woman, who lives near the school and who is friends with a mum who has an eight-year-old at Rosemead, said: "All I know is that there were minor injuries.
"I can't say any more. I know my friend's son is fine."
Firefighters said a number of people were treated on the scene for minor injuries while some children were taken to hospital by paramedics.
A Met Police spokesman said: "All children and staff have been accounted for."
A London Fire Brigade spokesman said: "Three fire engines and around 20 firefighters were called to a ceiling collapse at a school in Thurlow Park Road, Dulwich.
"A ceiling had collapsed on the second floor.
"A number of people were treated on the scene for minor injuries and a number of children taken to hospital by London Ambulance crews.
"All other children and staff were safely evacuated from the building.
"Firefighters carried out a systematic search of the building and confirmed with the school that all children and staff were accounted for."
He added: "A specialist Urban Search and Rescue team and equipment were also used to confirm the building was at no further risk of collapse.
"Fire crews from West Norwood and Brixton fire stations attended the incident.
"The Brigade was called at 9.22am and the incident was over for crews by 11.50am."