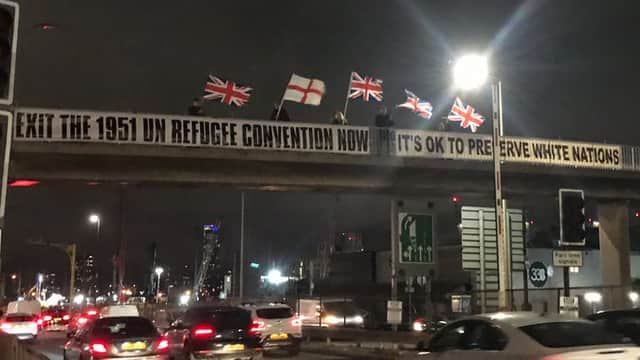 Londoners have slammed an anti-refugee group as "disgusting" after members hung a banner near the Blackwall Tunnel saying: "It's OK to preserve white nations."
The sign - which was hung by people holding Union Jacks and the St George's cross - also read: "Exit the 1951 UN Refugee Convention now."
The move is just a week after 27 refugees tragically died while trying to cross the Channel - including a pregnant woman and three children.
According to the United Nations, it was the single largest loss of life in the English Channel since the UN migration agency started recording data in 2014.
On social media, people blasted the group as "disgusting" and "disgraceful".
Police were called about the banner, and when officers approached the group ran away. It was then removed
The banner was displayed on the south approach to the Blackwall Tunnel, in Docklands, Greenwich, at around 5pm last night, November 30.
This is one of the main routes into London from Dover.
The message was claimed on Twitter by a group called National Housing Party UK, which says that Pat McGinnis is treasurer.
It tweeted: "Banner drop Blackwall Tunnel. Please retweet."
A YouTube account called Patriotic Social uploaded a video today, December 1, in which a man said that the UN Refugee Convention was the "elephant in the room".
A Met Police spokesperson said: "Police were called shortly after 5pm on Tuesday, November 30, to the Southern Approach of the Blackwall Tunnel, Greenwich, to reports of a group of people displaying banners from a footbridge.
"Officers attended and the group ran off. No arrests were made.
"The banners were subsequently removed by the officers."
Mayor of London Sadiq Khan said: "Those racists don't speak for the vast majority of people in London.
"We're a city and a country that has been a safe haven for refugees and asylum seekers for decades – that's not going to change.
"And I think the majority have got to not be silent.
"We've got to be speaking up for our values, we've got to be speaking up for those who have lost their lives on unsafe crossings on the Channel, and we've got to lobby the Government to provide safe ways for asylum seekers and refugees to come to our country.
"We've got other countries in Europe taking far more asylum seekers and refugees, not just Germany and France, but others in terms of the size of the countries. We've got to be doing far more."
On social media, people slammed the group for its "disgraceful" message.
London John wrote: "Someone definitely needs to check your hard drive, Pat."
While Marc Smith wrote: "God I'm so embarrassed of this country.
"This is not how most of us feel thank Christ, this is not what being British/English is about.
"We are a privileged nation despite the Tories' best efforts, and we CAN afford to be gracious and welcoming.
"Don't tell me we are 'full'."
Penny Morgan described the banner as "disgusting", while Olwen Goodall said: "Horrible. And is it legal?"
Stewart Jackson wrote: "I worry more about the fact some people feel emboldened to publicly display this message, more than the message itself."
Steven Baker said: "I'll point our London voted [Sadiq] Khan as mayor.....twice.
"You guys lost their deposits ... you represent no one."
And June Sim added: "You know, if you don't like the way we do things in our country, you can always leave."
Additional reporting: Joe Talora