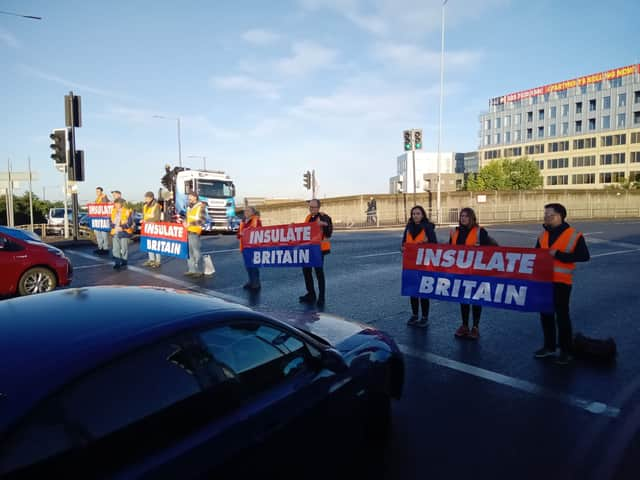 Climate activist group Insulate Britain blocked four major routes into London, causing major disruptions during Monday's rush hour.
These include Blackwall Tunnel, Wandsworth Bridge and the North Circular (A406) at Hangar Lane and Arnos Grove.
Drivers were left furious, with one woman captured on video begging the protesters to move so she could see her mother in hospital.
At Wandsworth Bridge, paramedics pulled the activists off the pavement so their ambulance could get through.
The group said 50 people are involved this morning as their campaign to demand government action on home insulation enters its fourth week.
This is the latest in a series of protests from the group, which previously targeted the M25, M1, M4 and Port of Dover.
Motorists furiously beeped their horns as protesters glued themselves to the ground, refusing to move.
This action comes despite a fresh Government injunction taken out on Saturday, banning protestors from obstructing traffic and access to motorways and major A roads in and around London.
Protestors who break the injunction face imprisonment or an unlimited fine.
The police said 38 arrests have been made so far.
The group says actions will continue until the government makes a meaningful statement indicating that they will insulate all of Britain's 29 million homes by 2030
What is Insulate Britain saying?
An Insulate Britain spokesperson who went by the name Tracey said: "We're more scared of what will happen when the climate crisis causes the breakdown of law and order, than we are of injunctions and prison."
"The government is focussing on us rather than what's coming down the road. They need to face up to reality.
"If our government really wants to do something for hard-working families it should act decisively to insulate Britain's homes.
"It will help people with rising energy bills, prevent 8,500 fuel poverty deaths this winter and cut carbon emissions in the most cost-effective way possible.
"Come on Boris: get on with the job!"
What is the government saying?
Transport Secretary Grant Shapps said: "We will continue to do all we can to prevent this self-defeating, disruptive and incredibly dangerous behaviour being carried out by Insulate Britain."
"They are putting lives in danger and damaging their own cause.
"Activists are being tracked down and served court papers and will now face justice.
"We will take the strongest action against anyone who decides to take part in this ridiculous and irresponsible action."
Prime Minister Boris Johnson said: "This government will always stand on the side of the law-abiding majority and ensure the toughest penalties possible for criminals who deliberately bring major roads to a standstill.
"We will give the police the powers they need to stop their reckless and selfish behaviour."
How to avoid the Insulate Britain blockages?
Protestors blocked the A12 southbound and northbound at the Blackwall Tunnel and the A217 northbound and southbound at Wandsworth Bridge.
They also blocked the Hanger Lane gyratory on the A40 junction with the North Circular Road (A406) in north-west London and further parts of the North Circular Road (A406) at Arnos Grove.
The nearest alternative routes to Blackwall Tunnel are the Rotherhithe Tunnel, Tower Bridge and Dartford Crossing. Motorists can also use the Woolwich Ferry for free.
Motorists affected by the Wandsworth Bridge closure can use alternative routes via Chiswick or Putney bridges.
The Met Police said just after noon: "Protestors have been removed, roads are now clear and traffic is moving."