The leader of Westminster Council has vowed to tackle dozens of illicit American candy shops and souvenir stores that are popping up in one of the UK's busiest shopping streets.
The US themed-stores located on Oxford Street are being investigated for selling counterfeit goods and business rates evasion amounting to £7.9 million.
Westminster Council has launched a probe into 30 shops, which it says are "far from regular and legitimate" in the West End.
Since the investigation began, around £574,000 worth of counterfeit and illegal goods have been seized.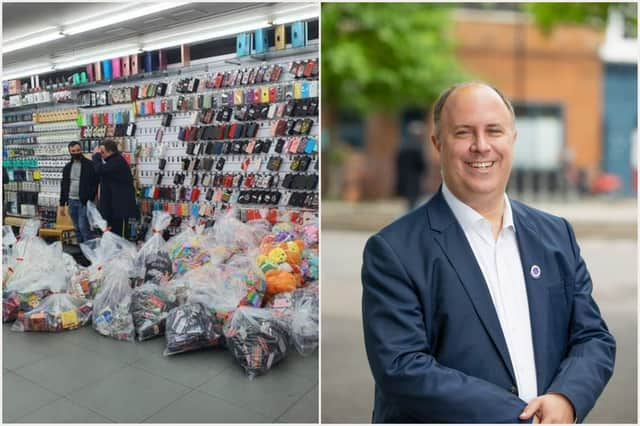 On Wednesday, officers carried out raids on three Oxford Street stores and recovered more than £22,000 worth of fake Wonka bars.
The officers also discovered counterfeit toys, vapes, Apple and Samsung products, chargers, shisha products and watches.
All 2,838 vapes recovered contained excessive levels of nicotine and had not been approved by the Medicines and Healthcare Products Regulatory Agency.
Westminster City Council leader Adam Hug said: "The taxpayer has been ripped off by losing eight million pounds worth of business rates.
"Consumers are being put at risk by these goods that are counterfeit or illegal.
"So the £600,000 that we've pulled in so far is just the tip of the iceberg.
"We are working with the government to try and tackle the issues of firms that are popping into existence and then disappearing again before they pay their business rates."
The council leader says pressure is building on landlords to take responsibility for the shops operating on their premises.
Mr Hug said: "The problem is that owners of buildings are turning a blind eye to those who sublet them as it means they are not liable for business rates. That's why we have a rash of US candy stores in prestige locations.
"This needs to stop, and we will be stepping up pressure on landlords to make it clear they are responsible for Oxford Street being overrun with these kinds of stores."
Westminster Council has already taken action against various properties under civil proceedings, including planning enforcement action, where the premises are advertising illegally.
However, the local authority said this has become difficult due to complex chains or leases and licences in place.