A woman prosecuted by the Met Police for attending the vigil for Sarah Everard has crowdfunded thousands of pounds for her legal fees to cover the costs of standing trial.
Dania Al-Obeid 27, of Stratford, east London, was charged by the Met for breaching Covid-19 laws by attending a vigil held in memory of the 33-year-old marketing executive, murdered by serving armed cop Wayne Couzens, on Clapham Common on March 13, 2021.
She has launched a crowdfunding campaign to pay for her legal fees and so far has raised £3,400 of her £5,000 target.
Ms Al-Obeid said: "I have been on the receiving end of brutal violence, I know what it feels like to have your life flash before your eyes.
"When the news broke about Sarah Everard, I could not shake away the fear and pain she must have felt in her final moments, and the lifelong pain this will cause to her loved ones."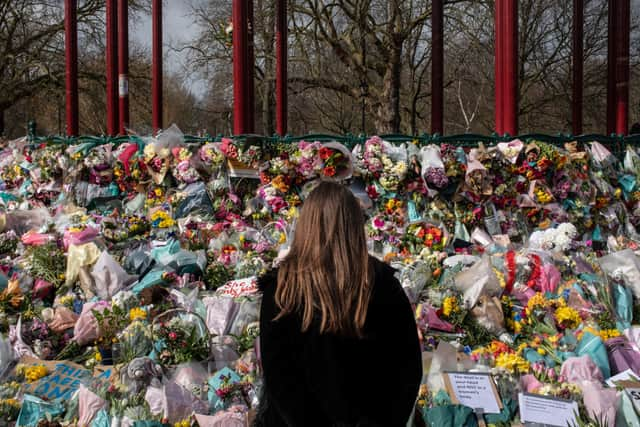 She added: "The only positive way I felt I could move forward was to honour Sarah's life, and to channel that pain and anger by shouting enough is enough, no more violence.
"Although there were lockdown restrictions at the time, I believed that the issues at stake were too important to ignore, and that women needed a space where we could mourn.
"More than a year later, the Met are prosecuting me for breaching the Covid-19 regulations. It feels surreal, like we've completely lost the bigger picture… like our reasons for attending the vigil do not matter, that lives lost to violence aren't important enough.
"I am defending myself on the basis that I was exercising my freedom of expression and of assembly in a reasonable manner.
"The Met, instead of helping me and other women to do this in the safest way possible, shut down all efforts at organising a socially-distanced vigil. Their actions at the time have now been declared unlawful by the high court."
Feminist activists Reclaim These Streets (RTS) attempted to organise a socially-distanced vigil on March 13 but cancelled the event after being told they risked fines of up to £10,000.
The organisers have since fought and won a high court battle, with the judge finding the Met breached their human rights by preventing them holding the planned event on that Saturday.
However, women - including the Duchess of Cambridge - laid flowers at the south London bandstand anyway, before police broke up the gathering with violent arrests, sparking outcry.
Six people have since been charged with breaching coronavirus restrictions over the event.
It comes after the police issued nine fixed penalty notices (FPNs) to people who had attended - seven of which were not paid.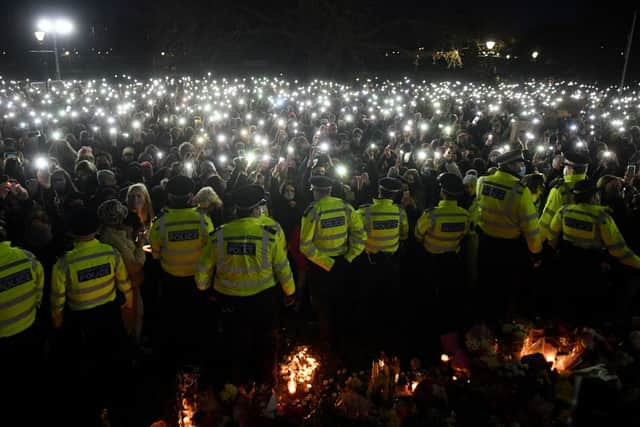 Charges were issued to six of the individuals, with no further action taken in one case.
Ms Al-Obeid, alongside Vivien Hohman, 20, of Lambeth; Ben Wheeler, 21, of Lambeth and Kevin Godin-Prior, 68, of Manchester, appeared at Westminster Magistrates' Court on Wednesday, June 1.
They were all charged with participating in a gathering of more than two people in a public outdoor place in a Covid-19 Tier 4 area.
It's understood these cases were heard under the single justice procedure, and Ms Al-Obeid was convicted in her absence.
She later applied to reopen her case, and pleaded not guilty, as she told the City of London Magistrates Court on July 15 she only became aware of her conviction after media reports.
The Met said Jade Spence, 33, of Lambeth, and Jeni Edmunds, 32, of Lewisham, were also due to appear in court. Ms Edmunds has since also pleaded not guilty.
Ms Al-Obeid added: "As a survivor of domestic violence, I want to build the compassion and awareness needed to help victims of abuse survive.
"If the police win, I will end up with a criminal conviction. But that isn't the only reason I am fighting this case.
"I want to send a message to victims of violence that we will not apologise for our human rights to have a space to mourn, to process our pain and to call for change.
"I want to send a message to the Met and to police officers to act differently next time, to act with more compassion."
Lawyer Pippa Woodrow, of Doughty Street Chambers, who is representing Ms Al-Obeid: "[I'm] very proud to represent this brave woman, along with Grace Loncraine.
"She's right - 'we should not be silencing those who speak up about violence against women, but using those resources to protect them'."
Ms Al-Obeid's case is listed for a three-day trial in November this year, and the funds raised will go towards covering the costs of her solicitor and barrister, who have taken on her case at "well below their usual fees"; the money spent on applying to reopen the case; and CPS costs in case of conviction.