Police searching for the killer of an 87-year-old man stabbed to death in Greenford, west London, have named the victim as Thomas O'Halloran.
The brutal murder of the ''jolly'' pensioner who was using his mobility scooter at the time of the savage assault has shocked the local community.
Mr O'Halloran was fatally knifed next to the busy A40 dual carriageway in Greenford, west London, in broad daylight yesterday (Tuesday, August 16) afternoon - but police say he continued to travel 75 yards on his mobility aid after the attack.
Police and paramedics rushed to the scene, but were unable to save the pensioner.
Officers are working to inform his next of kin, but no arrests have yet been made.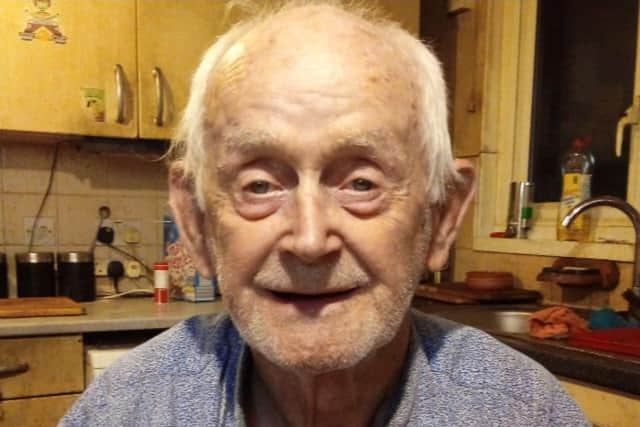 Speaking to reporters at the cordon today (Wednesday, August 17), chief supt Sean Wilson said: "Yesterday, an 87-year-old grandfather on a mobilty scooter had his life snatched away in a shocking act of unprovoked violence.
"I understand our community will quite rightly be shocked and appalled by this incident, as I am too.
"We are now able to name the man who tragically lost his life as Mr Thomas O'Halloran who lived in Greenford and was a very well-known and much-loved member of our community.
"My thoughts very much remain with Mr O'Halloran's family and friends today. I'd also like to appeal for their privacy to be respected while they come to terms with their loss."
He added: "Detectives from the Met's specialist crime command, with the assistance of my officers, have been working tirelessly over the last 20 hours to understand what has happened and to identify who is responsible for this horrific crime.
"They have been following up a number of inquiries, including the reviewing of CCTV and forensic examination of the area, however, we do need your help.
"We are appealing to anybody with dashcam or cycle-helmet footage that might have captured this incident to get into contact with us.
"We believe that Mr O'Halloran was stabbed in Western Avenue shortly before 4pm yesterday, Tuesday August 16, before managing to travel 75 yards or so on his mobility scooter to Runnymede Gardens where he flagged down a member of the public for help.
"So please, if you saw anything, we do need to hear from you."
The Met Police were called at 4.06pm to Cayton Road, Greenford, to reports of a man with stab injuries.
Mr O'Halloran was the sixth person to be murdered in London in just four days.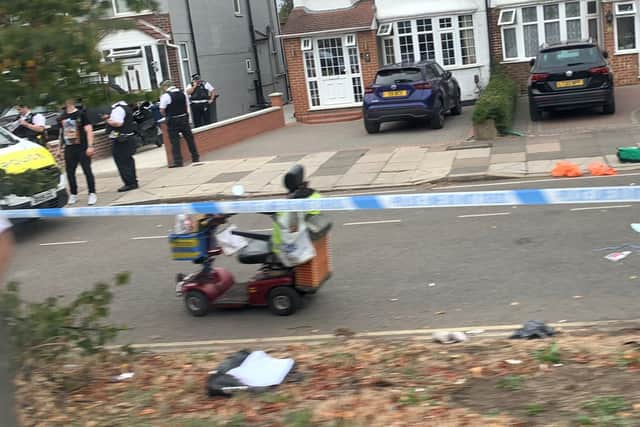 Greenford resident Farsley Coutinho, who lives near the murder scene and witnessed the aftermath of the stabbing, said: ''It is terrible. This is a peaceful area.
"It happened in broad daylight in summertime on a busy road as well.
"I see him all the time. I have lived here for the last few years and he was jolly. We would say 'hello' to each other.
"He was quite a peaceful guy going on his way.
"I don't know his name, but he lived locally. He was white.
"When I heard about it I just checked the [CCTV] footage. I think everything happened just before in an alleyway.
"As soon as he came out he was in a lot of distress.
"A passer-by saw he was in distress, came down and alerted another passer by.
"It was clear something was wrong with him, but I couldn't see any blood.
"He was in a panic and knew something was wrong.
"Four to five people ran out to help him, but I couldn't see anyone giving CPR or anything like that. They were just going around trying to help."
And Nick Lambi, 72, who lives nearby, says the victim would often raise money for charity.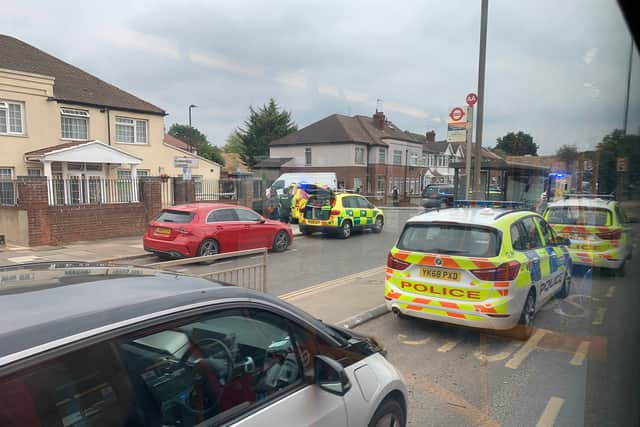 He said: "I know these things can happen, but it is so disconcerting and worrying for this area.
"It is very rare that a man of this age can be attacked in such a way. He collected for charity, often outside Tesco.
"I saw around three police cars arrive at the scene and then I saw the air ambulance overhead."
Ali Gaber, 80, who lives near the cordon, said: "I am very worried. He is an old man and somebody stabbed him.
"What were they looking for? Of course I am worried, I am over 80 too and am disabled. I feel really unsafe.
"This is quite a quiet area and everybody knows each other."
The latest killing spree in the capital began when Kacey Boothe, 25, was shot in Walthamstow in the early hours of Saturday.
Stephen Goodman, 60, was fatally injured during a fight in Dagenham, east London, on Sunday. A 23-year-old local man has been charged with murder.
Sonny Booty, 36, found dead at an address in Lewisham, south east London, on Sunday. A 53-year-old man has been charged with murder.
A man was stabbed to death in broad daylight in Soho, central London, on Monday.
School dinner lady Aziza Bennis, 58, was stabbed to death at her home in Acton, west London, on Tuesday.
A 21-year-old woman has been charged with murder.