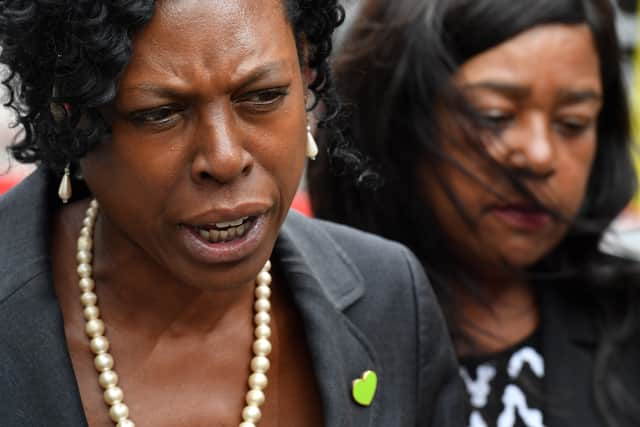 Yvette Williams, left, at the opening day of the Grenfell Tower inquiry. Credit: BEN STANSALL/AFP via Getty Images
The founder of the Justice4Grenfell campaign Yvette Williams has said the fire "tells us everything that is wrong with the society we live in".
Ms Williams and her daughter witnessed the horrific fire at the 24-storey Grenfell Tower block in North Kensington on June 2017, which killed 72 people.
The 56-year-old has played an important role in the campaign for accountability and justice for Grenfell victims ever since.
She was featured in British Vogue's 20 Remarkable Activists Ready to Change the World, September 2020 issue.
Speaking to LondonWorld, as part of Black History Month, Ms Williams said: "I was called to the fire on the night because a friend of mine lives underneath in the walkways.
"When you think back on it, you don't understand the horror of it and the trauma stays with you.
"But I know for the days after I just worked in one of the relief centres, sorting children and baby clothes.
"You got up each morning thinking, did that really happen? Did I really witness that?
"Also people don't understand that the building burned for 60 hours.
"So we're down here and you can see the building just continuously kind of smoking."
Ms Williams and her friend Judy Bolton launched Justice4Grenfell a few days after the fire with a silent walk.
"Understandably, a lot of people were angry," she said.
"There had been a kind of a march and a demo that had gone down to the town hall that looked as if it was getting out of hand and I just wanted to bring some kind of sense of calm for one, but also just space to really absorb what had happened."
Following the walk, Ms Williams and Bolton offered assistance to bereaved families coming in from abroad and survivors who needed information on where to get help and support.
"So it just kind of went from there really, it was organic in many ways," she said.
"Once the bereaved and survivors began to kind of organise themselves, we just thought, look, we really need to keep what happened in Grenfell in the public consciousness, otherwise, we've seen it happen before it will be kicked into the long grass. "
Grenfell Tower shortly after the fire had gutted it. Credit: TOLGA AKMEN/AFP via Getty Images
Grenfell Inquiry
The Grenfell Tower Inquiry began on September 14 2017 to investigate the causes of the fire and other related issues.
Findings from the first report of the inquiry, released in October 2019 affirmed that the building's exterior did not comply with regulations, which caused the fire to spread so quickly and that the fire service were too late in advising residents to evacuate.
A second phase to the investigation began on the third anniversary in 2020.
Ms Williams however believes that these findings are part of a "push down effect".
"Many of our predictions at the beginning have come true, which is that they're going to end up blaming the workers," she said.
"They did in terms of the firefighters and there was some mention the other day of, perhaps, it was the window fitters that didn't do their job properly.
"There's always a push down effect.
"The non-recognition of race or class, the refusal to look at that, and include it in the terms of reference with public inquiry, the fight to have a diverse panel, with people who understood our lives here, and the exclusion of social housing altogether.
"Then obviously, we found out quickly then that there were thousands, hundreds of thousands of buildings, up and down the country, covered in the same flammable materials that the government knew about.
"And if they'd acted on the inquiry findings from Lakanal House in 2009, perhaps Grenfell would never have happened.
"But the big piece is there is no legal requirement for the Government to take onboard any recommendations or findings from an inquiry, and we're just like, no, this cannot happen.
"Those recommendations should be pulled in immediately, with some urgency so that people feel safe and actually have some confidence in the government that acts on our behalf."
Tackling inequality
Along with her work for Grenfell survivors, Williams has also worked on campaigns for Stephen Lawrence and Frank Critchlow and seeks to tackle racism and injustice for the black community.
She believes that white allyship is the way forward to tackling inequality.
"White allyship is not white people coming with us and saying we understand your suffering, we're not looking for equality in suffering at all," she said.
"Racism isn't our problem, it's perpetuated by white people.
"So we need white people to talk to each other.
"Because if white people don't change, nothing will.
"You can put in as many changes for black people as you want, you can put in mentoring, you can give a couple of us jobs, you can make sure a few more of us get spaces in Oxbridge etc
"But actually that doesn't change society for us.
"White people have to change their attitudes and behaviours and they will only get that from each other and then we will then notice the difference."
Yvette Williams says director Steve McQueen is a great role model for young people of colour. Photo by Mike Windle/Getty Images for AACTA
Black History Month
Like Patrick Vernon OBE, who LondonWorld also interviewed, Ms Williams believes that in the last two years Black History Month has had a new renaissance.
"I think that post-Windrush, post-George Floyd, we're now looking at contemporary Britain in a real way," she said.
"I think there's still a lot around decolonizing the curriculum that needs to be done but I think there are steps being made.
"I think there's a real Renaissance around our own consciousness and our own pride and that black pride, which from the 70s started to kind of wane a bit.
"So I think that's kind of back and I think there's a wider scope so, for me growing up, it was about Martin Luther King and Malcolm X, whereas now black people are represented in so many places.
"Now you've got sportsman representation, in music, there's representation in the media, you've got Steve McQueen as a filmmaker.
"People are looking through a different lens at what we're doing and actually if we only have one month in the year for that to take over TV and everywhere then I'll take it!"
You can follow and get involved with the Justice4Grenfell campaign through their website.