Wild and free: A day in the life of a hunter and forager in London who explains how to pick wild ingredients
John the Poacher - who has been hunting and foraging in Hackney for more than 30 years - supplies food he's found to restaurants and bars.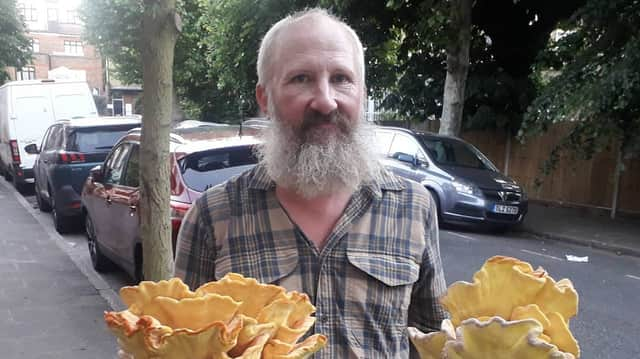 John the Poacher with some mushrooms. Credit: John the Poacher
The idea of foraging food across our built-up capital might sound bizarre to Londoners.
But to John the Poacher, the city is full of incredible ingredients just waiting to be found.
The 44-year-old - real name Jonathan Cook - has been foraging across Hackney for more than 30 years.
A trained chef, he now runs weekend foraging walks and supplies many of east London's hottest eating and drinking spots with wild food from the local land.
LondonWorld caught up with John about his life as a forager, and the best wild ingredients to find in the capital.
A day in the life with John the Poacher
I was born in St Helens, Merseyside, but moved to Hackney when I was seven years old.
I've just moved to Amhurst Road, after 37 years by Springfield Park.
As a kid I used to play there every day, which is how I first got interested in nature.
I run foraging walks around Hackney most weekends, and also supply local bars and restaurants with wild ingredients, so pretty much every day starts with a long walk.
John's oyster mushrooms. Credit: John the Poacher
It's such a multicultural area, there are so many random things growing here: kiwi, sharon fruit, limes, sweet almonds, walnuts, figs and loquats.
In Autumn, I'll check my mushroom spots to see how they're coming along and pick any that are ready, then head to the River Lea.
It's amazing how much wildlife is around if you keep your eyes open: kingfishers, parakeets and even the odd muntjac on Hackney Marshes.
Most people look but they often don't seem to see anything.
We used to work to live, now we live to work and the result is that we've become totally disconnected from nature as a society.
I'm passionate about food, so I started doing a chef diploma when I was 15.
John often goes fishing in the River Lea. Credit: John the Poacher
My Mum could burn boiled eggs but Nan was a great cook.
She worked in a butcher's shop during the war and fed six kids off the scraps, while my Granddad had an allotment.
We were always short on cash, so Granddad and I would often go fishing on the River Lea.
It was there that I met a man who taught me to snare rabbits, and from there I met another who took me ferreting on the marshes.
After my morning walk, I go for a bacon roll and a cup of tea at the Riverside Cafe at the Lea Rowing Club.
This will generally be my only meal of the day, although occasionally I'll have a Spanish omelette with some foraged chickweed and sorrel in the evening if I'm hungry.
Wild plums which John picks from local parks. See at the end the best places to pick. Credit: John the Poacher.
After that, I head home and potter around the house.
Instagram is pretty much my only marketing tool nowadays, and I get countless messages every day asking me to identify certain plants.
I'm also starting a food business called The Poacher's Kitchen, which will be a collection of sauces and condiments made from foraged ingredients.
I did a kickstarter campaign to raise the money for the equipment and it will be launching next year.
Kiwis growing along the canal in Hackney. Credit: John the Poacher
In the afternoons, it's generally off down the pubs with whatever I collected that morning.
I'm a regular at Brew Club and The Crown on Mare Street, and always end my foraging walks at Howling Hops in Hackney Wick.
I started out selling rabbit down The Anchor and Hope in the 90s.
It had become rarer and rarer in butcher's shops due to health and safety concerns and a lot of older people really missed it.
Although I can't legally sell things I've gathered from public land, people pay me for my time and my expertise.
John prepping for a foraging walk. Credit: John the Poacher
Or in beer! Any dark stout of around 8% upwards and I'm happy.
Because East London is such a thriving food community there's no shortage of customers.
Rachel Jones from Ace Pizzas takes mushrooms and wild garlic, while Fuscia Dunlop, who writes a lot of Chinese recipes, takes the things most Brits don't want, like mallow and ear fungus.
Almost all my customers become friends in the long run.
I often sleep as little as two hours a night, just because I never really seem to feel tired – and I've never had a hangover in my life!
In the evenings I sort out my fishing gear and study books about plants.
Mushrooms growing on a tree. Credit: John the Poacher
Although I'm very dyslexic, I have a photographic memory and am currently trying to learn the thousands of varieties of micro-mushrooms.
I'm also a fan of a series called Meat Eater on Netflix – essentially about a man hunting a variety of animals in America.
He goes into things like stalking techniques and butchery, and it's very interesting because they're animals I know I'll never come across, as I don't have a passport.
I never even had a bank account until 2018 – who wants a bank statement telling them how many times they've been down the pub?
But post-Covid, cash is no longer king.
Lockdown had some positives too, though.
The Jack by the Hedge flower. It has a garlicky mustard flavour. Credit: John the Poacher
A lot of people rediscovered London's green spaces and the power of being in nature.
When I go for my walks there are a lot of new faces out and about.
Just 20 minutes away from all that depressing concrete does wonders for your mental state – as I've experienced first-hand countless times.
My top foods to forage in autumn and where to find them
Oyster mushrooms are lovely in risottos or just on toast. Found: on dead trees.
Wild plums can be eaten as they are or made into hot sauce to serve with meat. Found: in most local parks.
Jack by the hedge is a leaf with a garlicky, mustard flavour that is lovely in salads. Found: in shady hedgerows.