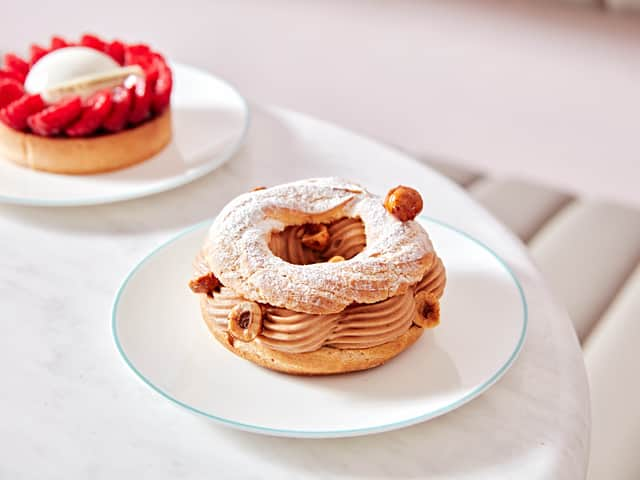 Nicolas Rouzaud's Paris-Brest at the Connaught's patisserie. Credit: The Connaught
Our city has vast array of delicous treats to satisfy those with a sweet tooth.
From Londoners to tourists, everyone enjoys something special from their local bakery or a snack on a trip into town.
These are LondonWorld's five top sweet treats from across the capital, from a Jewish bakery in the East End to the high-end pastries at the Connaught.
Salted caramel crodough
Rinkoff Bakery, 222-226 Jubilee St, Stepney Green, E1 3BS
The Rinkoff family have been delighting locals with their Jewish bread and pastries since 1911, as the faded awning and pinboard of black and white family photos can attest.
However, it wasn't until 2013 that they dreamed up the product that would cement their name as a legend throughout London.
Crodoughs – inspired by American chef Dominique Ansel's cronuts – are rings of croissant dough deep fried in grapeseed oil, laminated in butter and slathered in jewel-bright icing.
Flavours include zingy lemon curd, Oreo cheesecake, peanut butter jelly and the most coveted of the lot, salted caramel. Get to the Rinkoff Bakery by midday to be sure of getting your hands on one of these beauties.
Connaught Patisserie cakes including the Paris-Brest, right. Credit: The Connaught.
Paris-Brest
The Connaught Patisserie, Carlos Pl, Mayfair, W1K 2AL
Part artist, part pastry genius, Nicolas Rouzaud started working in a small bakery in Toulouse at the tender age of 15.
Since honing his craft at three-michelin starred Le Bristol in Paris, he's now practicing his magic at The Connaught Hotel's ultra-luxe patisserie.
The fit out is as pretty as a sugared almond thanks to lashings of pink marble and handblown glass lamps.
However, it's almost impossible to tear your eyes away from the glass case of patisseries, made fresh every day by a team of 17 dedicated chefs – many of them French, naturally.
Pastries change with the seasons and to reflect Nicolas' colourful imagination, but a chocolate ganache hound and Paris-Brest – which those in the know say is the best in London – are always on offer.
Rouzaud's version sees a gossamer light ring of choux pastry filled with French cream whipped with hazelnut praline. Call ahead to request a giant version to take home and serve as a show stopping pud for a dinner party.
Halo halo
Mamasons Dirty Ice Cream, shops in Kentish Town and China Town
One of the chief delights of living in London is being able to travel the world without leaving the city.
A case in point is the spate of Fillipino dessert spots that have opened in recent years. In our humble opinion the best is Mamasons, an ice cream parlour run by a brother and sister duo with branches in China Town and Kentish Road.
Their speciality is 'dirty ice cream', a street food classic from Manila that's made with salt and a sturdy pair of hands.
Here, it's served in pillowy milk buns, black cones and an Instagrammable dessert pot known as the halo halo. You'll need both a spoon and straw to delve into this multilayered delight of shaved ice, evaporated milk, leche flan, chewy red bean paste, coconut strands and of course, a creamy scoop of ube (a type of purple yam) ice cream.
It's a mind-bending blend of flavours and textures but boy, does it work.
Apple crumble
Humble Crumble, Old Spitalfields Market, 12 Horner Square, Shoreditch, E1 6EW
You'll know this crumble bar in Spitalfields Market with its marshmallow-pink facade – and by the queue which winds around the corner on weekends.
Trust us, these steaming pots of goodness are well worth the wait.
Kim Innes has put an artisan spin on one of the nation's favourite puddings: tender chunks of seasonal fruit are topped with shortbread crumbs and silky custard infused with vanilla produced by a small community in Indonesia.
Humble Crumble's ethics are as tasty as their products. Not only is everything served in 100% compostable packaging, they also work with local brands such as 58 Gin to use up fruit that would otherwise go to waste. No wonder they taste so good.
Morning bun
The Dusty Knuckle, Abbot St, Dalston, E8 3DP
East London isn't short of artisan bakeries but Dusty Knuckle remains one of the leaders of the pack.
Since friends Max Tobias, Rebecca Oliver and Daisy Terry opened their bakery in a shipping container in 2014, they've enjoyed the sort of word of mouth popularity that sees many items sell out by noon.
Their chewy, crunchy sourdough has a cult following, but it's the morning buns that get us all hot under the collar.
Airy croissant dough sprinkled with cinnamon and sugar crystals taste spectacular at any time of the day.
Enjoy them in the courtyard garden alongside a cup of locally-roasted joe from Caravan.