Sydenham: Meet the owner of southeast London's friendliest dog cafe and wine bar
Snuffles Dog Cafe & Wine Bar is one of the first of its kind in London, opening in October 2022.
Watch more of our videos on Shots!
and live on Freeview channel 276
Visit Shots! now
Lockdown in London was a challenging period for many, with businesses closing down and mass job losses.
But for Sylvia Fois, it presented an opportunity for change and to pursue her three passions: food, drink and dogs.
The 48-year-old, originally from Turin, Italy, spent 15 years working in the hospitality industry but when the coronavirus pandemic hit she was placed on furlough.
For Sylvia, furlough was "the best time of my life" as she finally had time to study and learn new skills, taking up courses in dog walking and behaviour, and doggy daycare.
"I always had a passion for dogs and got my first dog during lockdown," she told LondonWorld.
"I moved to Sydenham in 2021 and noticed that there was not a lot to do in the area where I was staying in terms of cafes or bars."
This is where the idea to open a dog cafe and wine bar was born.
"I spent the next few months developing a business plan, conducting market research and finding a location," she said.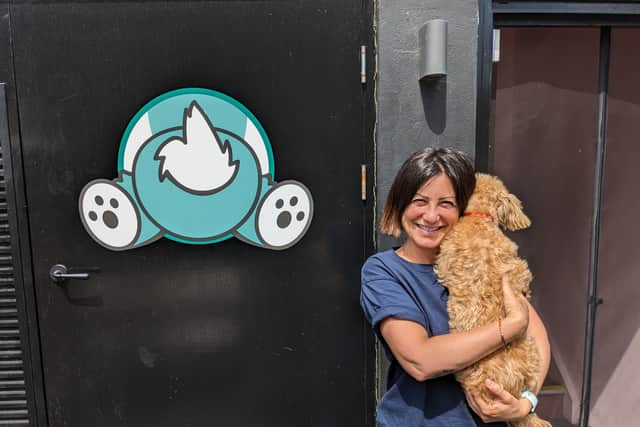 Eventually she found the perfect spot beside Sydenham Wells Park and seven months later Snuffles Dog Cafe & Wine Bar was born.
The dog cafe and wine bar is one of the first of its kind in London, opening in October 2022, offering a range of services from doggy daycare to grooming.
LondonWorld visit
LondonWorld paid the delightful cafe in southeast London a visit and was blown away by what we discovered.
On arrival visitors and their dogs are welcomed with open arms by Sylvia and staff, with special attention paid to first-time visitors.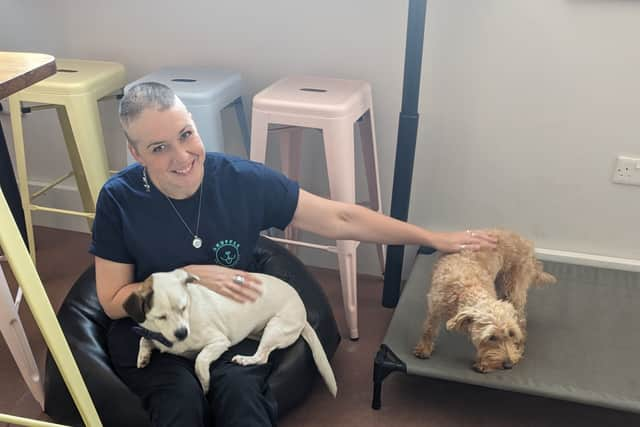 The space has been so uniquely designed and it is evident that love and care has gone into everything from the decor to the handmade dog treats.
Snuffles Dog Cafe & Wine Bar has outdoor seating at the front and back and an indoor area for customers and dogs.
The downstairs section has a custom designed photo booth (for dogs only), lots of little doggy beds, a play area, a grooming area.
There is a community atmosphere in the cafe with a friendly and social vibe amongst customers.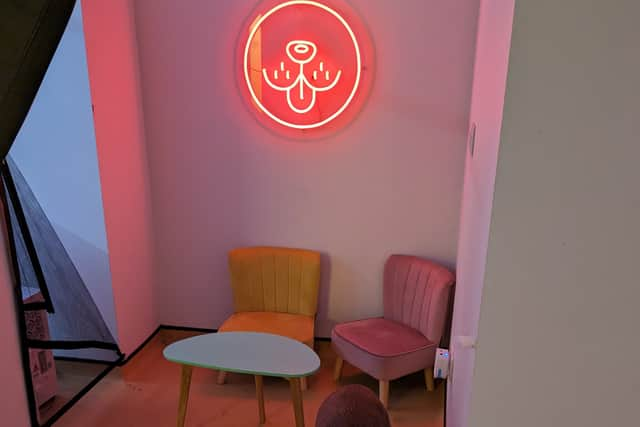 Snuffles operates as a dog-friendly cafe during the day and turns into a wine bar in the evenings.
There are a number of pop-ups and events going on including yoga and supper clubs.
"We ran a pop up event last month with Sugo 82, an Italian street food and we're organising the next one with them also," said Sylvia.
"It was amazing as I wanted to have this Italian vibe. There were a lot of dogs around and we had a lot of fun."
The next event on the horizon is a yoga supper club event, with a vegetarian menu by Petra Nederfors.
Sylvia has many plans for the future of her dog friendly cafe and wine bar and is currently learning how to become a dog groomer herself.
With a loyal customer base and a stream of positive reviews on Google, this is just the start for Sylvia and her business.