I'm a vegetarian with slightly convoluted rules (I do eat bivalves - mussels, oysters, scallops) and lapses that are more frequent than I would care to mention.
Despite the proliferation of veggie options eating out and in the supermarket, the chance to try something new still has great attraction.
A 100% tree-based menu may a bit, well, dull on the face of it but I couldn't resist the opportunity when a collaboration came up, organised by the tree-planting platform Treedom and Michelin-trained chef Kirk Haworth from plant-based restaurant Plates London.
The menu was available for two special public sittings only at Untitled, Dalston, on Wednesday (March 8), and it was a revelation.
Starter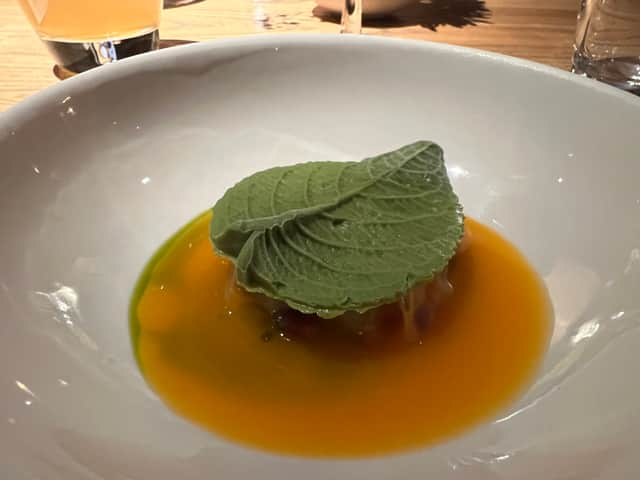 To start was avocado leaf mousse, with mandarin, pomegranate and lemon.
Essentially an avocado sorbet molded into the shape of a leaf, the method heightened the avocadosity (?) of the flavour and was offset by the tartness of the other fruit.
Main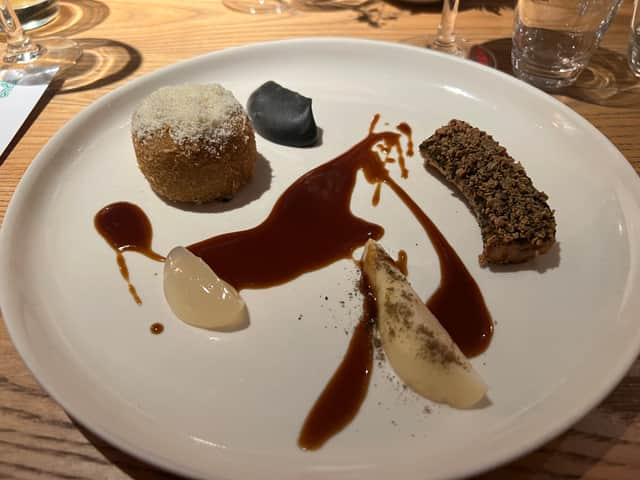 A tree nut roast was accompanied by a chestnut and coffee sauce, smoked banana, cashews and a touch of pear.
The smoked banana brought a strong flavour of charcoal and banana, which divided the table. I wasn't entirely sold but others were.
But the nut roast drew "best nut roast ever" reactions. The textures were similar to that of arancini and the flavour was meaty (we need a new adjective) and satisfying.
Dessert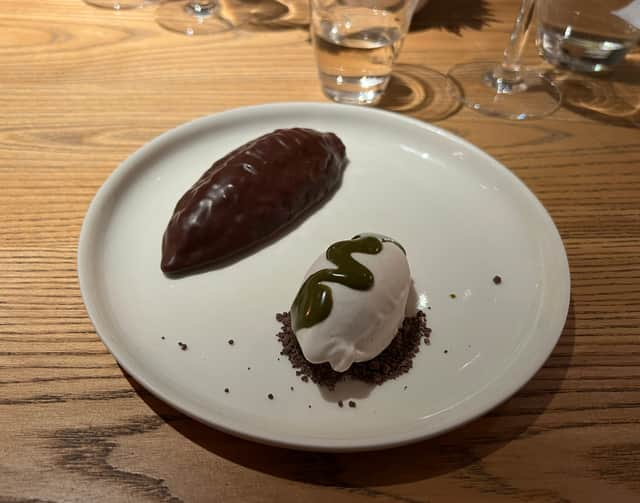 A cacao mousse was served with coconut cream and pistachio ice cream.
A tree-based menu may pose a significant challenge but it also comes with the inevitable promise of chocolate at the end, and this did not disappoint.
The mousse was wonderfully offset by the citrus flavour of a lime filling. Ideal, and substantial.
Treedom
The "tree-gan" menu was commissioned by Treedom to promote its work as a digital platform that allows people to plant trees remotely at the click of a button, funding farmers worldwide and bringing environmental, social and financial benefits to their communities.
Through Treedom, more than three million trees have been planted worldwide, with more than 217,000 farmers benefitting.
The menu utilised avocados, cashew nuts and cacao pods which are harvested from Treedom's trees.
Designed to celebrate "the beauty of mother nature and the fruits of her work" the menu was gluten free but contains nuts - so it's not perfect - but it was delicious and green in the extreme.