Whether it's eating out, experimenting with a new recipe or indulging in a bowl of comfort food, when it comes to favourite dishes, pasta will always be up there in the top spot.
So while I was delighted to get the chance to review a meal at Pasta Remoli, one of the capital's favourite Italian eateries, I knew I had high expectations.
Founded by Simone Remoli, the group has four sites in London, at Finsbury Park, Ealing Broadway, Westfield Stratford, and Wembley Park, and a new grab and go at St Pancras.
A lifelong Italian food lover, who learned the culinary arts in Rome, Remoli says he wanted to create a restaurant offering handmade pasta, authentically served and at reasonable prices.
Arriving at the Wembley Park venue, it was a relief stepping out of the freezing wind into the restaurant's warm interior and festive decor.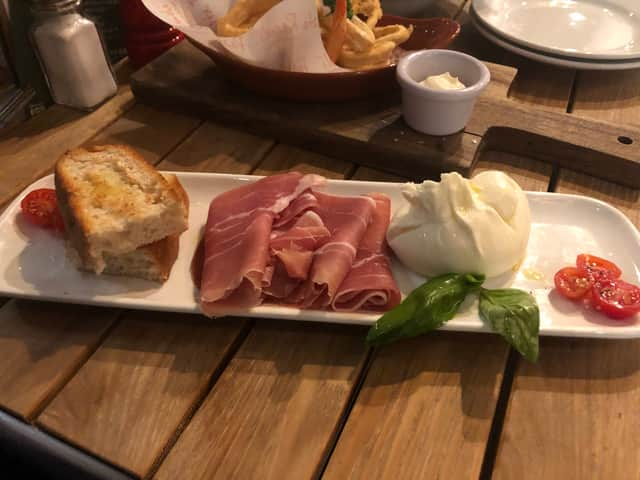 Softly lit by the glow of a twinkling Christmas tree, the atmosphere was instantly welcoming.
Beginning with drinks, I opted for a festive Rossini cocktail (Prosecco and strawberry puree) while my companion chose a Moretti, from the small beer menu.
The cocktail was perfectly tangy and sweet, while the menu also featured red and white wines ranging from £22 to £30 a bottle and £6 to £8 a glass, so plenty to choose from.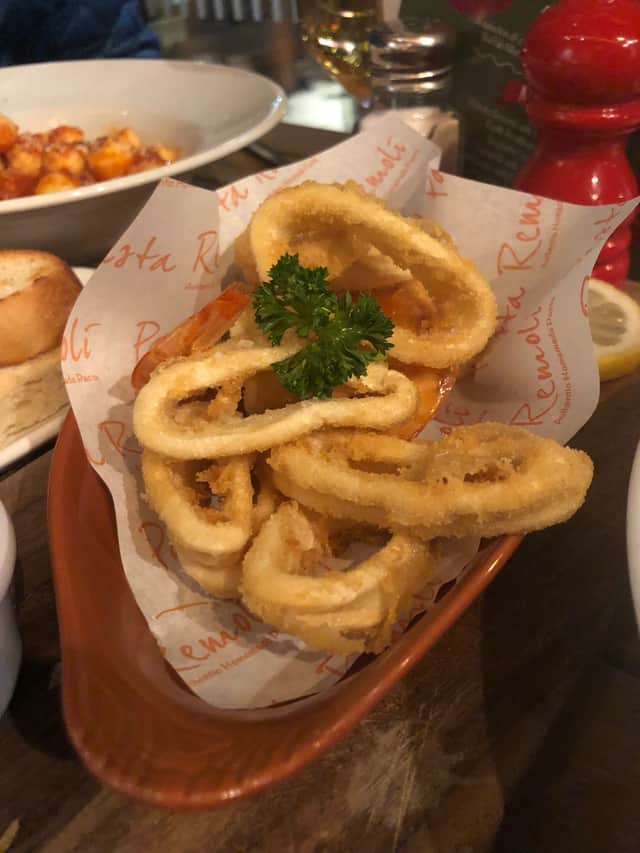 We decided - all for the sake of the review of course - to split two starters, two mains and an extra order of bread, leaving our small glass table groaning under plates of pasta.
You can never go wrong with a slab of rich, creamy burrata cheese and unusually thick pieces of cured Parma ham - unlike the typical fragile wafers - which came served with soft, salty homemade focaccia. Sadly our cheese was a little on the chilly side, but still delicious.
While a dish of fresh prawns and calamari - or fritto misto - came dipped in a crispy batter with a lemon mayonnaise.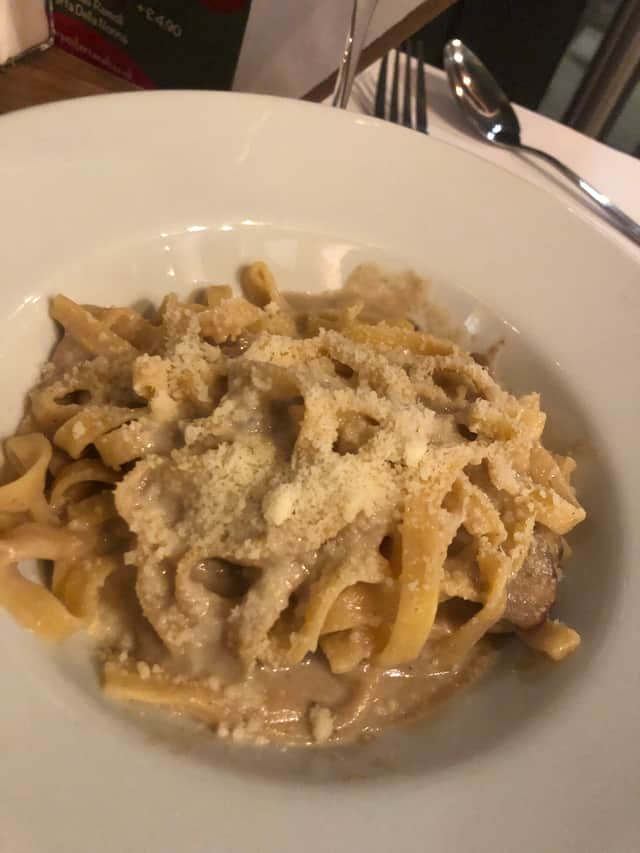 The additional bread, from more focaccia to a crisp rye - did not go to waste either, mopping up the olive oil and balsamic vinegar and wiping up our sauces.
For mains, you select your sauce, from either a white or tomato base; your pasta shape; and your cheese.
My order was a vegetarian dish of creamy mushroom tagliatelle topped with parmigiano reggiano.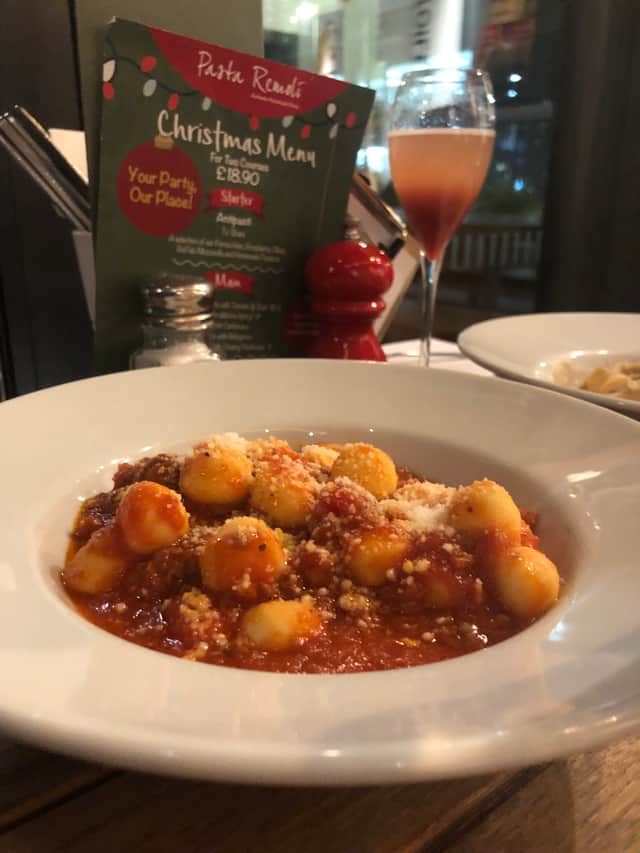 The sauce was luscious; earthy, full-flavoured, with plenty of mushroom and well-seasoned, but the pasta was just slightly too al-dente for my liking.
While my guest went for a pork sausage ragu sauce with gnocchi and pecorino romano, describing it as "hearty, tangy, unami goodness".
We tasted notes of fennel and a hint of aniseed in the rich, complex sauce and the gnocchi were perfectly cooked.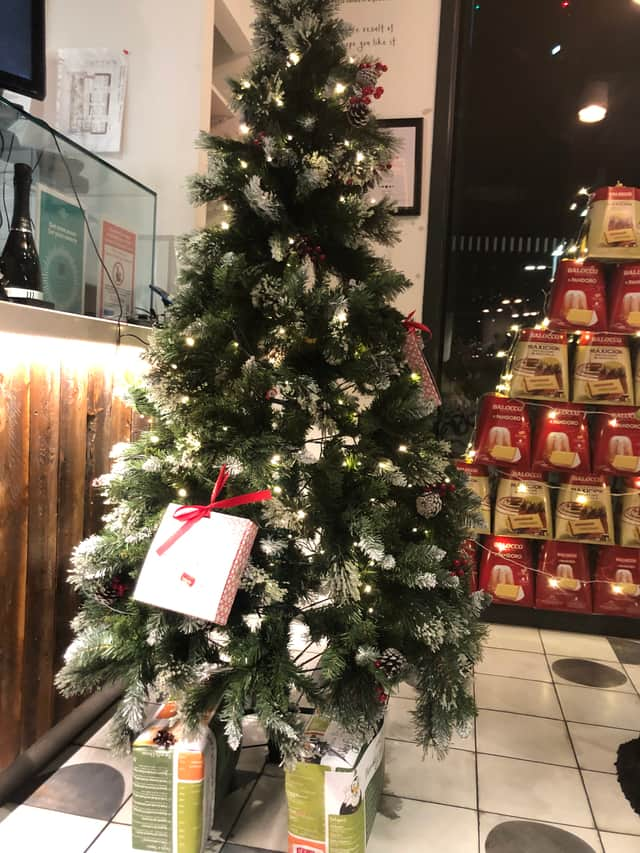 Sadly we were too full for dessert - and too short on time to try and squeeze it in - but options included tiramisu and torta della nonna.
Our servers were friendly and attentive - and patient with us as we ummed and ahhed - while the bathroom was bright and, crucially, clean - if a little on top of some of the tables.
I'd describe Pasta Remoli - in the absolute best possible way - as a more upmarket Pizza Express equivalent.
Tasty, reliable food that will suit any family outing, but also work for a date night, work Christmas meal or group of friends, alongside a cosy, easy-going vibe.
We drank: One strawberry Rossini [£7.50] and one Moretti draught beer [£5.50 a pint].
We ate: One bread [£3.80], one fritto misto [£9.80], one burrata cheese and Parma ham [£8.80]. One creamy mushroom tagliatelle [£12.40] and one pork sausage ragu gnocchi [£14.40].