If you're looking for somewhere to celebrate Day of the Dead 2022, Jalisco, in bustling Brixton village, is a true taste of Mexico.
The cosy restaurant offers diners a vibrant and colourful experience, from lovingly painted decor and a flamboyant cocktail menu to friendly service and a welcoming atmosphere.
Brightly painted pink wooden stairs lead you to the upstairs seating area, while gold-labelled reused tequila bottles serve as water jugs.
We kicked off with a classic margarita - the restaurant's bestseller - to whet our appetites.
The drink, with a perfect salt rim and freshly squeezed lime juice, is beautifully mixed, and neither too salty or too strong.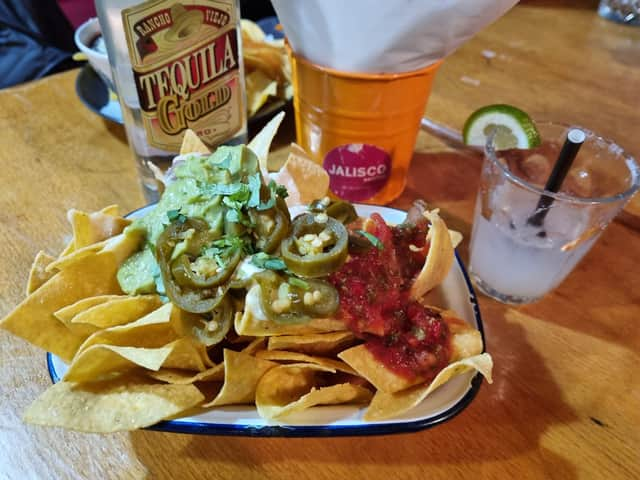 A second round, later in the evening, of the Jamaican sorrel, or hibiscus, version was a sweeter and equally delicious option with an amazing Ribena-purple colour.
It's inspired by the popularity of the herb in Brixton's local Caribbean cuisine, but chef-owner Wilson tells us the drink is also beloved in his native Venezuela for its refreshing taste.
And the clientele, young couples and groups of friends, were making the most of the menu - which also offers mojitos, pina coladas, aperol spritzes, espresso martinis and caipirinhas.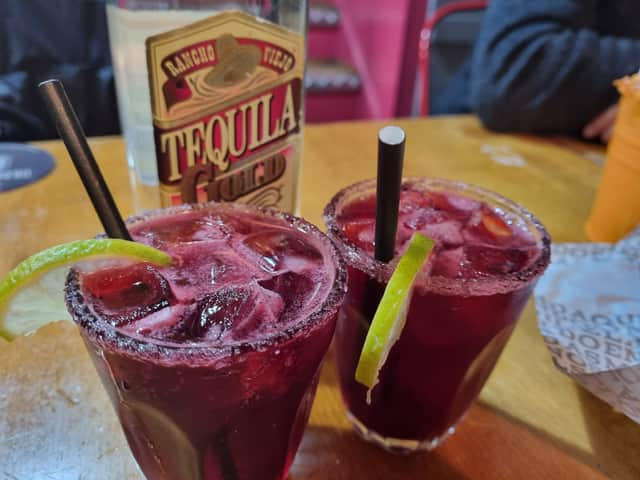 On to starters and the menu left us spoilt for choice.
Opting for the classics, we shared a portion of nachos and a dish of cheesy refried black beans - or refritos - served with fried corn tortillas, or totopos.
The nachos were a generous serving for £8, topped with beans, cheese, guacamole, sour cream, salsa, jalapeños, coriander and onion - with optional chorizo or carne mechada.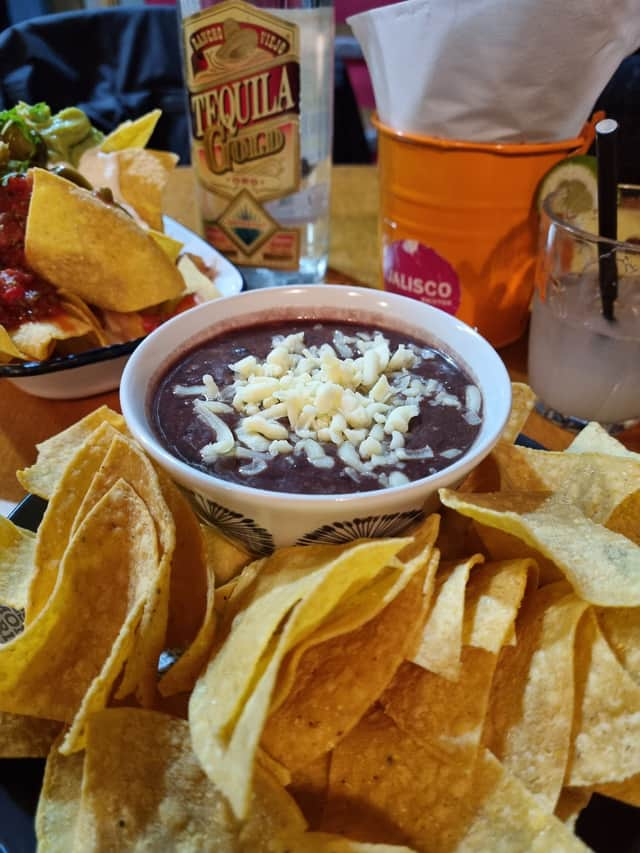 Next time I go, I'll definitely be trying the ceviche de camarones - cold lime and orange marinated king prawns with fresh salsa, avocado and plantain crisps.
A wide variety of main dishes is also on offer, with classic taco, burrito, quesadilla and enchilada dishes, as well as BBQ ribs, tortas - a South American burger - and fresh salads topped with tilapia, Colombian cheese and chimichurri.
We shared two mains - a cheesy pork quesadilla in a soft tortilla casing that left sauce running down our arms (no complaints there) and a taco selection of pork, beef and chicken.
You can choose your own heat level, Nandos style, with the gamut ranging from 'Dead: say no more' to 'F*** OFF: now that's hot'.
Knowing our limits, we opted for the moderate 'Spicy: little habanero' choice - just hot enough to avoid being branded wimps.
For children, an affordable cheesy quesadilla, fries and a juice comes to just £6, while staff can accommodate dietary requirements including dairy free, gluten free and vegan options.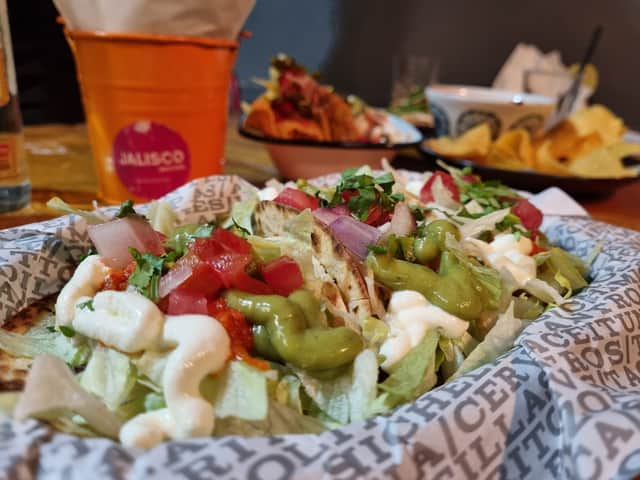 Sadly we had no room left to try the churros con chocolate, the sole dessert option - needed frankly on any menu - but it's safe to say I'll be back for more.
Jalisco offers brunch, happy hour, event catering and hosts parties upstairs - in fact the only slight negative is the lack of a bathroom means guests have to use the Brixton Village public toilets. But after enough margaritas you won't hold it against them - or even remember.
Run by husband and wife team Wilson and Carolina Sanchez, I ate there on Tuesday, November 2 - the final day of the iconic Day of the Dead festival. But visit the eatery later this week and you'll be treated to live music, freshly poured cocktails and a party to remember.
We drank: Two classic margaritas and two margaritas de Flor de Jamaica [£7.85 per drink]
We ate: One nachos [£8], one refritos [£5.50] and one totopos [£3]. One quesadilla with cerdo (pulled pork) [£9.25] and one portion of tacos [three for £9.75] with pollo tinga (chipotle chicken), cerdo and carne mechada (slow cooked beef sauce [+£1.50]).
Jalisco Brixton is open from 12-5pm on Mondays, 12-10pm Tues-Sat, and 12-9pm on Sundays. Jalisco Loughborough Junction will open 12-9pm on Mon, 12-10pm Tues-Fri, 11am to 10pm on Saturdays and 11am to 9pm on Sundays. There's also a pop-up courtyard bar with free live entertainment this Thursday and Friday evenings to mark 'Day of the Dead'. For more information, visit Jalisco's website or Instagram page.