National Pizza Week 2022: The best places in London to get pizza according to Tripadvisor
According to Pequod's Pizza, the average Brit eats around 731 pizzas over the course of their lifetime, or 5,847 slices
Watch more of our videos on Shots!
and live on Freeview channel 276
Visit Shots! now
This week marks National Pizza Week. Pizza, despite its origins elsewhere, is one of the most loved dishes in the UK. Despite culinary clashes, most notably over some people choosing to add pineapple onto it, around 49 percent of Brits eat pizza every week, according to Glamour magazine.
National Pizza Week 2022 is organised by the Pizza, Pasta & Italian Food Association. They represent the interests of all those businesses involved with the Italian food industry.
It may seem a high number, but pizza is one of the most inclusive and accessible dishes out there. They can be made gluten free, they can be made for those who are veggie and vegan and can be bought for mere pennies at some supermarkets.
Also, you can tailor it to suit your needs. Literally anything can be slapped on some dough and tomato paste and be called a pizza. Of course, some restaurants have set pizzas but at home, toppings are fair game.
So, whether you're in the mood for a pizza this week, or want to honour National Pizza Week, here are the top five pizza places in London according to TripAdvisor.
Pizza Union Dalston
It won't be the last time Pizza Union is on this list. They top the charts in London with a perfect five star rating from 1,300 reviews. Located just 1.5 miles from Arsenal's stadium, the reviews are great.
One review, left in mid-November says: "Great pizzas, and the above! My go to place when I need to work and eat when in Dalston. Best, most reasonable pizzas around!"
Pizza Union King's Cross
One of the busier areas of London, why not visit Pizza Union Kings Cross to escape the hustle and bustle of King's Cross. It also has a five star review from over 2,500 reviews.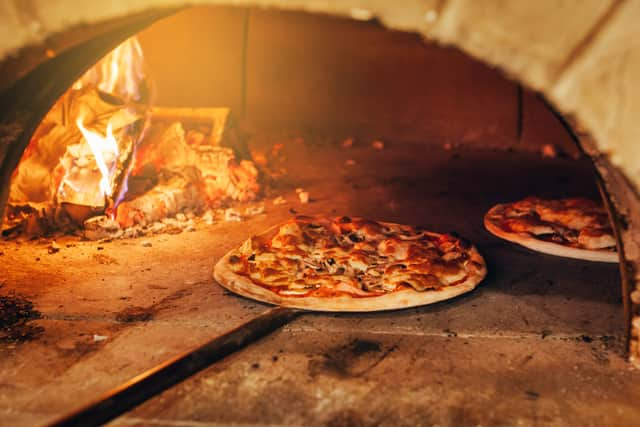 One review, left in November 2022 said "Super fast good quality pizza with a thin crust, great service too, and vegan options available! I highly recommend it!"
Pizza Union Spitalfields
We promise, there are other restaurants to follow that are not Pizza Union but, this one has another 3,000 reviews and yet can still boast a perfect five stars.
A review, again left in mid-November says "Went to Pizza Union in Spitalfields along with friends and enjoyed delicious pizza and frozen margaritas. Staff is kind and helpful."
Hungry Turtle
No Pizza Union? No problem, Hungry Turtle has you sorted. They too boast a five star review on Tripadvisor from 120 reviews. It is based in Walham Green, and is close to the National History Museum.
One review, left in September 202 said "Found this restaurant through Trip Advisor and thought Pizza would be a good option as we had two children in our party of eight people. Best Pizza ever, Garlic bread was great too, drinks and services were also very good. I highly recommend this little restaurant in London. Take away pizzas are available at this place too and it was impressive to see the number of delivery guys picking them up while we were there."
Oi Vita Pizzeria
Rounding off this list is Oi Vita Pizzeria. They also have a five star review from over 250 reviews, and is under a 20 minute walk from the Emirates Stadium.
One review, left in early November 2020 said "My best pizza in London! It's really impressive, and it can easily win the competition with many pizzas in Italy - the ingredients are delicious, the dough is superb, and the staff is the quintessence of hospitality. Unmissable experience!"