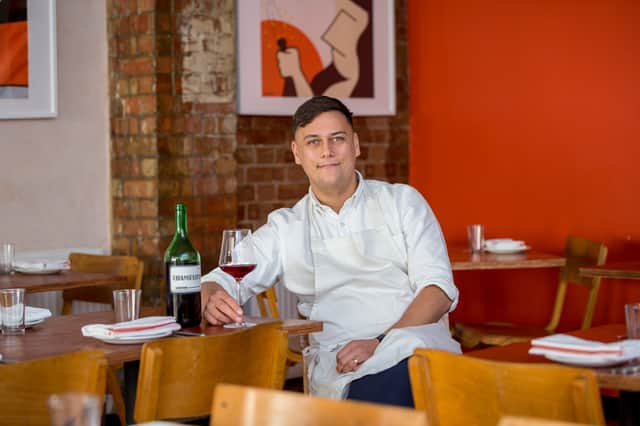 Top Cuvee's Brodie Meah
Natural. Organic. Biodynamic. Minimal-intervention … There are almost as many epithets to describe London's cool kids' favourite style of wine as there are producers making it.
However, you can generally recognise it from funky label art and the fact it can smell suspiciously like cider.
"Call it what you will, it just means fruit that has been grown organically or better and made into wine without the use of chemicals." quips Brodie Meah of Top Cuvee
"So it's literally just fermented grape juice.
"It's super expressive and no two bottles are the same, which I think is really intriguing."
One might say that Meah and business partner Max Venning played a blinder of a pandemic – if such terminology were appropriate.
During lockdown they pivoted fast, converting their Highbury restaurant which previously served small plates into 'Shop Cuvee' – a bottle shop, provisioner and green grocer.
Top Cuvee in Finsbury Park. Credit: Top Cuvee
Since then, they've opened a dedicated wine shop and deli on Blackstock Road, and as of last weekend, Cave Cuvee, a new venture on Bethnal Green road that nods to the nonchalant wine bars of Paris.
"In Paris, caves à vin are traditionally cellars where wine is stored but they often double up as party venues." Meah explains.
"We're not trying too hard to be a restaurant, we just want to offer good food, good wine and a nice crowd.
"It's all about the vibe – we want people to come down and have fun."
This mentality is fairly typical of London's natural wine world, which is being spearheaded by oenophiles in their twenties and thirties and seems to be overlapping with the city's thriving food, design and music scenes.
P Franco, a wine bar in Lower Clapton, is known as much for its eye-catching posters – designed by Tegan Hendel, partner of co-owner Phil Bracey – as its selection of experimental pours.
Brodie's shops sell food to compliment the wine. Credit: Top Cuvee
"London's natural wine scene is great fun," Meah says.
"A small network of key suppliers organise regular tastings and a bunch of us from different restaurants will meet there.
"We'll taste maybe 50 wines then roll on to a late dinner.
"Hospitality people are naturally ultra-sociable, so there's a lot of partying involved."
So what are Meah's top tips for those looking to learn more about natural wine but unsure where to start?
"Find a good bottle shop and get chatting with the staff," he says.
"Wine people are passionate and most shops always have a bottle or two on the go for tastings… we certainly do.
"Social media has played a huge role in the democratisation of natural wine.
"Follow your favourite restaurants on Instagram and see what wines they're serving; they'll often post tasting notes and a bit of information alongside the image.
"There's this conception that natural wines are expensive and the truth is it does cost more to produce fruit this way.
"But you can get amazing things for less than £15 if you know what to look for.
Where to drink natural wine in London according to Brodie Meah
Everything on the website is available at all three of our venues and it's a pretty massive list.
We do £15 corkage on shop price, so it's a good value way to drink really nice wine while you're out for dinner.
This restaurant in Farringdon is pretty cool. They take really good ingredients and treat them fairly simply, which is the best kind of food to pair with natural wine.
Their list is fairly classic but it always delivers.
I love the approach at this Clapton wine bar. They're all about the really interesting, ultra-natural producers.
There isn't really a 'by the glass' menu, thy just open up whatever they think is good and keep on pouring. The staff are super passionate, too.
Sure this Shoreditch spot is a Michelin-starred restaurant but it doesn't feel overly fancy and the owners have real wine knowledge.
The wine list is super considered – there's not a bad bottle on there.
There's an amazing restaurant on the first floor of this Hackney address, but if you're looking for a party it's all about The Cave where they have DJs playing and serve food/natural wine until 1am.
The team are amazing hosts and we often go after work for a dance.