Hospital strike: Workers begin week-long walkout at St George's in Tooting
There have already been three days of strikes from the workers, who are members of the GMB union.
Watch more of our videos on Shots! 
and live on Freeview channel 276
Visit Shots! now
There have already been three days of strikes from the workers, who are members of the GMB union, which took place on May 30 and June 6 and 7.
The dispute started over pay-cycle changes this year, which saw workers paid in mid-May rather than at the end of April.
The switch from four-weekly to monthly paydays meant they were paid on May 11, not April 29.
GMB wants staff contracts to be taken back in-house by St George's University Hospitals NHS Foundation Trust.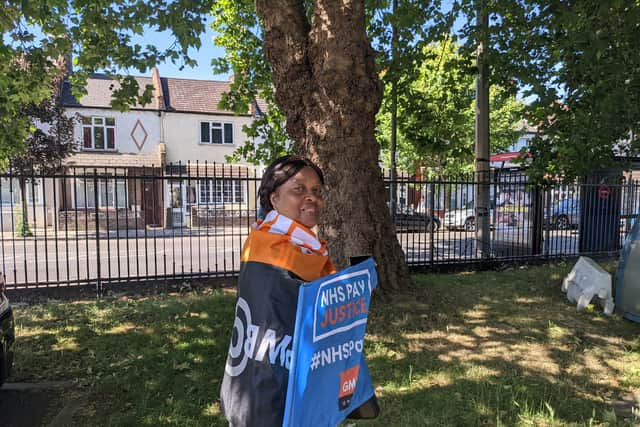 Claire Pedican Brown, a GMB member who has worked at the hospital for four years said that the system is "not right" with Mitie.
"We are here today because the system is not running right with Mitie," she told LondonWorld.
"I think some of us are on two different contracts, we want one contract.
Claire had to take two weeks off work during the pandemic due to her husband catching coronavirus and she said she didn't receive any payment during this time.
"I worked through the pandemic and when I was working straight through the pandemic my husband got the virus," she continued.
"My husband doesn't work here but they told me to take two weeks off because of my husband having Covid and they didn't pay me.
"Working here is affecting a lot of people by not getting their right pay."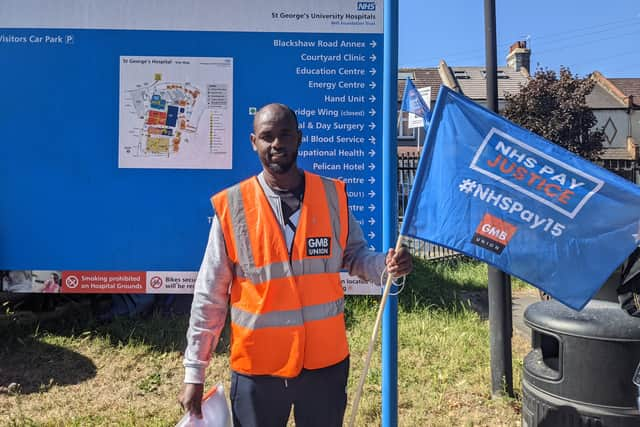 Abdifatah Yusuf, a representative for GMB and Mitie employee said: "We are here today because we are struggling, we need one contract.
"We need to stop the short pay, we need to get the same amount as everyone else."
What is GMB saying?
Helen O'Connor, GMB regional organiser said: "Our members have had enough of being singled out in meetings and being intimidated by Mitie managers who are using every tactic in the book to try to stop them fighting for their most basic rights.
"They are reporting that they are being physically intimidated, shouted at, questioned about their GMB membership and isolated in rooms with the directors and interrogated.
"Mitie has driven wages, terms, conditions and the standards of the cleaning and catering services downwards and enough is enough.
"GMB representatives have tried without success to encourage St George's NHS to engage with us to resolve this dispute.
"They are responsible for the tender, the failures of this contract and the very poor treatment of the staff.
"The workers want to get wages owed paid on time and Mitie is failing to do this.
"The senior management team have the power to resolve this situation and stop these damaging strikes next week but instead of doing this they are burying their heads in the sand.
"The impact of a whole week of strikes will be very damaging. They know it but they are trying to pretend it's not going to happen.
"The members are clear that they want Mitie out of St George's Hospital, so the GMB union is, not for the first time, calling on the trust to take this contract back in-house."
What is Mitie saying?
A spokesperson for Mitie said the company was "disappointed" to see further strike action.
The spokesperson said: "Our people are what make our business exceptional and we are proud to offer industry leading benefits.
"Previous industrial action did not impact our services and a high standard of hygiene was maintained.
"Our priority remains ensuring a clean and safe environment for patients and staff.
"We have not received any reports of inappropriate behaviour and would encourage colleagues to raise any concerns with us, either directly, or through our independent whistleblowing hotline, so they can be investigated."
What is St George's hospital saying?
A St George's spokesperson said: "Patients should continue to use hospital services as they normally would and call NHS 111 in the first instance for health care advice.
"Cleaners and domestic staff are hugely valued members of our team and we hope Mitie finds a resolution soon."