Hundreds of porters, cleaners and catering staff are employed by outsourcing firm Serco at Barts Health Trust hospitals in east London.
Unite the Union, which organised the strike, claimed that the staff, many of whom are from BAME communities, are paid up to 15% less than workers directly employed by the NHS.
Union members gathered at the Royal London Hospital in Whitechapel chanting "Serco's got to go."
Serco has offered a 3% pay rise to Barts Health Trust staff, but this was rejected during recent talks at Acas.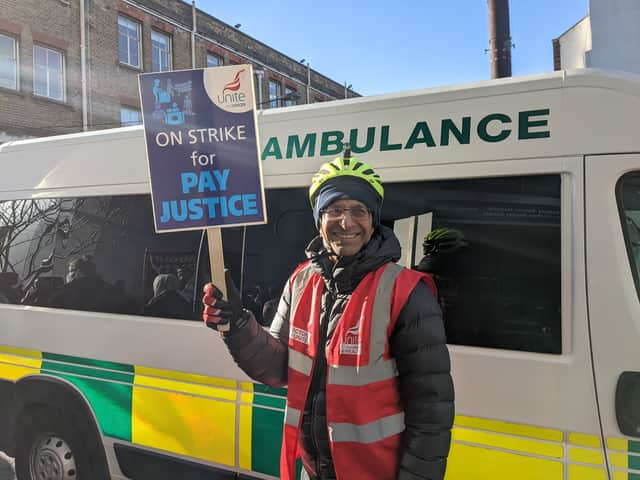 Maria Talaia, a 53-year-old worker at Whipps Cross Hospital in Leytonstone, told LondonWorld that she was off sick for five months after contracting Covid at work.
"It was a scary experience working during the pandemic. We worked very close to the patients with Covid," she said.
"The managers didn't care if you got sick.
"During the first lockdown we didn't receive adequate PPE, face masks were not enough to protect us."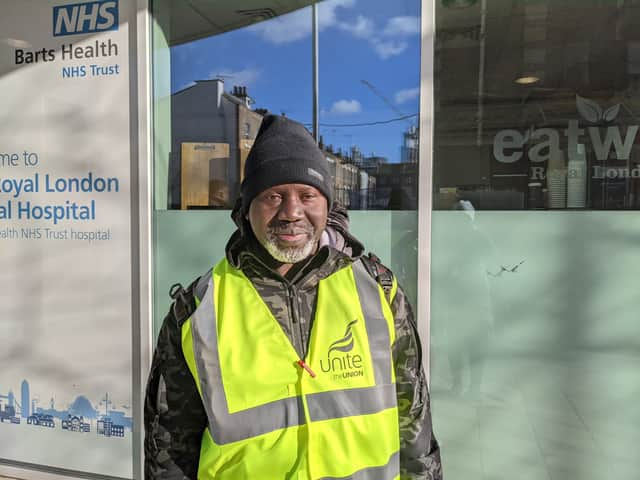 Ebrima Sonko, the Unite rep for the Royal London Hospital, said that he enjoys his job, but wants to benefit from what everyone else is getting.
"We are working as hard as the doctors and nurses, without us the hospital wouldn't be able to function," the 55-year-old told LondonWorld.
"We want to benefit from what everyone else if benefiting from.
"We enjoy the job that we are doing but we want to get something out of it."
Mr Sonko described working throughout the pandemic as a very "frightening" experience but felt proud to work for the NHS.
Unite members are demanding that Barts Health Trust move their services "in-house" and to intervene to ensure Serco improves its pay offer.
The union is also asking the trust to transfer the workforce onto Agenda for Change pay, terms and conditions, which is nine-band pay structure used by the NHS.
Unite general secretary Sharon Graham said: "The NHS workers taking strike action have their union's unwavering support.
"They face the same risks as NHS-employed staff.
"Why on earth are they being paid significantly worse while being treated disgracefully?
"It's time to end this injustice.
"It's time to bring these workers, employed by Serco not the NHS, back into NHS employment."
Shane DeGaris, deputy group chief executive at Barts Health Trust, said: "Over the next 13 months we will be considering future arrangements of the facilities management contract, which could include bringing some services back in-house.
"We are hopeful that this matter can be resolved but are working with Serco to put the appropriate measures in place and ensure hospital services are supported if strike action does go ahead."
Taddy McAuley, Serco contract director for Barts, said the firm was "extremely disappointed" with the notification of strike action.
He said: "We are extremely disappointed with the notification of strike action from Unite as we recently increased the pay offer for our employees to a total of 3%, backdated to April 2021.
"This is the same percentage increase as that being received by people directly employed by the NHS."