It comes as a new variant circulating in South Africa has prompted huge global concern - although no cases have yet been detected in the UK, as of the evening of Friday, November 26.
Boffins at the Wellcome Sanger Institute, part of the Covid-19 Genomics UK Consortium, have been analysing a sample of Covid tests from across the country to work out what variant each is.
Scientists have said Delta Plus carries two characteristic mutations in the spike - Y145H and A222V - both of which have been found in other coronavirus lineages since the start of the pandemic.
In London, around 14% of positive cases belong to Delta Plus in the week to November 13 - according to the latest Wellcome Sangar Institute figures.
Overall, 3,133 tests from London were genome sequenced with 431 coming back as Delta Plus.
Ealing had the highest percentage of Delta Plus positives, with 21.3% of sequenced test belonging to the new variant.
However the Wellcome Sangar Institute only tested 89 cases from the west London borough, with 19 belonging to Delta Plus.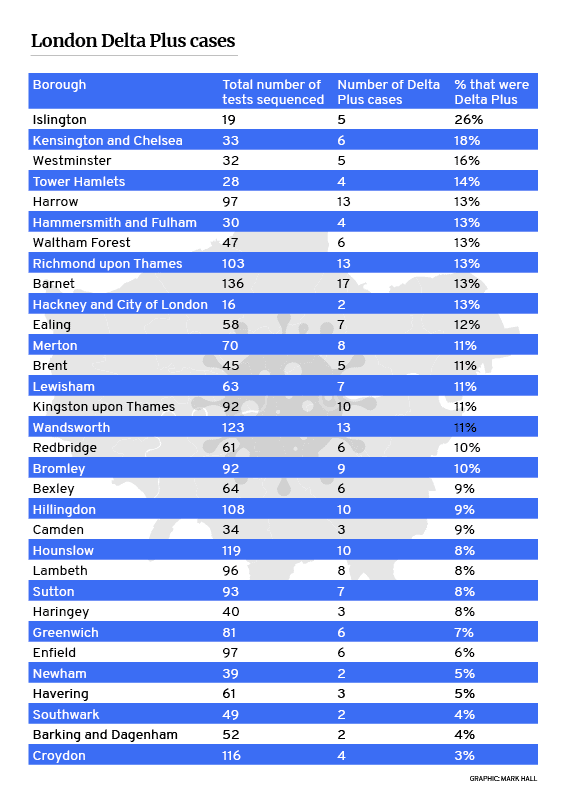 Brent had the second highest Delta Plus positivity rate, with 15 of 71 tests coming back as Delta Plus - or 21.1%.
Lewisham, Kingston, Kensington and Chelsea and Camden had the third, fourth, fifth and sixth highest percentages of Delta Plus, with 19.2%, 17.2%, 17% and 16.9% respectively.
The City of London had the lowest percentage of Delta Plus, with zero cases of its three sequenced testing positive for the new strain.
Hammersmith and Fulham had the second lowest percentage with 3.8%, while Barnet and Merton had 7.4%, and Greenwich had 7.6%.
He said: "We need to be ready for what lies around the corner. This means our ongoing programme of booster jabs is so important, and this winter we're prioritising those most in need."