Covid-19 in London: Hospital coronavirus admissions up by fifth in a WEEK due to Omicron variants, data shows
It comes as Covid hospital admissions continued to soar across England in the latest week, rising by 33% as the BA.4 and BA.5 Omicron variants drove a new wave of infections.
Watch more of our videos on Shots!
and live on Freeview channel 276
Visit Shots! now
Hospital intakes across the capital rose by 20% week-on-week, the latest figures on coronavirus numbers have shown.
1,154 patients were admitted into hospitals in the city during the week ending June 26.
This rose by 229 to 1,383 in the week ending July 3.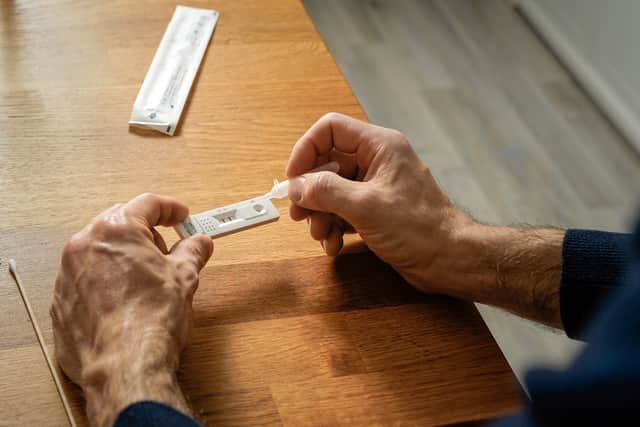 Professor Kevin Fenton, public health director for London, said: "Covid-19 rates are increasing here in London, across the UK and other countries.
"Now more than ever, increasing vaccination coverage, combined with ventilation and other protective measures, can help manage hospital admissions and reduce mortality risks."
It comes as Covid hospital admissions continued to soar across England in the latest week, rising by 33% as the BA.4 and BA.5 Omicron variants drove a new wave of infections.
UK government coronavirus figures show 11,028 patients were admitted to hospital with Covid-19 in the seven days to July 4, an increase from 8,295 in the week to June 27.
Weekly admissions have now risen above 11,000 for the first time since April 18.
The latest rise in admissions follows new Office for National Statistics (ONS) figures revealing an estimated 2.7m people in the UK (one in 25) had Covid in the week to June 29.
This was an increase of 18% on the week before - and continues a sustained period of rapidly rising infections.
ONS data is based on random sampling of UK households, and considered the most accurate infection measure - while it has been unaffected by the end of free mass testing.
LondonWorld has analysed the latest government data to find the NHS trusts in the capital with the biggest percentage increase in Covid patients in the week to July 3.
The trust with the biggest percentage rise was North Middlesex University Hospital NHS Trust, which saw an increase of 104%, from 26 patients, to 53.
While the North East London NHS Foundation Trust had zero patients the first week, and 36 the second week of the data.
Croydon Health Services NHS Trust saw an 83% rise in Covid-19 patient admissions, from 29 to 53 patients, while South London and Maudsley NHS Foundation Trust recorded a 69% rise, from 16 to 27 patients.
Hillingdon Hospitals NHS Foundation Trust saw a 56% rise, from 32 to 50, and Barking, Havering and Redbridge University Hospitals NHS Trust recorded a 52% rise, from 25 to 38.
Of the 34 trusts in London, five had zero patients each week of the data, while Homerton Healthcare NHS Foundation Trust saw no change to its figure of 38 patients.
Seventeen trusts in total saw an overall increase in patients, and 10 recorded a decrease.
When asked by LondonWorld, both Transport for London and City Hall said there were no plans to bring back the mandatory mask rule on public transport.
Two new Omicron subvariants - BA.4 and BA.5 - are causing the rise in Covid cases across the capital and the country.
The strains are newer variants that were recently classified by the UK Health Security Agency as "variants of concern".
Analysis found that both variants were likely to have a "growth advantage" over BA.2, which is currently still the dominant Covid strain in the UK.
Initial findings suggest that BA.4 and BA.5 have a degree of "immunity escape", meaning the immune system can no longer recognise or fight a virus.
This is likely to contribute to their growth advantage over BA.4, according to the UK Health Security Agency (UKHSA).
Dr Meera Chand, UKHSA director of clinical and emerging infections, said: "The reclassification of these variants as variants of concern reflects emerging evidence on the growth of BA.4 and BA.5 internationally and in the UK.
"Whilst the impact of these variants is uncertain, the variant classification system aims to identify potential risk as early as possible.
"UKHSA is undertaking further detailed studies. Data and analysis will be released in due course through our regular surveillance reporting."