Notting Hill Carnival in all its colour and glory returns to the streets this weekend.
It follows a three year hiatus due to the coronavirus pandemic, during which the event couldn't take place.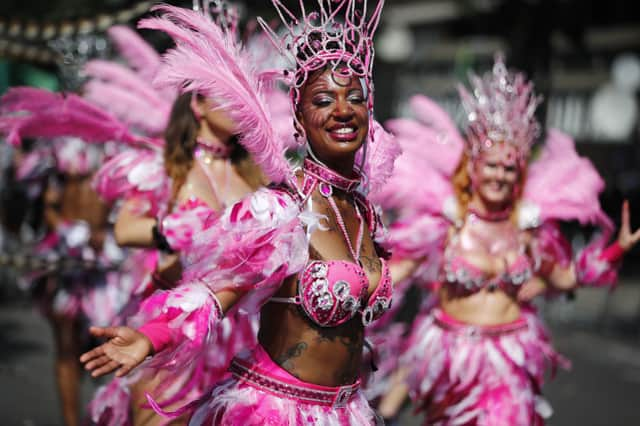 The Carnival is going eco-friendly this year with a fully electric eco-truck that will be used in the parade for the first time, funded by Spotify.
From the schedule to its history, here's everything you need to know about Notting Hill Carnival 2022.
What is Notting Hill Carnival?
The Notting Hill Carnival is an annual Caribbean festival that has taken place since 1966 on the streets of the Notting Hill area of Kensington every August bank holiday weekend.
It's led by members of the British Caribbean community, and attracts around two and a half million people annually.
The event's size and popularity makes it one of the world's largest street festivals.
The Carnival is a significant event in British Afro-Caribbean and British Indo-Caribbean culture
When is Notting Hill Carnival?
This year's carnival will take place on the August bank holiday weekend.
This falls on August 27 to August 29, in 2022.
History of Notting Hill Carnival
By the time of the first Notting Hill Carnival, over 30,000 Caribbean people were living in the UK after the SS Empire Windrush's arrival.
Trinidadian human rights activist Claudia Jones is credited with the first ideas for the carnival.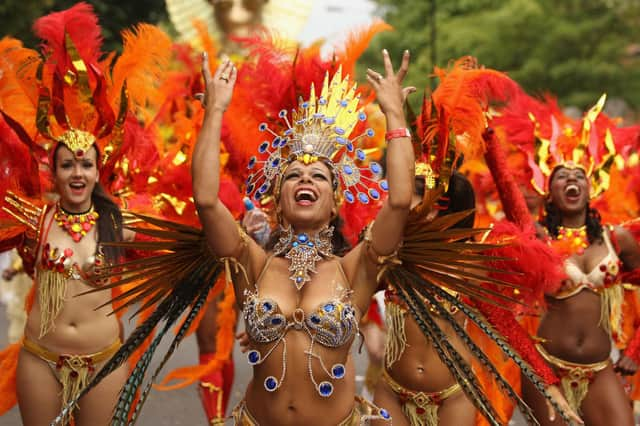 The first outdoor festival took place in 1966 and was organised by social worker and activist Rhaune Leslett.
The aim was to create an outdoor space to be enjoyed by children and the local West Indian community.
What is the schedule for Notting Hill Carnival 2022?
Over two million people are expected to head to west London this weekend to enjoy some banging beats, lashings of street food, razzle-dazzle costumes and utterly fabulous parade processions.
The event starts on the Saturday, with the UK National Panorama Steelband Competition, a family-friendly event in Emslie Horniman Pleasance Park, near Trellick Tower, which will require a ticket.
On Sunday, the family day of Notting Hill Carnival will take place.
This event, which is called the J'Ouvert Carnival, will begin at around 6am in Ladbroke Grove, with steel bands and African drummers parading through the streets of London.
A few hours later at 10.30am, the children's parade will begin with young performers parading through Notting Hill.
This year, the children's parade is led by members of a virtual running community, the Emancipated Run Crew.
They will wear green to commemorate those who died in the Grenfell Tower fire, five years ago.
Family workshops take place at Emslie Horniman Pleasance Park, along with Caribbean food and drink stalls.
Bank holiday Monday is the biggest day of the festival.
Over 80 bands in spectacular costumes wander through the streets in the main parade.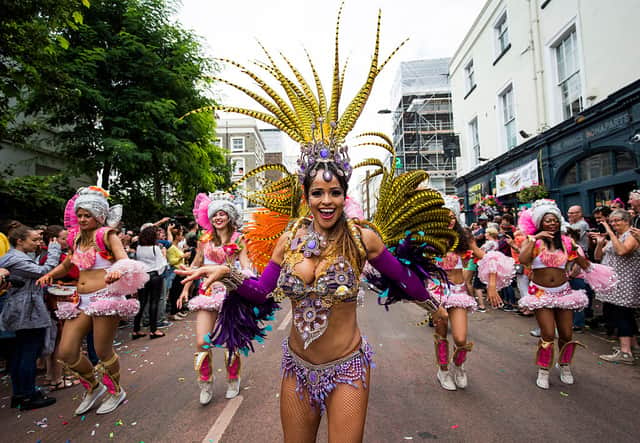 The parade begins at midday, before the entertainment on the multiple stages continues.
Around 40 sound systems will be pumping out huge tunes.
What is the Notting Hill Carnival 2022 parade route?
Taking place on Bank Holiday Monday, August 29, the main parade is around three and a half miles long, which you can track on the Notting Hill Carnival app.
The main parade route starts near Westbourne Grove tube station at 9:30am, and it travels down Great Western Road, before making its way to Westbourne Grove and Ladbroke Grove.
What roads will be closed?
Most roads within the Carnival area closed from 6am on Sunday, August 28, to 6am on Tuesday, August 30.
Only Carnival floats, pre-authorised event vehicles and emergency vehicles will be allowed into the area during these times.
The police check all vehicles entering the area and surrounding streets and any vehicles without accreditation will not gain access.
Residents who wish to remove their vehicles from the Carnival area should ideally do so the night before, or by 6am on Sunday, August 28 at the latest.
These road closures remain in place until 6am on Tuesday.
Notting Hill Carnival road closures
Aldridge Road Villas,
Alexander Street,
Alexandra Mews,
Alfred Road,
Artesian Road,
Bishop's Bridge Road from Porchester Road to Westbourne Grove,
Botts Mews,
Bridstow Place,
Chepstow Road,
Courtnell Street,
Durham Terrace,
Elgin Avenue between Harrow Road and Chippenham Road,
Fermoy Road,
Harrow Road from Ladbroke Grove to Great Western Road,
Hatherley Grove,
Hereford Road,
Hormead Road,
Kildare Gardens,
Kildare Terrace,
Lancaster Road,
Leamington Road Villas,
Ledbury Road,
Monmouth Place,
Monmouth Road,
Moorhouse Road,
Newton Road,
Northumberland Place,
Queensway between Westbourne Grove and Porchester Road (access will be allowed into Queensway from Bayswater Road to allow access to parking),
Redan Place,
Shrewsbury Mews,
Shrewsbury Road,
St Luke's Road,
St Stephen's Crescent,
St Stephen's Gardens,
St Stephen's Mews,
Sutherland Place,
Sutherland Terrace,
Talbot Road,
Tavistock Crescent,
Wellington Close,
Westbourne Gardens,
Westbourne Grove,
Westbourne Grove Terrace,
Westbourne Park Road,
Westbourne Park Villas,
Western Road,
Ledbury Road,
Woodfield Place,
And Woodfield Road.
Traffic will generally be diverted around the following ring route in the direction of Harrow Road, Porchester Road, Bishops Bridge Road, Inverness Terrace, Bayswater Road, and Notting Hill Gate; and Holland Park Avenue, Uxbridge Road, Wood Lane, Scrubs Lane, and Harrow Road.