Dozens of hot air balloons are set to take flight across London again this summer, for the first time in three years.
The last time the event took place was in 2019. The 2020 event was cancelled amid the coronavirus pandemic, while the following 2021 and 2022 events didn't go ahead due to bad weather conditions.
The regatta is organised by aerial marketing company Exclusive Ballooning, who have helped run the event since 2015.
When is the Lord Mayor's Hot Air Balloon Regatta?
Weather permitting, the 2023 Lord Mayor's Hot Air Balloon Regatta will take place on Sunday July 2.
The standby date events on May 14 and 21 were cancelled due to weather conditions.
Where is it taking place?
The Lord Mayor's Hot Balloon Regatta takes place every year at Battersea Park.
As always, the regatta will kick off with the Lord Mayor and Lady Mayoress's hot-air balloon being launched.
Can I get tickets?
The balloon regatta isn't open to the public however the balloons will journey across the capital's sky where members of the public can enjoy the view from various locations in London.
The event raises funds for its charities through corporate sponsorships rather than ticket sales.
What is the Lord Mayor saying?
The Rt Hon The Lord Mayor of the City of London, Alderman Nicholas Lyons – who will be flying in one of the balloons with the Lord Mayoress – said:
"I am delighted that the Hot Air Balloon Regatta is back this year. The Lady Mayoress and I look forward to flying above London as part of this very special event. Raising funds and awareness for The Lord Mayor's Appeal and its charity partners – The Duke of Edinburgh's Award, MQ Mental Health Research and National Numeracy – is important for the whole City of London. The Regatta and its corporate partners are supporting the Appeal in its aim to create an inclusive, healthy, fair and skilled city – A Better City for All.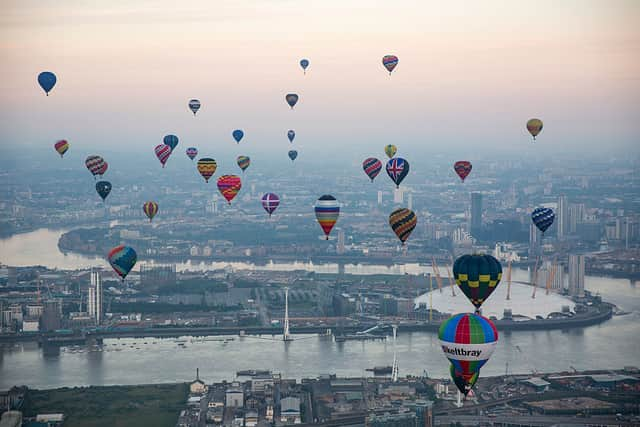 "This includes initiatives to promote inclusive workplaces, better understand mental health, support philanthropy and improve numeracy for everyone. In short, the Regatta – one of the most unique, fun and colourful events of any Mayoralty – is raising money to improve lives across the capital and beyond."
How to stay updated on the 2023 London Balloon Regatta
The event will go ahead depending on mother nature. Having appropriate weather is necessary so that the event can happen safely.
Details on whether the London Balloon Regatta will go ahead will be available closer to the standby dates on the regatta website.