One of the biggest music festivals not just in the UK, but in the world is almost here - Glastonbury 2022 is set to kick off.
Despite the big acts not performing until Friday, Saturday and Sunday, some festival goers arrived on Wednesday morning eager to get set up for a big weekend ahead.
The festival has welcomed some of the biggest names in music such as Justin Bieber, Kanye West, David Bowie and more.
This is the first time in three years that the festival of music is going ahead, and some 200,000 people are expected to head to Glastonbury.
This year, headliners include Kendrick Lamar, Billie Eilish and Sir Paul McCartney, but also features Sam Fender, Olivia Rodrigo and more.
One of the acts is London-based band Wolf Alice.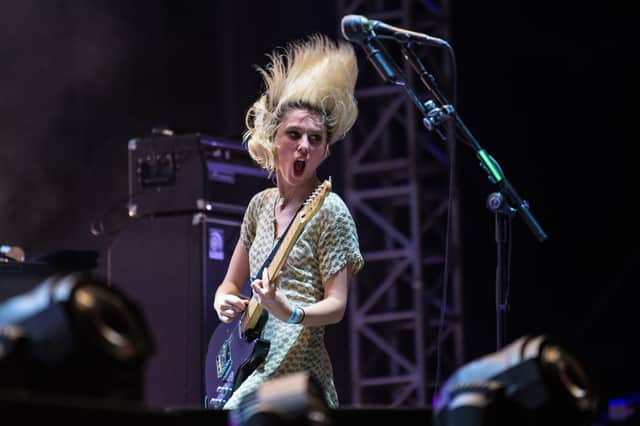 When are Wolf Alice performing at Glastonbury?
One of many bands and artists representing London, alongside the likes of AJ Tracey, Wolf Alice are set to perform on the iconic pyramid stage, and will have an hour set that begins at 4:45 pm, ending at 5:45 pm.
What will the weather be like when they're performing?
During Wolf Alice's performance at Glastonbury it will remain cloudy with sunny spells throughout with around a 20 percent chance of rain. The temperature will also be fairly high, at around 19C.
The Met Office says for Friday - Sunday: "Turning cooler. Cloudier on Friday with scattered showers developing, these possibly merging into longer spells of rain overnight. Sunshine and heavy showers over the weekend, these turning thundery in places."
What are the performances on the Pyramid Stage over the weekend?
Here's the full list and times of performances on the Pyramid Stage over the three day festival.
Ziggy Marley - 12:15pm - 1:15pm
Rufus Wainwright - 1:45pm - 2:45pm
Crowded House - 3:15pm - 4:15pm
Wolf Alice - 4:45pm - 5:45pm
Robert Plant and Alison Krauss - 6:15pm - 7:15pm
Sam Fender - 8:15pm - 9:15pm
Billie Eilish (Headliner) 10:15pm - 11:45pm
Les Amazones D'Afrique - 12pm - 12:45pm
Joy Crookes - 1:15pm - 2pm
Easy Life - 2:30pm - 3:30pm
Noel Gallagher's High Flying Birds - 7:15pm - 8:30pm
Paul McCartney - 9:30pm - 11:45pm
Black Dyke Band - 11:30am - 12:15pm
Dakhabrakha - 12:45pm - 1:30pm
Herbie Hancock - 2pm - 3pm
Diana Ross - 4pm - 5:15pm
Kendrick Lamar - 9:45pm - 11:15pm
To view other stages, other acts and the time they are taking place, visit the official Glastonbury website.
The five-day festival takes place in Pilton, which is located in Somerset, England.
It's around a three hour drive from London, and around 125 miles away.
Can I still watch Glastonbury?
If you do not have a ticket, don't worry! All acts from the Pyramid Stage, including Wolf Alice's performance will be televised live on BBC.
To watch all the other acts on the other stages, the BBC has a dedicated Glastonbury website.