Krystal Evans on turning a family tragedy into comedy with The Hottest Girl at Burn Camp
At 14 years old Krystal Evans escaped a fire which killed her younger sister. Over 20 years later she has turned tragedy into comedy.
Watch more of our videos on Shots! 
and live on Freeview channel 276
Visit Shots! now
When Krystal Evans was 14, she escaped a lethal house fire which killed her younger sister and left her hospitalised for six weeks.
For years the 36-year-old struggled to talk about her traumatic past.
Now over 20 years later the US-born comedian has turned her family tragedy into a one hour comedy show.
Evans debuted 'The Hottest Girl at Burn Camp' at this year's Edinburgh Fringe Festival, which was met with critical acclaim and she was nominated for the NextUp Biggest Award in Comedy.
She is now about to follow in the footsteps of a number of her comedy heroes and make her debut at Soho Theatre in London at the end of the month.
Evans spoke to LondonWorld about addressing mental health issues in comedy, her success at the Edinburgh Fringe and how Bansky (may or may not?!) have been in the audience at one of her shows.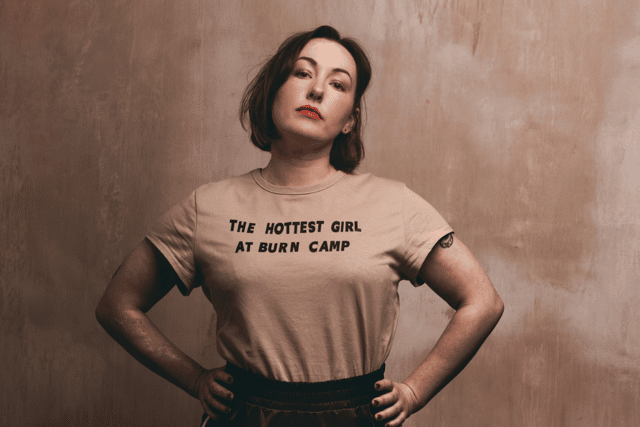 The Hottest Girl at Burn Camp
The Hottest Girl at Burn Camp recounts Evans' escape from the fire, but also explores coping with a mentally ill mother and the slow realisation that her childhood "wasn't really normal".
"There's also themes in there of growing up poor, and growing up in a house of divorce as well," she said.
"There's quite a lot of super traumatic things that happened in my childhood. And I know, none of that sounds funny, but I've basically taken all that and made it into a comedy show."
Evans, who grew up in Washington State now lives in Edinburgh with her husband and two small children.
She started performing stand up comedy in 2017 and began experimenting with sharing her childhood experiences during shorter sets. But they didn't always land as she had hoped.
It was not until the pandemic that she started to write about her past trauma.
"I had a baby in January 2020 and then the pandemic happened in March 2020. And I just had such a hard time as we all did, but it was exacerbated by having a baby, I had really bad postnatal depression," she recalled.
"And it was just such a dark time. I had this really weird condition where every time I nursed the baby. I would get this wave of depression.
"I also started getting really bad intrusive thoughts and I started getting like, almost to the point of hallucination. I would sometimes think I smell smoke in the house and I needed to get the kids out.
"I sought therapy and discovered it was linked to what happened to me as a kid."
It was through therapy that she decided to start writing about her past experiences and where The Hottest Girl in Burn Camp was born.
Edinburgh Fringe
The Edinburgh Fringe was a wild ride for Evans juggling an hour show every day, whilst attending to her two small kids.
"It was insane during August," she recalled. "Every single day something insane was happening to me, you know, like a really famous comedian who I really admired would be in my audience."
One special guest who may have or have not attended her show was Banksy.
"I don't even know if this is real but I know that Bansky was in Edinburgh during the Fringe and somebody in the audience put a five pound note in my bucket which had written 'Great show, Banksy'."
The future looks bright for Evans as she is now in talks about turning her show into a book. There are also plans to make a radio documentary about her creation of the show.
The Hottest Girl at Burn Camp is on at Soho Theatre from Thursday November 30 to Saturday December 2.