After a miserable week in which Spurs left the Champions League with a whimper, a result was sorely needed.
Manager Antonio Conte, who is almost certainly leaving before next season, dealt with the public dissatisfaction of Brazilian striker Richarlison by putting him in the team at the expense of Dejan Kulusevski.
It looked like he had repaid the favour in the first five minutes but a long VAR review judged him offside when he latched on to Skipp's long ball over the top.
The first goal came within 20 minutes and it was from a familiar source, Harry Kane rising to head perfectly back across and into the net.
A second followed before half-time, with Richarlison fouled and Kane dispatching the penalty.
It was the most comfortable first half Spurs have enjoyed all season. They have to be credited with that, playing with a freedom rarely seen under Conte, but Nottingham Forest were bad.
The third goal came after an hour, with Richarlison putting the ball in to Son, who made space in the box and found the net.
Forest got one back after 80 minutes, Worrall finding the net from a nodded-on corner, but it was a consolation.
Almost at the end of injury time, a clear handball by Kulusevski gave Forest a penalty, but André Ayew couldn't score past Forster.
20 - Fraser Forster (6)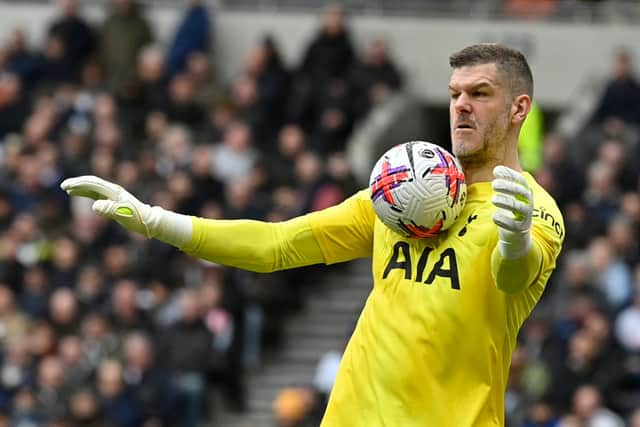 Forster has been an able deputy in the absence of Hugo Lloris. The team's shortcomings have not been down to him.
And when called upon here, after an hour, he did what was needed - saving and holding on to the ball.
After 76 minutes a strong hand provided an outstanding save from former Spurs man Serge Aurier's header and another good stop from Emmanuel Dennis's shot.
For Forest's goal he came for a corner when perhaps he shouldn't've but he made amends by saving André Ayew's penalty.
4 - Oliver Skipp (7)
Skippy's ball for Richarlison's disallowed goal in the first five minutes was inch perfect, even if Forest gifted the striker the gap.
After that he put in a strong performance, helping move the ball quicker than fans have seen from the team under Conte.
His standing ovation when substituted was deserved.
5 - Pierre-Emile Hojbjerg (6)
The Dane covers a lot of ground and can take a lot of credit for the domination in the first half. His hard work defused dangerous situations on several occasions.
7 - Heung-Min Son (6)
There were a few signs Sonny was enjoying himself again, making runs, tapping former teammate Serge Aurier on the head with the ball after the defender had risked a penalty shoving Davies in the back.
A lovely take and turn at the start of the second half nearly created a chance for Richarlison.
With an hour gone he had had a few sniffs of goal and then found the net after making a little space in the box. His increased confidence was clear to see. Another shot drew a good save from Navas.
9 - Richarlison (7)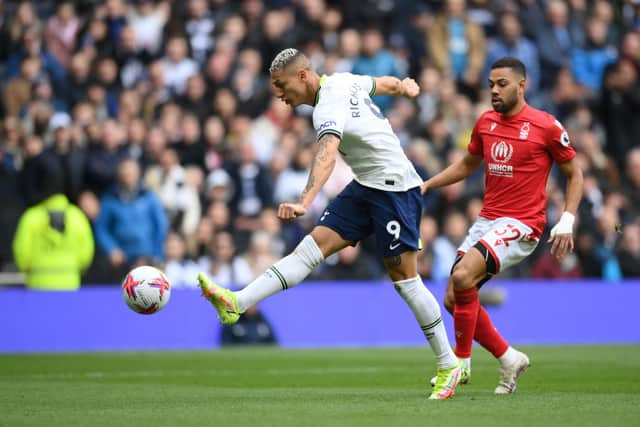 When your luck's out it can feel like it will never return. Richy thought he had his Premier League goal when he found the net in the first five minutes with a sweet volley, only for VAR to kill the mood with the most marginal of offsides.
It was Richarlison's run that drew the foul and won the penalty, but Kane was never going to let him take it.
He gives the defence no moment of rest, notably winning the ball back as the hour mark approached to create a chance for Son.
He looked dejected whensubstituted but there wasn't much more he could have done during his time on the pitch.
10 - Harry Kane (C) (7)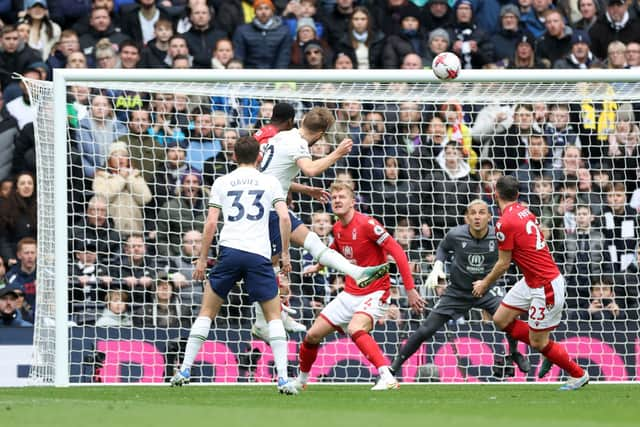 He scores goals, and his header he was perfectly placed back across the box, giving Keylor Navas ("he's won more than you") no chance.
His second was a penalty, and while Richarlison made a bid to take it, the captain was never going to give up the chance, or miss it.
15 - Eric Dier (5)
Back doing what he does best as a rock in defence, but it has to be said thatForest did not make life difficult.
17 - Cristian Romero (5)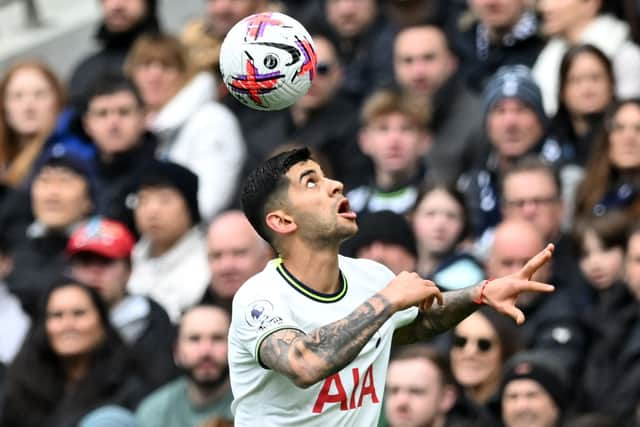 There was a moment in the first half when it looked for all the world like Cuti was going to go all in with a challenge in the box, but he showed restraint and set the tone for a mature performance.
It was his long ball that released Richarlison to set up Son for the third.
23 - Pedro Porro (6)
Already popular with the fans as a more attacking option than Emerson Royal, he chipped in perfectly for Kane's goal.
The Spaniard was presented with a lot of space to work with and he ate it up with enthusiasm.
33 - Ben Davies (6)
Davies, enjoying his time at left wing-back, rescued the ball to keep the attack alive for the first goal.
34 - Clement Lenglet (5)
A steady performance from the Frenchman, who may not be fans' first choice but has done a job coming in.
21 - Dejan Kulusevski
He has looked out of sorts in recent games, and his 10 minutes here gave him the chance to hassle defenders, put in a few runs and create a decent chance to remind the manager what he has to offer.
And time for a blatant handball to give away a penalty.
27 - Lucas Moura
His Amsterdam hat-trick means he will always have a place in the hearts of fans, but why he was given more game time here when he is out at the end of this season is anyone's guess. What does Danjuma have to do to get on the pitch?
29 - Pape Matar Sarr
A few minutes of injury time for the young midfielder to watch a penalty and get his socks dirty.