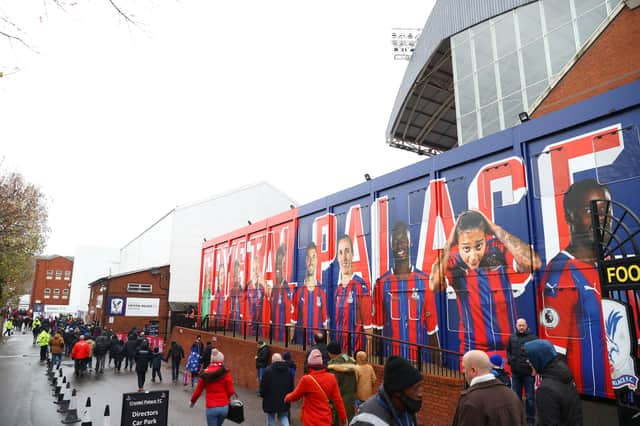 Fans arrive at the stadium prior to the Premier League match (Photo by Clive Rose/Getty Images)
After 13 league games, and an intriguing one against Leeds United on the horizon, Vieira's record reads three wins, three defeats and seven draws.
He's had to make some changes to the training schedule and introduce new things to keep the players on their toes.
LondonWorld brings you all the changes the former Arsenal midfielder has made to get his team bouncing, with players responding to his methods.
Christian Benteke of Crystal Palace (2R) celebrates with teammates (Photo by Lewis Storey/Getty Images)
Training sessions begin at 9am
One of the first things Vieira did when the season started was move the training session from 9.30am to 9am.
This might seem simple, but the half an hour difference has been a big deal to some of the players who always got the chance to drop off their kids at school before arriving for training.
The players have tried to negotiate the timing with Vieira, but he's maintained that getting them in at that time makes it possible for them to have a full cycle of training and enough time to recover for the next day's session.
Most of the first team players are out of the building by 1:00pm, giving them time to pick up kids from school and make up for missing the morning.
Crystal Palace players observe a minutes silence in respect of the Remembrance Day (Photo by Paul Harding/Getty Images)
Training at Selhurst a day before every home game
Another change Vieira has introduced is that training will be held at Selhurst a day before every home game.
Under Roy Hodgson, all preparations for a game was done at the training complex, but Vieira argues that having a feel of the match-day experience as much as possible nourishes the minds of players before a game.
Ahead of the Villa game, players assembled at Selhurst and spent an hour practicing before the manager announced his starting eleven and squad for the game.
Conor Gallagher of Crystal Palace takes a corner during the Premier League match (Photo by Paul Harding/Getty Images)
Social media and phone usage
It's fair to say that Vieira has picked up a lot from his time with Arsene Wenger.
He is very high on player discipline and doesn't encourage excessive use of social media especially in and around the training ground.
He is happy for players to use their phones when in their little rooms at the training grounds, but less happy when he sees videos or pictures of players during gym work or field work.
He argues that the use of phones distract and interfere with the full concentration that is required to get the maximum benefits from the designed training session.
PRAISE: For Leeds United from Crystal Palace boss Patrick Vieira, above, ahead of Tuesday's trip to Elland Road. Photo by Shaun Botterill/Getty Images.
Scrapping Wednesday off
Another thing Vieira has done to keep players on their toes is rotating their off days, so instead of fixing it on every Wednesday if they did not have a mid-week game, he rotates it.
Roy Hodgson always gave them Wednesdays off, but Vieira prefers to look through the fixtures and recovery time before deciding which day was best to let players off the hook.
That decision has not really gone down well as it denies players the chance to plan their off days, but Vieira likes to keep it that way to keep players focused.
Matt Target (R) of Aston Villa scores their side's first goal past Vicente Guaita (Photo by Ryan Pierse/Getty Images)
All first team players at all home games
There is also an unbreakable rule that all first team players, regardless of if they are in the squad or not, must be at Selhurst Park and will be part of all meetings and discussions before the game.
The idea behind this is that Vieira knows that he will be losing some players for the Africa Cup of Nations in January, and the depth of his squad will be tested in the heart of winter when games come in thick and fast.
He wants the information to be taken in by all first-team players, to enable easy understanding when called upon to deliver on the pitch.