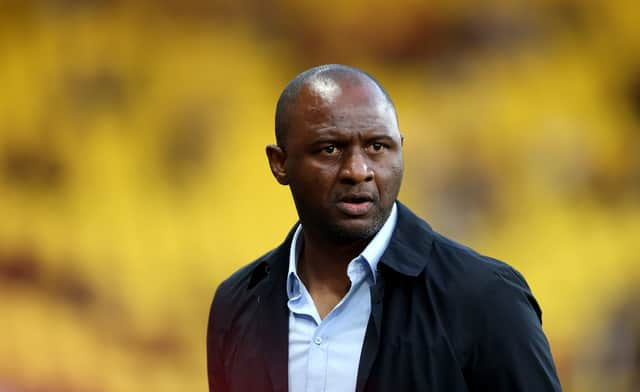 Crystal Palace manager Patrick Vieira says he is "disturbed" by the lack of black coaches in the Premier League and other top European leagues.
The former French midfielder is only the 10th black coach to manage a Premier League side.
He is currently the only BAME manager in the Premier League, following the sacking of Nuno Espirito Santo at Tottenham Hotspur.
According to a talkSport survey, one in four Premier League players are black and ethnic minority - with even more at grass roots level.
However in almost 30 years of the Premier League, just 10 black managers have taken the reins of sides in the top division.
World Cup winning midfielder Vieira is proving that given an equal opportunity black managers can be a success.
He has been opening the doors to his former teammates, who will get access and first-hand experience of how to manage a Premier League.
"Of course we think about this and we discuss this all the time and it disturbs me a lot," the Palace boss said.
"It's a big concern for me and we [black managers] spend a lot of time thinking about it because it's something we don't understand.
"We're talking about experience, we're talking about the love of the game, the work ethic, the game understanding, and overall the passion that we have for the game.
"And that is not different from any other people."
Vieira cut his teeth at Manchester City under Italian tactician Roberto Mancini, and often talks about how he followed Pep Guardiola to Munich to watch how the Spanish manager prepare for a game.
Those early days have shaped his ideas and he is using his position as Crystal Palace manager to help other aspiring Premier League managers.
"I was really lucky during my coaching career that so many managers opened the doors of their football clubs for me to go and spend the week," Vieira added
"So [now it's] my turn. I'm lucky to be in a really good football club and if there are managers around who I can open the door to and give them the support that I had when I was doing my badges, I will do it."
Life at Selhurst so far for Vieira
His side is currently 10th on the league table, having picked up three victories, two defeats and six drawn games in the first 11 games of the season.
Crystal Palace are also on a brilliant unbeaten run since mid-September.
All 10 Black coaches to have managed in the Premier League
Chris Ramsey Queens Park Rangers
Hayden Mullins Watford (caretaker)
Nuno Espirito Santo Wolves and Tottenham 
Terry Connor Wolves (caretaker)
Darren Moore West Brom 
Paul Ince Blackburn Rovers 
Jean Tigana Fulham 
Chris Hughton Tottenham (caretaker), Newcastle United, Norwich City, Brighton
Ruud Gullit Chelsea, Newcastle United
Patrick Vieira Crystal Palace