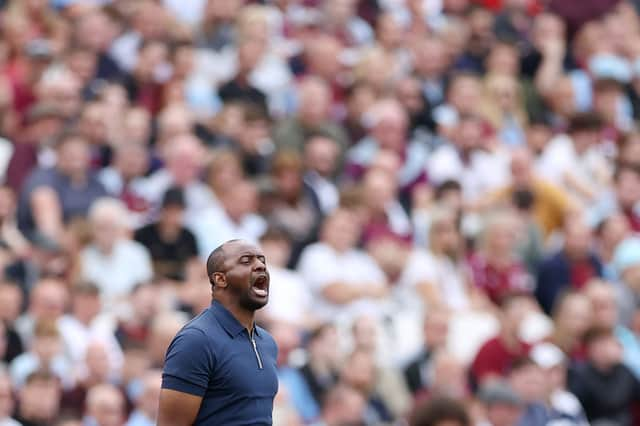 Patrick Vieira, Manager of Crystal Palace gives instructions to their side during the Premier League match (Photo by Eddie Keogh/Getty Images)
Crystal Palace manager Patrick Vieira has vowed to build a team that will be brave and exciting for the fans.
The French manager replaced Roy Hodgson at the start of this season after four years in charge, during which the team went from flirting with relegation to being a main-stay in the Premier League.
Vieira's Palace have shown signs of improvement with their playing style.
The manner in which they beat Tottenham 3-0 and came back twice to earn a 2-2 draw against West Ham shows their never say die attitude.
There are still some doubts whether the former Arsenal midfielder can create the atmosphere to get the best out of a squad with a limited budget, and continue playing attractive football while securing their Premier League status.
But Vieira is certain that he is on the right track, and will make Selhurst Park a place of entertainment for all.
Patrick Vieira has overseen a great overhaul of his Palace squad this summer, with a host of first-team players departing the club. Could this revolution open the door for Palace to develop some homegrown talent? (Photo by Eddie Keogh/Getty Images)
What did Crystal Palace manager Patrick Vieira say ahead of the Brighton clash?
He said: "With the passion and the desire that we have shown, that will be the most important thing.
"My job is to analyse this kind of energy and make the right decision and we have to be good with the technical and tactical side if we are to compete going forward.
"I have been watching Brighton and the way they try to play football is quite attractive, and the way they try to create superiority at some positions on the park.
"Derbies are important games and that is why we have to play with passion and determination, but we should not forget which system we are going to use to allow ourselves to play well.
"We can't just base our games on just the physical, we have to be mindful of the system and what we are trying to do.
"Derbies are played with a lot of commitment and are quite competitive, but if we are going to think of that only it's not going to be enough.
"There are a lot of areas in the game we need to improve, the positive side is that since we played against Chelsea, we look more solid and there is a better understanding of the way we want to play.
"The more we go into the season the stronger we will be."
Tariq Lamptey of Brighton and Hove Albion celebrates after scoring his sides first goal against Tottenham (Photo by John Walton -
Injury news
The Crystal Palace manager also confirmed that Jeffrey Schlupp was back in team training and was contention to play on Monday.
"Jeffrey has been back with the team and he feels good and will be part of the team on Monday," the former Arsenal midfielder said.
Brighton will also be able to call on right back Tariq Lamptey who came through 45 minute against Swansea in the League Cup. There are no fresh injury concerns for both sides.
The form table
Palace have won one of their first five games, losing to Chelsea and Liverpool and picking up draws against Brentford and West Ham.
Their only win - in a tough run of opening fixtures - came at home against Tottenham.
They are currently 14th in the Premier League table with five points, while Brighton come into the game with their best start to a Premier League season.
Graham Potter's are riding high having picked up 12 points from the first 15 available, winning four of the five games they've played so far.
The Seagulls have had a good start to the campaign, with some generous fixtures.