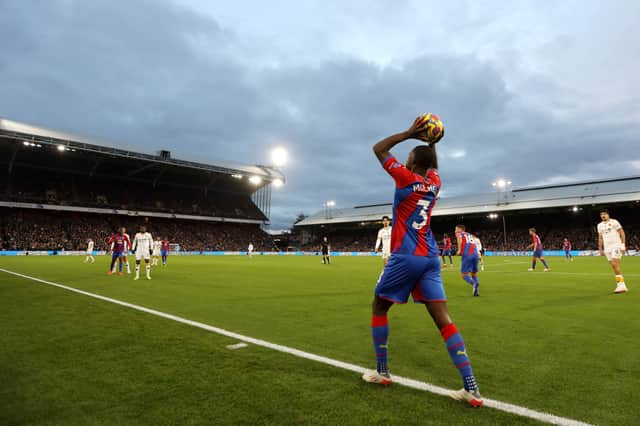 Tyrick Mitchell of Crystal Palace takes a throw in during the Premier League match between Crystal Palace (Photo by Paul Harding/Getty Images)
The Chelsea loanee opened the scoring before veteran defender James Tomkins stamped in the second for the Eagles.
Everton substitute Salomón Rondón brought his side back into the game before Conor Gallagher again took advantage of an error in the Everton defence to seal the victory.
Patrick Vieira who was visibly delighted because his side had returned to winning ways reserved words of praise for often overlooked Tyrick Mitchell who was one of the top performers again.
The left back is going from strength to strength and is the latest beaming light of the Crystal Palace Academy.
Crystal Palace manager Patrick Vieira said: "He is a young talent and has a fantastic left foot and he is learning very well and developing his game.
"His defending is very good and he has a lot to learn when going forward which is quite normal at his age but he has everything and he is learning and doing the right things."
For all the talk of Conor Gallager and his special skills, LondonWorld.com brings you why it's Tyrick Mitchell who is the long term success story at Crystal Palace.
Aaron Wan-Bissaka of Manchester United looks on as he warms up prior to the UEFA Champions (Photo by Eric Alonso/Getty Images)
The New Academy has built from the sale of Wan Bissaka
Crystal Palace have made good use of the money from the sale of academy product Aaron Wan-Bissaka. The money has been used to build an ultra-modern training complex for both the first team and the developmental side.
The idea behind the appointment of Vieira is to introduce a modern attack-based kind of football that will be attractive to the new generation of footballers coming through South London.
In the last few years, Palace have seen South London talents like Callum Hudson-Odoi and Emile Smith Rowe originally from around Croyden move to other parts of London to advance their careers.
The blistering form of Tyrick Mitchell will give hope that youngsters can still develop at Crystal Palace and make it to the very top of Premier League football.
The project is exciting and there are players coming through the ranks and making it big time, if Tyrick Mitchell gets to his full potential he could be sold to fund another project just like Aaron Wan-Bissaka.
Manchester City's Argentinian striker Sergio Aguero (L) vies with Crystal Palace's English defender Tyrick Mitchell (Photo by CLIVE ROSE/POOL/AFP via Getty Images)
An example of hard work to all South London youngsters
The young left back started life with his father in prison and his mother relying on government benefits to raise him.
He was driven to be a football and joined the Brentford academy as a youngster but the academy would be shut due to financial problems.
Not one to give up easily he forced his way into the Crystal Palace Academy and like they say, the rest is history.
His story is one that shows what can be achieved when desire is backed with grit and determination.
He made his debut under Roy Hodgson in 2020 and has never looked back. At the beginning of this season, eyebrows were raised when the club decided against renewing the contract of Patrick van Aanholt, instead trusting in the young Tyrick Mitchell and it's fair to say he's not disappointed.
A modern day left back who can attack and defend
He's played 15 league games, has an assist and created four chances from left back position.
Defensively he's been as good as the likes of Marc Guéhi and Joachim Andersen even if he has not received the same level of praise and recognition.
There is always the tendency to have full backs who are either too attacking or too defensive but Tyrick Mitchell is strong at both. A good blend and a good guy who gets on well with most of his team mates.
When you're always playing behind someone like Wilfred Zaha, you need to be measured and time your runs but he's been great at it and has shown great discipline throughout the season.