'Rest well': Arsenal player and WAG pen heartbreaking letter to 'little best friend'
USA international Matt Turner and ex-NFL cheerleader wife Ash both took to Instagram to share tear-jerking messages over the weekend.
Watch more of our videos on Shots!
and live on Freeview channel 276
Visit Shots! now
Arsenal goalkeeper Matt Turner and wife Ash have penned a heartbreaking letter to their late pet dog Bear after he passed away.
The USA international joined the Gunners last summer and has made six appearances for the side this year in cup fixtures. He also played in all of the USA's matches at the Qatar World Cup.
Turner married the ex-NFL cheerleader last year and the couple have a little boy called Easton and are also parents to furry friend Kanupi.
Over the weekend, both the shot-stopper and Ash took to Instagram to bid an emotional goodbye to their other four-legged friend, Bear.
Turner shared a series of images of the little black dog smiling, playing and showing him love over the years alongside a caption thanking him for his 'unconditional love'.
The Arsenal star wrote: "Dear Bear, my world became a better place getting to know you and love you. I hope that you rest well and know that you served your purpose on this Earth.
"Thank you for showing us unconditional love. We will miss you and all your little quirks tremendously."
The post prompted an outpour of love from followers including the USA national team account and MLS players Henry Kessler and Sean John.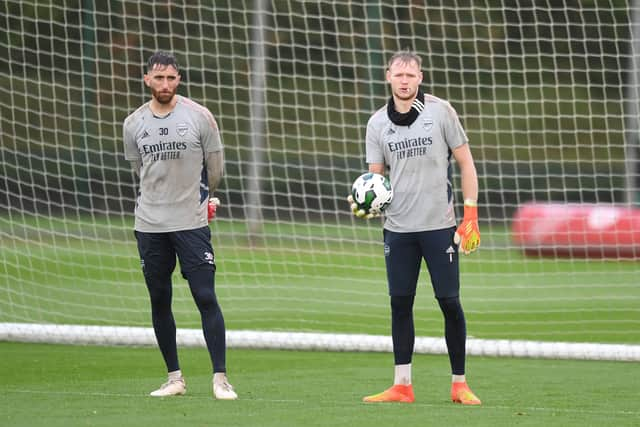 Ash also had words to share in tribute to pet Bear and penned a long eulogy to Bear the dog.
She wrote: "I still make breakfast for two. It's what I've done for you for over a decade. I search for you at night and I wonder where your little pitter-patters are when I walk around the house. You would follow me everywhere. Your new thing was waiting for Easton to feed you. I loved watching you two get to know each other.
"You loved to be loved but you loved to love others even more. Your heart couldn't handle how much love you gave this world. It was too soon but you lived a complete life.
"You got me through the hardest and best moments of my life. You were always there for me to come home to. No words can capture how you've been there for me. Times I've cried on the floor for you to just be there right next to me, loving on me - always.
"You were sensitive. You would cry if you stepped on ice and it cracked, but you loved the snow. You liked to literally smell flowers and listen to birds. Life was sunshine and butterflies. Once this world didn't look like sunshine and butterflies for you anymore it helped me understand I have to let you cross that rainbow bridge to find that peace and joy you once had.
"My tongue-out sleeping little puppy. I pray you rest well in doggy heaven, knowing your job here is done. You taught us to love unconditionally. You showed us that loving is a more beautiful trait than anything else.
"I'm going to miss your howl and your little spurts of energy going after kanupi. Your cuddles and paw high fives. Your little dances and tricks. Your need to always be in the presence of others. You being my little best friend.
"I love you and miss you forever. Thank you for taking care of me and making life brighter."