Arsenal legend Ian Wright says there is a feel good factor at Arsenal and that is showing in their performance and results, after the win against Leicester on Sunday evening.
The Gunners are the most in-form side of all the teams fighting for a Champions League spot.
Back in September, Arsenal side had lost their first three games of the season and were bottom of the Premier League table, with fears of a chaotic season looking them in the face.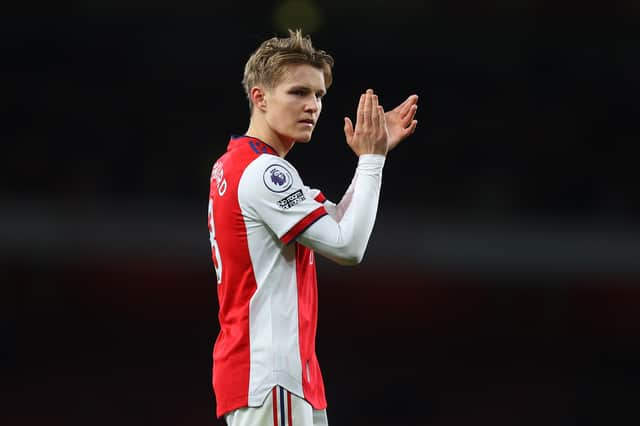 Since then, the North London club have shipped out players, bought strategically and redeveloped their verve in crucial moments of the game.
The Gunners have got key players flying epitomised by the class of Martin Ødegaard and the industry of Thomas Partey, who scored the opener against Leicester before Alexandre Lacazette sealed the three points and a return to fourth place.
The overall play of Arsenal has improved, and the team looks to have more strength and mental fortitude to withstand the difficult moments of games, which Ian Wright says is down to Arteta's man management and decision making.
What Ian Wright said after the game
The Arsenal legend has been impressed with some of the players who are stepping up to the plate, and says Areta has shut out the noise coming out of the club which has been crucial.
The former England striker said: "I think what Arteta has done well this season is that he has managed to shut out the noise that is coming out of the club.
"They look like a unit and they are all fighting for the same course and the manager has gotten rid of some of the players and brought in the ones he thinks will work for him.
"Martin Ødegaard is classy without being Hollywood and that is what we expected from Ozil just to not get involved in the physical side but keep the team tidy and moving forward."
The form of Arteta's men will be put into great test on Wednesday when they host title-chasing Liverpool.
Klopp's men are hastily chasing the relentless Manchester City and have little room for errors which makes Wednesday's encounter at the Emirates mouth watering.
Arsenal's next five games
Arsenal v Brighton Hove and Albion