Former Arsenal captain Cesc Fabregas has revealed his biggest regret is not winning the Champions League during his time in North London.
The Gunners reached the final in 2006 after beating Real Madrid, Juventus and Villareal in the knockout stages but lost 2-1 to Barcelona at the Stade de France.
Goalkeeper Jens Lehmann was infamously sent off after just 18 minutes but Sol Campbell scored a shock opener before half time. Two goals in four minutes, however, from Samuel Eto'o and Juliano Belletti turned the game on its head as Arsenal's wait for a first European Cup was extended.
Fabregas had lifted the FA Cup with Arsenal the previous season and played 74 minutes in the 2006 Champions League final. And he admits not winning a "major, major trophy" at Arsenal is one of his biggest regrets.
"The first ever, or the only Champions League final that Arsenal has ever played and I was only 18. And we were so close.
"Also, not lifting a trophy as an Arsenal captain was something that will always be in my heart because I gave so much. I exhausted myself so much. I hope Arsene (Wenger) knows what I gave for the club, emotionally and physically, and in terms of everything.
"I feel sometimes... it's just because not lifting anything, it can feel a little bit like 'Oh, yeah, he was really good, but nothing happened.'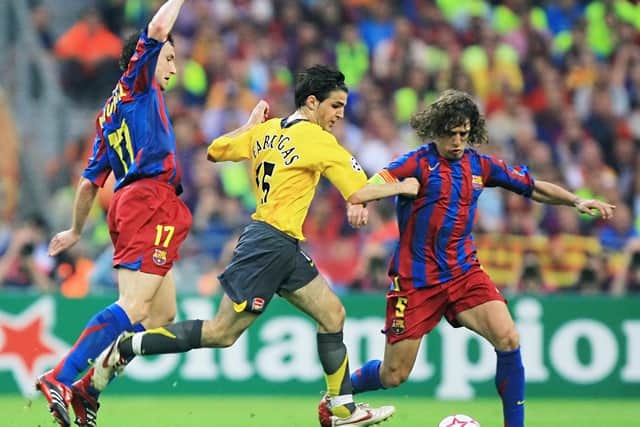 "Inside of you, it gives you a little bit of sadness in a way, of regrets. Not because I didn't give my all, which I did and I think I overdid it. But yeah, not lifting a trophy - an important one - because obviously the FA Cup... You know, a trophy is a trophy and it's great, but making it to the next level ,you need to win a major, major trophy."
Fabregas believes the current Arsenal squad has the capacity to end the Gunners' long wait for a Premier League title. The Gunners are five points clear of Man City with 12 games remaining.
He said: "I was at the training ground recently and I saw them and they're super good kids. Humble, they want to work hard.
"There is a lot of chemistry between them and we really had that. It's just once we were getting into March... April, March, it was always [at] that moment where we couldn't keep up because of injuries."