Arsenal are hoping to offload a number of fringe players this summer.
It has been a busy summer for the Gunners, who have spent big to bring in the likes of Gabriel Jesus and Oleksandr Zinchenko.
One of the players who will likely move on is Bernd Leno, who lost his number one spot to Aaron Ramsdale last season.
Matt Turner has been brought in to be number two for the coming season, and Leno will be shown the door.
Here's what we know about the situation so far.
Leicester City interest
According to reports in France, Kasper Schmeichel has agreed to join Ligue 1 side Nice, but the Foxes need to find a replacement before they agree a sale.
They do already have Danny Ward, but reports suggest they want a more experienced option, and Leno could be the answer.
Fulham interest
Fulham have been the main side credited with an interest as the Cottagers prepare for their return to the Premier League.
Reports have suggested Leno is a prime target for Fulham, but they have also been linked with a loan move for PSG man Sergio Rico, if they can't agree a deal.
Leno may well be tempted by the idea of joining Fulham given he wouldn't have to move away from London, where he's lived now for over four years.
Price tag
Arsenal were initially asking for £10million for Leno, but it seems they have dropped their asking price.
Fulham are not willing to pay that much for a new goalkeeper this summer, and according to the Evening Standard, Arsenal have responded.
The Gunners are now said to be asking for £8million.
What has Leno said?
Leno has not spoken about his situation this summer, but he did speak about getting dropped back in April.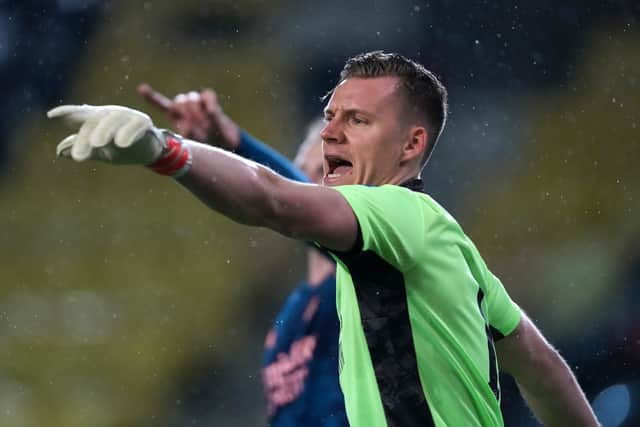 "It was a setback and a bitter moment," he told Spox and Goal. "But that's sport, you have to accept that. It wasn't easy, but I couldn't feel sorry for myself, I wanted to attack again immediately,' Leno said.
"I don't want to say I was a pawn, but when the results aren't right, sometimes things happen quickly in football. The coach wanted to set a new impulse – and then the results came. That was bitter for me, because I had held up well before that.
"I had never experienced anything like that in my career before. But I looked ahead. My ambition is to always play, I know what I can do. I'm not 20 anymore, where I could say: 'I still have time'.'
"In the end, he [Arteta] said that the results weren't right and that he wanted to bring in new players. And when the results are good, it is of course logical that you don't change so much in a well-established team,' Leno added.
"It was clearly communicated to me that it had nothing to do with my performance and was therefore difficult to accept at first.
"I had always played well in the years before and was hardly ever injured. That hits you hard. But as I said, there's no reason to feel sorry for yourself. You have to look ahead and keep working on yourself. That's what I did."