There's a new Gooner on the way as Arsenal star Oleksandr Zinchenko took to social media on Monday evening with wife Vlada Sedan to announce their pregnancy with a second child.
The full-back has enjoyed a successful first season at the Emirates Stadium despite injury niggles disrupting his campaign - Zinchenko is set to miss out on the final-day clash with Wolverhampton Wanderers too.
Despite recent on-the-pitch setbacks, the Arsenal defender has plenty to celebrate away from football life as he announced a second child was on the way.
Zinchenko and wife Vlada had their first child, a daughter born in Miami, in August 2021, five years after the star moved to Manchester City from Russian side FC Ufa.
The couple posted an adorable video on Instagram last night to confirm a second young Zinchenko was on the way. Soundtracked by Ellie Goulding's swooning 'Love Me Like You Do', the parents, their daughter and even their dog peel their hands away to show the sonogram of the baby. "We are waiting for you," the defender wrote.
The post prompted an outpour of love from friends, family and fans with accounts from Arsenal, UEFA Ukraine and Shakhtar Donetsk also congratulating the couple.
Former Manchester City teammate Nathan Ake also shared his love, as well as Ukrainian actor Andrii Biedniakov and Danish football star Bart Ramselaar.
Over the years, Zinchenko and Vlada have made their fair share of headlines thanks to their high-profile relationship.
Oleksandr Zinchenko married to 'world's most beautiful WAG'
Dubbed the 'world's most beautiful WAG', Vlada met Zinchenko when working as a football broadcaster in Ukraine. The presenter has interviewed the likes of Cristiano Ronaldo and Andriy Shevchenko in the past.
The two made their relationship official when the defender crashed one of her interviews to give her a kiss on the cheek following a 5-0 win for the national side in 2019.
Zinchenko proposed to Vlada inside the 70,000-capacity Olympic Stadium in Kyiv and the two tied the knot in August 2020, although the wedding wasn't without drama as the then City player had to apologise to boss Pep Guardiola for his partner's antics.
Vlada had 'no words' for supposed Pep Guardiola tactical error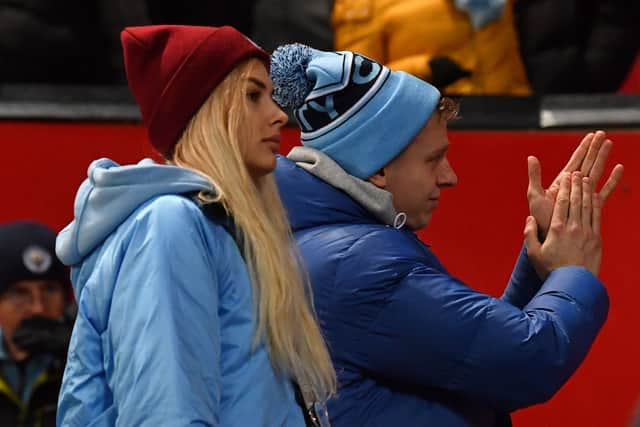 Shortly before the big day, Vlada had publicly slammed Guardiola's tactics after his side exited the Champions League at the hands of Lyon.
Speaking on her YouTube channel, Sedan said: "Perhaps I have no right to say this, perhaps Zinchenko will forbid me. But to put it mildly, and in order not to swear, this is completely Guardiola's fault.
"At such a crucial moment, making such an experimental tactic for Man City is a bummer.
"I have no right to criticise, but why play three central defenders?
"I simply have no words, because to have such a line-up… look what players play at Man City, what a bench. Literally few clubs in the world can boast such reserves."
Zinchenko apologised for wife's Guardiola attack
It's fair to say the video didn't go down all too well with Manchester City fans and seemed to cause upset among staff as well. Zinchenko took a moment out of his wedding day to try and tidy up the mess.
He said: "Although my wife is a journalist, she is also a fan. During the season she was travelling with us for all away and home games because she is a massive City fan.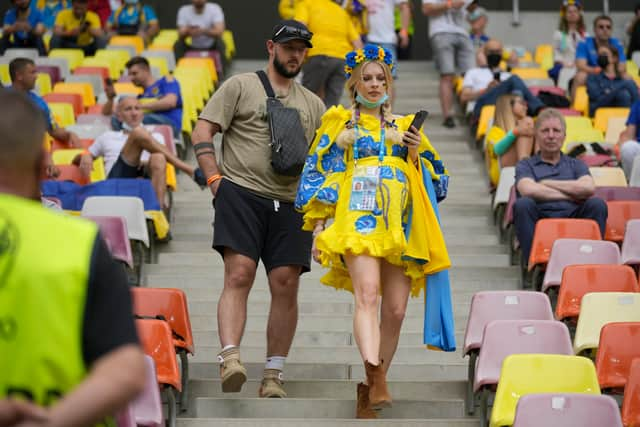 "In the video, you can see her emotions straight after the game and she gave an opinion like all fans do because she wanted us to do better.
"We totally understand now that she shouldn't post it on social media because she is my wife. But she was not trying to make a journalist's opinion on the manager.
"She was simply reacting to the disappointment as a fan.
"I'm writing right now from my wedding and instead of enjoying that unbelievable moment I have to do this because I can't skip it and leave it like that. I hope you understand."
Since then, the disagreement has been brushed under the rug with Sedan claiming that Guardiola even joked about the incident at an event for his 50th birthday when he jokingly told Zinchenko: "Alex, the most important for me is to be liked by your wife and all will be okay."