The Tottenham Hotspur forward got two assists on Monday (21 November) when England beat Iran 6-2 in the opening game of the tournament.
His pass to teammate Raheem Sterling put the Three Lions 3-0 up just before the half time whistle, and another great pass in the 62nd minute saw Bukayo Saka score England's fourth goal of the game.
Kane was supported by his wife, Katie Kane (ne Goodland), and their two daughters, Ivy and Vivienne.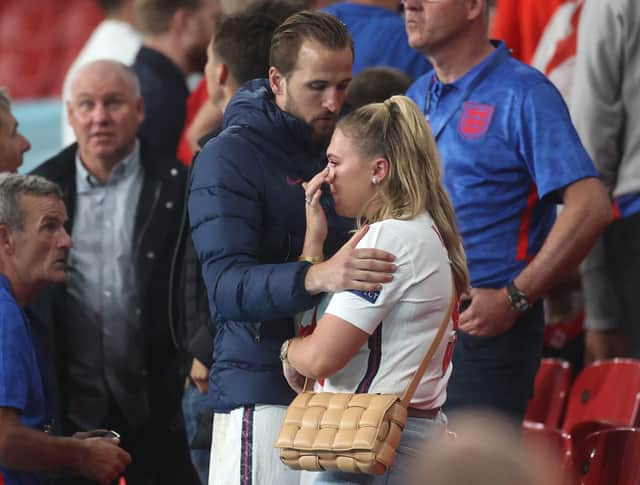 Last year, Katie was spotted crying in the stands of Wembley Stadium after England's devestating loss against Italy in the EURO 2020 final.
It is expected that the mother-of-three will be by Kane's side again tonight as he starts for the Three Lions in their second group match, against the US Men's National Team.
So, who is Katie Kane and how long has she been dating Harry Kane?
Who is Katie Kane (ne Goodland)?
Katie, 29, is a fitness instructor, who graduated from university with a degree in Sports Science.
During an interview with Esquire, Harry admitted that his now-wife finds his fame "a little crazy".
The England captain said: "We went to school together, so she's seen my whole career. Of course, she's finding it a little crazy. I think she's even been in the papers a couple of times taking the dogs out."
The Kane family has two Labrador retrievers, Brady and Wilson. They are named after NFL quarterbacks Tom Brady and Russell Wilson.
How long has Harry Kane been dating Katie Goodland?
Harry and Katie met at Chingford Foundation School in London, but the Tottenham Hotspur star didn't announce their relationship until 2015.
The pair got engaged in summer 2017, six months after the birth of their first child, Ivy Jane.
Harry popped the question on a beach in the Bahamas whilst on holiday with their daughter. The England captain revealed on Twitter that Katie "said YES" on 1 July.
They welcomed their second daughter, Vivienne Jane, in August 2018.
In June 2019, the childhood sweethearts got married abroad. Katie described Harry as her "soul mate", adding that the abroad wedding was "one of the best days" of her life.
Their first son, Louis Harry, was born on 29 December 2020. He was not in attendance at Harry's first game of the 2022 FIFA World Cup.