Cartier watch given by anonymous donor to British Heart Foundation sells for almost £10,000 on eBay
The rare and highly valuable Cartiar watch was donated anonymously to the British Heart Foundation's charity shop in Hounslow, London.
Watch more of our videos on Shots! 
and live on Freeview channel 276
Visit Shots! now
A Cartier watch, which was discovered in a bag of donations to the British Heart Foundation, has sold for almost £10,000 on eBay, becoming the most valuable single item sold to date. The Cartier Tank Francaise 18ct gold watch was donated anonymously to its branch in Hounslow, London before it was sold in December.
Known for its rarity and high demand among collectors, Cartier watches are essentially part of a rich history that lasts a lifetime. From Princess Diana and Catherine, Princess of Wales, to Jake Gyllenhall, Angelina Jolie, and Michelle Obama, celebrities and royals alike are all known for their fondness of the vintage timepieces.
According to the charity, the watch was first sent to the BHF Online Hub in Leeds for verification, and the charity was then able to get it in front of a global audience to list the watch on eBay where it was sold for £9,766.66. The watch is now a record online sale for the BHF, who is also the biggest charity retailer on eBay worldwide.
Given that the typical item donated to a charity shop has a value of less than five pounds, Shopiago, BHF's online shopping partner that listed the watch on the online marketplace, said discovering a Cartier watch among other donated items to the charity was like "striking gold and winning the lottery at the same time".
Its enterprise customer success manager, Kama Villiers said: "Whoever the generous donor was, they can rest assured that their donation will go a long way towards fighting heart disease.
"This sale really demonstrates the power of online sales for charity retailers. Last year charities sold 641,000 donated items online via the Shopiago platform, but this is the most valuable single item we've sold to date."
She added: "The team at the BHF did an excellent job identifying, valuing, listing and selling the watch, and it's been simply brilliant to see so much money being raised for such an important cause."
Richard Pallier, head of online retail at the British Heart Foundation said:  "As the largest charity in the UK funding research into heart and circulatory disease, every donation makes a huge difference to the British Heart Foundation. It's only through the hugely generous donations of the public that we can continue to do this very important work."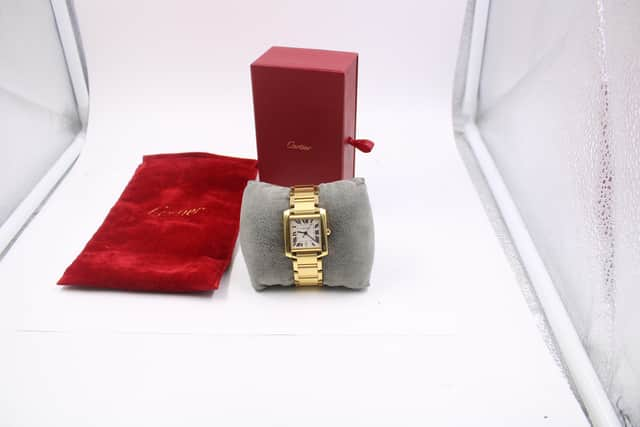 Other generous donations sold online by the BHF in recent years have included a 7" vinyl demo of the Beatles' Love Me Do (complete with a misspelling of Paul McCartney's name) which sold for £9,400, and a second-hand Mercedes Benz E320 which sold for £7,502.