Black activist and lawyer threatened with 'execution' shares letter from British Neo Nazi group
Dr Shola Mos-Shogbamimu, who frequently appears on TV to discuss issues such as racism, has received death threats in a chilling letter sent to her home.
Watch more of our videos on Shots! 
and live on Freeview channel 276
Visit Shots! now
Dr Shola Mos-Shogbamimu, a renowned Black lawyer and activist, has received an outpouring of support  after she  received death threats in a terrifying letter from a far-right  group through her front door.
The letter, which has what looks like the logo of a far-right group, National Action as its letterhead, says  she is on their "kill list" and will be "executed." Founded in 2013, the group was declared a terrorist organisation by the UK government three years later. It now has branches across the UK.
She tweeted on Monday (February 20): "I have received 'a serious threat from National Action London' notifying me of their 'intention to kill me' and my family. They name my husband and home address.
"They don't consider killing me 'murder', they call it an 'execution'. This letter was through my front door. This is Britain." Dr Mos-Shogbamimu appears frequently on television and radio to discuss issues such as racism, women's rights, and politics.
The  one-page letter reads: "Shola you are a constant troublemaker and liar who appears on television frequently. You make a shabby living from criticising and race grifting against ethnic white Europeans and our culture.
"You are a dreg of multicultural society…We are watching you. This is a serious notice from National Action London. We are notifying you of our intention to kill you and your family. We suggest you leave the UK asap, this is the only way that you can avoid what is coming to you.
"You need to hide because your details have been circulated to others on the internet, violent nationalist activists, black-shirts and others. It is only a matter of time Adeshola before you receive your punishment, your execution."
The letter is littered with vile  racist abuse and slurs. Many have since rallied behind Dr Mos-Shogbamimu, urging her to lodge a police report immediately. Guardian columnist and socialist, Owen Jones tweeted: "This is horrifying: all my love and solidarity, and shows just how important it is we stand up to an embolden far right."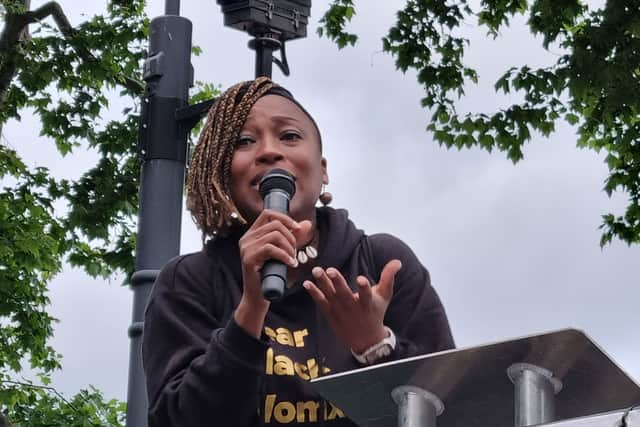 British economist and activist Faiza Shaheen said: "This is horrific Shola, and not ok. I hope the police are following up, but of course over the longer-term we need to take the toxicity out of conversations on race and immigration in the UK. I'm so sorry that you're having to deal with this."
Dr Mos-Shogbamimu also revealed she has been receiving calls on her mobile from a caller who hangs up "as soon as" she answers. This is in addition to anonymous emails containing profanities and racial slurs she has received.
She said: "It happened quite a number of times recently that I felt irked enough to mention to my husband that it was weird/annoying but I didn't dwell on it." According to The Independent, the matter has been reported to the Metropolitan Police.
In response, the Met Police said: "We are aware of letters sent to two people which contain vile racist and transphobic language, and threats. The letters are said to be from 'National Action London Cell'.
"We are taking this matter seriously and an investigation is under way. Due to the nature of the letters and the potential involvement of a proscribed group, the Met's Counter Terrorism Command is leading the investigation.
"We were first made aware of the letters as a result of Twitter posts on Monday, 20 February. Officers have contacted the victims to request statements and to offer our full support. No arrest has been made at this stage and enquiries continue.
"If you have received a letter, or you have information that could help officers identify the senders of these letters, please call 0800 789 321."
What is a National Action group?
In April 2021, a man who became the first serving British police officer to be convicted of a terrorism offence was jailed for four years and four months. Benjamin Hannam was found guilty of membership of the banned neo-Nazi group National Action.
He worked as a Metropolitan police probationary officer for nearly two years before his details were found on a leaked database from an extreme rightwing forum.