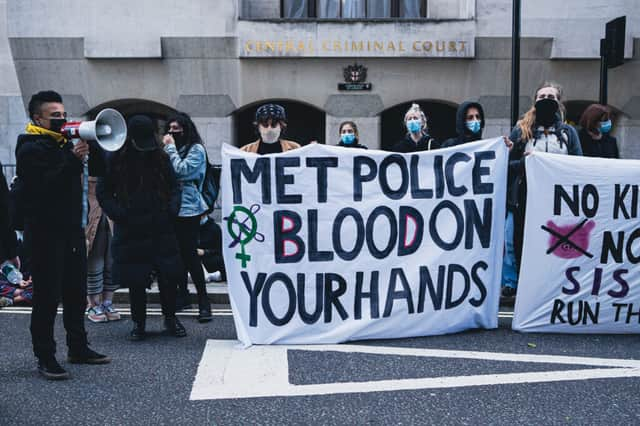 Sisters Uncut protesting outside the Old Bailey as Wayne Couzens is sentenced to a full-life tariff for Sarah Everard's murder. Credit: Sisters Uncut
A number of activists, MPs and women's rights groups have called for police reform following the sentencing of police officer Wayne Couzens for the murder of Sarah Everard.
Activist group Reclaim these Streets said: "This is the only appropriate sentence for such an abhorrent crime with abuse of power at its core.
"He was a serving Met police officer.
"We are so sorry for Sarah's family and loved ones because nothing, not even a life sentence, can ever bring her back."
"Accountability doesn't end with Couzens' sentence.
"While he alone abducted, murdered and raped, his abhorrent act was enabled by a police culture which turns a blind eye to misogyny and let a serving officer abuse his power.
"We cannot let the Met Police off the hook. We demand better."
Direct action feminist group Sisters Uncut, who led the vigil for Everard in March, gathered outside the Old Bailey on Wednesday for the sentencing of Couzens.
The group has announced a series of police intervention training and CopWatch patrols to prevent police violence in the community.
A spokesperson said: "Wayne Couzens used his power as a police officer to kidnap and rape Sarah Everard.
"We know that this is not a rare occurrence – one woman a week reports a serving police officer for domestic or sexual violence.
"The police don't keep women safe, and they cannot be given more powers.
"We must resist the Police, Crime, Sentencing and Courts Bill."
Sisters Uncut protest at the Old Bailey. Credit: Sisters Uncut
Another member added: "The Police, Crime, Sentencing and Courts Bill will enable the police to decide where, when and how citizens are allowed to travel, congregate, protest, and work.
"Sentences of up to 10 years are laid down for anything from a protest to a house party or even just a lone individual causing 'serious annoyance'.
"We have seen how increased police powers – Covid regulations, in Sarah's case – means increased violence.
"This bill will create more unaccountable police powers and will enable more unaccountable police violence.
"It attacks all marginalised communities, and it is all of us that must resist."
Women's Aid said: "Hauntingly, at least 15 serving or former police have killed women in the UK since 2009.
"The majority of them killed their partners.
"We need urgent systematic change to ensure police uphold their duty of care, leaving them no space to abuse any power."
Labour MP Angela Rayner said: "I won't say his name, I will only say Sarah's name.
"Her name is Sarah Everard and she should still be here today.
"We are sick and tired of saying never again, we are sick and tired of being scared, threatened, abused and attacked.
"Solidarity with Sarah's family and all women today."
Labour MP Nadia Whittome said: "My thoughts, love and solidarity are with Sarah Everard's family and friends, and everyone who has been subjected to male violence.
"The circumstances of Sarah's murder are despicable.
"There must be a public inquiry into cultural failings in the police and criminal justice system.
"Fifteen former and serving police officers have killed women since 2009.
"The last five years saw 800 allegations of domestic abuse against officers & 52% found guilty of sexual misconduct kept their jobs.
"This isn't 'one bad apple'. We need justice, accountability and culture change."
The Independent Office for Police Conduct (IOPC) has served 12 notices for allegations of misconduct to police officers investigating matters against Couzens before Sarah's murder.
Angela Rayner says she stands by calling Boris Johnson 'scum'
The matters relate to failed investigations into Couzens allegedly exposing himself in a McDonald's restaurant in south London on February 28, just three days before the murder and a similar indecent exposure claim in Kent in 2015.
Three officers have been served with gross misconduct notices while the IOPC investigate claims a probationary Scotland Yard officer shared an inappropriate graphic on social media before manning the cordon around the scene of the search for Ms Everard.
There is also an ongoing investigation into police officers in multiple forces allegedly sharing inappropriate messages related to Couzens's prosecution.
One officer has been served with a gross misconduct notice, while six other officers have been served with misconduct notices.
The Met Police said in a statement: "We are sickened, angered and devastated by this man's crimes which betray everything we stand for.
"Our thoughts are with Sarah's family and her many friends. It is not possible for us to imagine what they are going through.
"We recognise his actions raise many questions and concerns but we will not be commenting further until the hearing is complete."