A British-Iranian activist who was hospitalised on day 72 of a hunger strike has resumed his public protest after a fatwa was allegedly issued against him.
Vahid Beheshti, a former Camberwell resident, was recently discharged from hospital after spending two months on hunger strike in a tent outside the Foreign and Commonwealth Development Office.
Earlier this month he claims he was told by two of his trusted sources in Iran that "a cleric close to the IRGC" had called out a fatwa – a legal ruling in the Islamic Republic – against him to condone his killing.
"Even if they release 10 fatwas calling for my death, it won't stop our activities," he responded defiantly in a video posted on Twitter.
"We wouldn't step in this path if we were going to be stopped by your fatwa."
After spending the last week in a safe house, Mr Beheshti has returned to his tent outside the Foreign Office to start a "sit in" protest.
Mr Beheshti is no longer refusing food having been slowly reintroduced to it during his two-week hospital stay.
"I am really glad to be back here, I should have rested for another two or three weeks but I couldn't tolerate it anymore," he told LondonWorld.
"After 72 days of hunger strike, 13 days in hospital and about a week in a safe house I have returned to the Foreign Office in my tent. I am not on hunger strike anymore, I am starting a sit in protest.
"We will remain here till the UK government proscribes the IRGC. This is a very simple demand but very important, we are not going anywhere."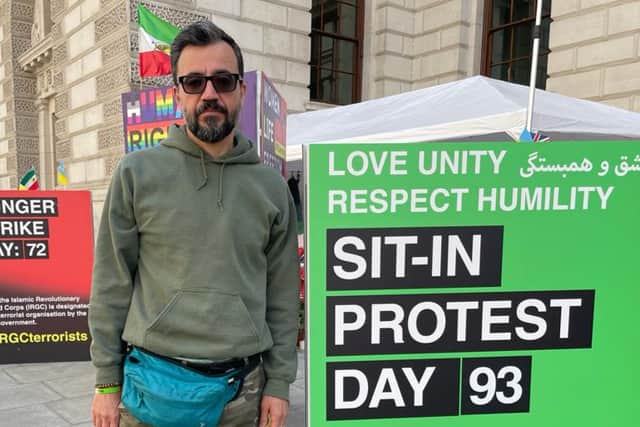 Throughout his hunger strike, Mr Beheshti has garnered support from hundreds of MPs who have taken time to visit him.
More than 125 cross-party politicians signed an open letter to Prime Minister Rishi Sunak, urging him to heed Mr Beheshti's request to proscribe the IRGC.
Last week, Conservative MP for Harrow East, Bob Blackman, tweeted: "I now understand the Iranian regime has issued a fatwa against Vahid Beheshti. Now it is time for the UK Government to proscribe the IRGC terrorists once and for all."
Iran's Islamic Revolutionary Guard Corps (IRGC) was set up after the 1979 revolution in Iran to defend the country's Islamic system.
The group has gained worldwide attention in recent months due to its brutal crackdown on protesters in Iran, led by women fighting for their human rights.
The Iranian regime's actions at home and abroad in recent months compelled Mr Beheshi to use his voice to speak out in defence of people in his homeland whom he says are suffering for simply voicing opposition to the regime.
UK Home Secretary Suella Braverman is responsible for proscribing groups as terrorist entities.
A UK government spokesperson previously said: "Whilst the government keeps the list of proscribed organisations under review, we do not comment on whether a specific organisation is or is not being considered for proscription."